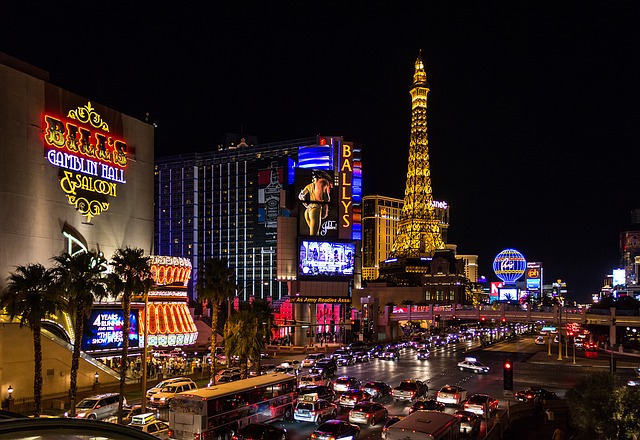 When we think about Las Vegas, we think excess! It is the only city in the world where you can find the Brooklyn Bridge, the Statue of Liberty, the Colosseum, the Eiffel tower and a pyramid-shaped hotel in the same place. We also know the sin city for its many casinos, luxurious hotels and restaurants, its amazing attractions… Inhabitants and travelers gamble, booze, watch incredible shows, get married before Elvis Presley or another icon impersonator, stay at outrageously expensive hotels, ride in limousines… A Las Vegas trip is for those who want to live like rebels, jet-setters, stars…
Yearning to admire incredible buildings?
This destination is not just for rich people! Everybody can go there and experience excesses even with a low budget. Yes, you can find cheap flights to Las Vegas and cheap accommodation! It does not take a lot of money to get to the famous Las Vegas Strip, the boulevard where you can find most of the city's iconic attractions: the "Welcome to Fabulous Las Vegas" sign, Paris Hotel and the Eiffel Tower, Bellagio Resort and its fountain show and the Conservatory & Botanical Gardens, Mandalay Bay and the shark reef aquarium, the Stratosphere Tower, the High Roller at The Linq… All the casinos and hotels on the Strip are all luxurious and amazing, but all of this could not have been possible without the Hoover Dam (Height: 726.4 ft; Length: 1,244 ft; elevation at crest: 1,232 ft). This engineering wonder provides water to a city built in the desert. It is pretty much the same concept as Dubai and Abu Dhabi. Now the buildings are impressive, such as the Las Vegas Motor Speedway, a 1,200-acre complex of multiple automobile racing tracks, located 15 miles northeast of the Strip. Las Vegas never runs out of mind-blowing constructions and attractions. It is a city of stars and the stars can be in flesh and blood or in wax in the Venetian Hotel's Madame Tussaud Museum.
Dreaming of doing extravagant things?
When we think about Las Vegas, we think about a lot of American movies such as Casino, Rain Man, Ocean's Eleven, What Happens in Vegas, The Hangover, Now You See Me, etc. These films display the extravagant things you can do in "The Entertainment Capital of the World", but not all of them. Did you know for example that you could ride a gondola in the canals of the Venetian Hotel? It is not as good as in Venice City, but it is quite enjoyable. Your ride also includes the Rialto Bridge and the Bridge of Sighs, like in the Italian City. This is tranquility, but Vegas is synonymous with adrenaline, to excitement and thrills, action! Why don't you try the Vegas Indoor Skydiving? There is no risk, but just a lot of fun! No airplane, no parachute, just a fan and unlimited fun! You float effortlessly in the air!
Not extravagant enough? Then have a helicopter ride over Las Vegas and the Grand Canyon. A 6.5-hour Grand Canyon 4-in-1 Helicopter Tour is the best way to admire the city, the surrounding landscape and the breathtaking Grand Canyon. If you can afford these activities, you will have what is called Liberty travel!
Wanting to spend your journey in luxury?
The building of hotels in the 1960s triggered the expansion of Las Vegas as we know it today. Hotels were built to welcome rich gamblers and rich celebrities. Now there are so many luxurious hotels you can afford booking. Of course, if you are not a Kardashian or named Mariah Carey or Nicolas Cage, you have to choose the humblest room. You can choose according to the architecture, the entertainment, the casino, the restaurant, etc. For the architecture, Caesar's Palace represents the ancient Greece, while Luxor Hotel represents ancient Egypt. And what about Excalibur Hotel and its medieval theme, Paris hotel and its romantic Eiffel Tower Restaurant, Mirage Hotel and its erupting volcano? At the Sky Villa, Palms Hotel, clients arrive in private jets, are welcomed in Rolls Royce and stay in 9,000 square feet of living space. They organize parties hosted by rock stars! They pay $40,000 per night and $450,000 more for those special parties. Less rich people take the Villa Prive at Bellagio, but still enjoying the finest libations and liquors, an adorned speakeasy-style lounge, etc. At the Nobu Villa, part of the Nobu Hotel at Caesars Palace, you can profit from a three-bedroom suite, a Zen garden, an Italian made whirlpool and stunning Strip-views.
Planning to attend amazing shows?
In Las Vegas, there is magic, there are a circus and the likes, there are music and dance. If you would like to attend a big name's concert as you can only find in Vegas, The Colosseum Show at Caesar's Palace is made for you. Pick your favorite: Celine Dion, Elton John or Rod Stewart? If you are more into musicals, the Beatles "Love" at the Mirage performs the legendary British band's music in incredible scenes. Michael Jackson ONE at Mandalay Bay is a production by Cirque du Soleil, allowing you to expect spectacular acrobatics and electrifying visuals. More of Cirque du Soleil? O, from the French word for water, Eau, takes place in a massive pool of water, displaying synchronized swimming that makes you dream and be conscious of life or death. KA takes you in the air with moving platform, flying acrobats… The scenes revolve around the Egyptian concept of Ka, a human's soul that can destroy or illuminate. For an adult-theme show, the best choice is Absinthe at Caesars Palace with its thrilling acrobatics and comedy. You are going to be immersed in the show as the theatre is quite small. This will remind you that you are not in Orlando or in a Disney World, but in Sin City!