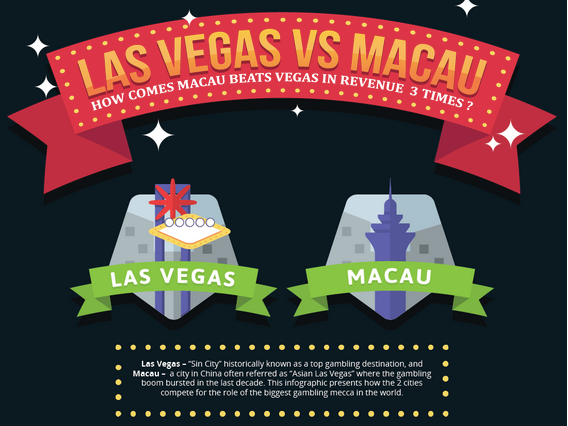 When you think of what may be the casino capital of the world, you surely think of Las Vegas. With its bright lights, main strip and the huge amount of casinos which are there, it is an obvious thought.
Las Vegas is an entertainment-packed city which is absolutely perfect if you want to experience good casinos, great food and drinks, and a truly unique atmosphere. However, Las Vegas has had strong competition in the last decade, particularly from Macau in China. This place has been a gambling hotspot since 2002 and has been attracting more and more tourists each year, thanks to the huge amount of casinos being built.
Even some of the best established Vegas casinos are branching out to Macau!
Let's take a look at some statistics and compare the two.
Las Vegas and Macau are both big cities with 640,174 and 612,167 residents, respectively. Although Las Vegas still attracts more annual visitors – 42.9 million in 2017 – Macau is fast catching up and brought in 30 million punters last year.
Las Vegas is still more popular than ever with US based visitors, with 49% of visitors coming from the Western United States, whereas Macau is largely visited by Chinese tourists. Two-thirds of all visitors come from China and another quarter from Hong Kong and Taiwan.
But when we look at monetary values, Macau far outstrips Las Vegas. Macau's GDP is $63.22 billion, whereas Las Vegas' is $103,343 million. They are trailing far, far behind Macau there!
On the whole, Macau is a much cheaper place too. Although the rental prices are 8.86% higher than Las Vegas, the cost of living per week is only $770, whereas the cost of living per week in Las Vegas is $1,740.
It is easy to see why, then, Macau is fast becoming a major contender as the world's primary casino hot spot. Overall, Macau is a lot cheaper for tourists and has the benefit of being newer, so is more interesting to those who have seen Las Vegas and want something new.
Want to learn more about Las Vegas vs Macau? Check out our infographic below.