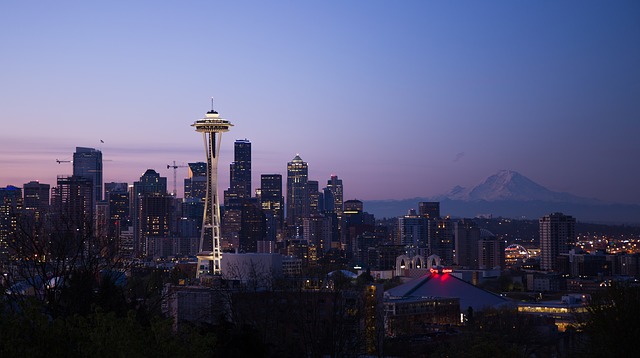 Planning a meeting or event in Seattle? Why not make it a little more interesting and hold it inside a museum? Believe it or not, you can rent space in many Seattle museums (and, in some cases, the entire museum). So go ahead and combine business with a little culture. Here are the 10 most interesting and educational meeting spaces in Seattle.
Seattle museums you can rent for your next meeting
1. Museum of Pop Culture (MoPOP)
Designed by famed architect Frank Gehry, MoPOP is a fascinating museum full of interactive exhibits covering every aspect of pop culture. The museum offers six indoor spaces, including a theater, and an outdoor space that can be tented.
Ideal for meetings and events that require high-tech AV equipment, MoPOP is sure to inspire your next collaboration, with catering by Wolfgang Puck.

[Photo credit: Josh Grenier on Flickr.]
2. The Museum of Flight
Your meeting will take flight at the Museum of Flight, one of Seattle's most unique meeting spaces. Featuring more than 10,000 square feet of meeting space, the museum has room for 1,500 seated or 4,000 standing guests, with more intimate spaces available for smaller groups.
For the ultimate experience, add in a guided tour of the museum's incredible collection of aircraft, a learning center experience, or a flight simulator experience.
3. Chihuly Garden and Glass
Add a pop of color and whimsy to your next meeting at Chihuly Garden and Glass. Located next door to the iconic Space Needle, this gem showcases the incredible glass artworks of Dale Chihuly.
It's a visually stunning space for meetings, with lots of light and space indoors and out. Rentable meeting spaces include the centerpiece Glasshouse and Art Plaza. Book the whole venue and have room for 1,500 standing guests.

[Original photo credit: Jonathan Gross on Flickr.]
4. Frye Art Museum
Be inspired by great works of art at your next meeting. The Frye Art Museum offers several spaces for private events. The auditorium can seat 142, while the art studio is a versatile open space and can seat 56 or stand 75.
The foyer and café includes an outdoor courtyard and can seat 72 or stand 160. Rent the entire museum and get open access to all art galleries as well.
5. Museum of History and Industry (MOHAI)
Housed in the renovated former Naval Reserve Building in scenic Lake Union Park, MOHAI showcases thousands of artifacts related to local history.
Two conference rooms and an indoor pavilion are ideal for meetings and lectures, with capacity for 25 to 145. Large meetings should book the grand atrium, with room for 350 seated and 750 standing. There are also two outdoor terraces where you can host a meeting when the weather is nice.
6. Duwamish Longhouse and Cultural Center
Learn more about the tradition and culture of Seattle's first people, the Duwamish Tribe, at this unique venue. The Longhouse is traditionally the venue for tribal business, as well as cultural and educational events. Continue in that tradition by holding your meeting here.
Amenities include conference rooms, gallery space, and a commercial kitchen. There's seating for 100 around 10 wood-slab tables, and use of a projector and sound system is included.
7. Burke Museum of Natural History and Culture
Located on the University of Washington campus, the museum is home to millions of incredible geological, biological, and cultural objects, from massive fossils to delicate textiles.
Meeting spaces include the Burke Room, Museum Lobby, and Museum Café, with room for 50 to 450. Rentals can include access to exhibits and galleries, depending on the timing. State-of-the-art audiovisual equipment is also available for meetings requiring presentations.
8. Wing Luke Museum
Located in a historic district of Chinatown, the Wing Luke Museum showcases the Asian American experience in the Pacific Northwest through real-life stories and exhibitions. The museum also features award-winning architecture and striking artworks.
Several spaces are available for private meetings, ranging in size from 380 square feet to 13,000 square feet for the entire museum. Everything from conference rooms and boardrooms to theaters and halls is available.
9. Living Computers: Museum + Labs
Located in the SoDo neighborhood, this museum is full of vintage technology and provides a fascinating backdrop for your next meeting. There are two floors of spaces that can be rented, including three working labs that are ideal for business meetings. High-tech audiovisual equipment is available. Preferred vendors are permitted to cater events, with room for up to 700 guests.
10. The National Nordic Museum
Located in Ballard, the museum preserves and celebrates Nordic values, traditions, and the history of the region's Nordic immigrants. It also offers several venues suitable for meetings.
Two classrooms are ideal for smaller meetings and are fully equipped for conference needs. For larger groups, the Great Hall's auditorium offers more than 4,200 square feet of space and includes a projection screen and a sliding glass wall with stunning views of a large outdoor terrace.
Choosing the perfect museum for your next meeting
When planning your next meeting in Seattle, think outside the box when it comes to the venue and consider a meeting space in a museum instead. A museum gives you a unique opportunity to add an educational, experiential, or cultural element, or a stunning backdrop, to your meeting. The museums listed above are all great options to help make your next meeting a memorable experience.
When making plans, be aware that some Seattle meeting spaces may only be available at certain times, such as after the museum closes. Rental of one or more spaces also does not automatically guarantee access to the exhibits. And make sure you understand the availability of catering and audiovisual or other equipment if your meeting requires those. Many of the museums have an event planning team — work closely with them and make your meeting a success!