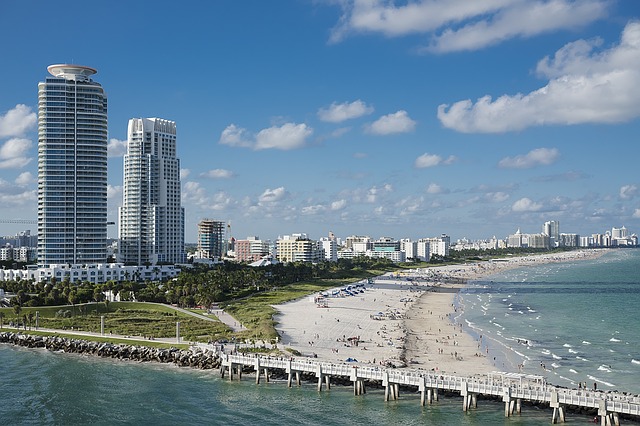 If you love to sport fish, Miami has to be near or at the top of your list of places to visit. From the shallow flats of Biscayne Bay and Everglades National Park to the depths of the Gulf Stream in the Atlantic Ocean, and with some of the most sought after sport fish in the world in abundant supply, Miami is an angler's paradise. 
South Florida and its coasts are a vibrant and diverse bionetwork supported by a tropical breeze, teeming mangroves, coral reefs and of course, that warm, fast-moving current. This ideal environment has caused Miami's water to be teeming with sport fish and deep sea species that are great eating and great trophies. 
Flats Fishing
Flats fishing got its name from the flat bottomed boats or skiffs that are used to fish in shallow waters. Flat fishing is a lot like game hunting because it requires the same elements of stalking and surprise. It also requires patience, stealth and accurate casting for a successful day on the flats. Flats fishing is done in the shallow waters of Biscayne Bay or Florida Bay, and accessed through the Everglades. It usually involves fly fishing techniques, so a good understanding of a spin fishing rod will be quite helpful. In Miami, Flats fishing is good all year round, but best in the Spring, Summer and Fall when longer days, warmer temps and tropical weather patterns are the perfect mix of environmental ingredients to get the fish jumping. Flats fishermen are typically fish for bonefish, tarpon, snook, redfish and even sharks.
Deep Sea Fishing
Miami is home to some of the best deep sea fishing in the United States. A deep sea trip typically involves heading into the blue of the Atlantic Ocean in search of the big fish that swim the Gulf Stream, located 2 miles of the coastline of Miami. There you can find fabulous reef fishing, bottom fishing, drift fishing, and kite fishing throughout the year in these warm waters. Deep sea and sport fishermen pilot or charter boats to get to the ideal spot to catch any number of deep sea fish including tuna, grouper, cobia, kingfish, amberjack, snapper and mahi-mahi. Sport fish include marlin, sailfish and giant tuna. While deep sea fishing conditions are typically best late fall through late spring, fishing is a year round sport in Miami. Additionally, some fish are strictly regulated to specific seasons. So check with knowledgeable parties who will have you in the right spot at the right time of year for a great catch.
Fishing Charters
For the serious fisherman and those who wants a personalized fishing experience, fishing charters are the way to go. These private excursions can last for half a day or several days and include boats with dozens of strangers casting their lines, to boats chartered or a single private party. Prices range from less than $50 per person for a charter, to many times that amount if you want to charter the whole boat. At the top end of the food chain is Ultimate Fishing Charters, the most expensive fishing charter in the Miami area. They offer single and several day sport fishing trips filled with luxuries including state rooms, and spas, and others that cater to every taste. And with a complete and knowledgeable crew trained to pamper you and your friends, every need is met. And of course, they will take you to all the best spots so your party can do your best fishing.
Whether you choose a two-man flat bottom skiff for a day of shark fishing or if you and eight friends want to do an Ultimate Fishing Charters three day marlin hunt, Miami tops the list for sport fishing.