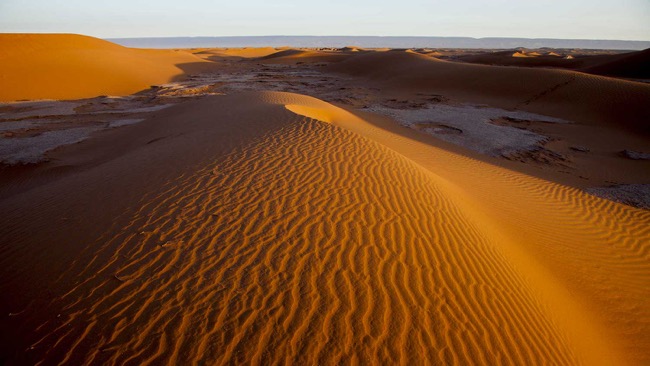 [Photo by Desert Trips Morocco.]
If you have always been curious to see and experience the wonders of a hot and dry desert, then you should give a Morocco desert trip a try. On this trip, you will get a first hand experience of the features that define the largest hot desert in the world; and also enjoy a chance to meet and interact with the people that have made this place their home.
This expedition should ideally start at Marrakech, a major Moroccan city and a tourist destination in itself, just at the foothills of the Atlas Mountains. Desert Trips Morocco offers a 4 day desert trip from Marrakech which will ensure that you get the most out of your visit to Morocco.
Here is what you can expect on a desert tour.
Day 1 Highlights
High Atlas Mountains
What better way to start your tour of the Moroccan desert than by first appreciating the teeming beauty of the country's vegetation? So, the desert trip should start with a tour of High Atlas mountains, which are picturesque mountains over 2000 m above sea level. This region is full of many great panoramic delights.
Ait Benhaddou Kasbah, a World Heritage Site
After this visual treat, you can take a trip to Ait Benhaddou Kasbah. First of all, Kasbah is a UNESCO World Heritage site. But besides being a global historical highlight, it is the setting for scenes from popular films like The Gladiator and Lawrence of Arabia just to name a few.
Atlas Studios in Ait Benhaddou
You should also purpose to visit Atlas Studios; the most famous and the biggest movie studios in Africa.
The Dades Gorge
From there, you will get a one-of-a-kind opportunity for a romantic sunset at the Dades Gorge in a dated hotel setting after going through the renowned Valley of Roses and Dades Valley.
Day 2 Highlights
Merzouga Desert
After the Dades Gorge, you can travel to Merzouga desert. But before getting to this landmark destination, you will pass through Tineghier Village and the Jewish Kasbah. If you are up to it, you can also take a walk in the Tondra Gorges.
You should arrive to Merzouga before the sun sets, which is perfect because you can have a camel trek that gives you an opportunity to see the beautiful desert sunset. That night can be spent in a camp on the foots of the famous Erg chebbi dunes.
Day 3 Highlights
Rissani and Zagora
Having spent the night at Merzouga, your final destination for the day should be Zagora. But a stopover at Rissani should be on the itinerary. Rissani happens to be the birthplace of Moroccan Arab dynasties. The place will also give you a unique chance to see how Saharan people dress and live.
This location is also full of great history including the monument of sijilmassa and a mosulement of Ali Charif, who founded the Alaouite dynasty. You can wrap up this part of the journey with a meal at a traditional Moroccan restaurant before heading out to Zagora for the night.
Day 4 Highlights
Ksours and Draa Valley, Ouarzazate
The final day of the trip should get you back to your hotel in Marrakech. But this section of the trip should be just as eventful. The trip should begin with a drive through Ksours and Draa Valley.
At Draa Valley, you can take a delightful walk through the palm trees. There are other great stops along the way, including the Kasbah of Storks, where you can have breathtaking views of the reservoir.
By lunchtime, you should be at Ouarzazate, before heading back to Marrakech to complete an amazing four-day tour of the Moroccan desert.