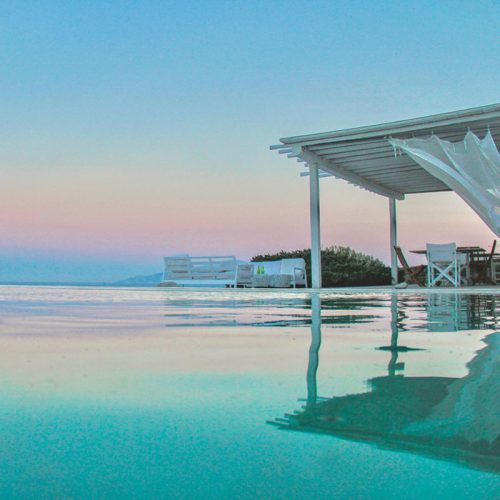 Mykonos is undeniably the party animal of the Cyclades. A unique island where simplicity meets luxury. An island that combines the carefree and serene lifestyle along with epic parties that last till dawn. Some even say that Mykonos is the Greek Ibiza, with sun kissed bodies, VIP events and magnificent crystal-clear blue waters and golden beaches.
Whether you're the quite type or a true cosmopolitan, one thing's for sure. Mykonos is the ultimate holiday destination and the perfect place to be. When it comes to luxury and accommodation, there's only one place you need to visit.
That's Mykonos Luxury Villas.
Located in some of the most idyllic places in Mykonos, Mykonos Luxury is the ultimate destination in Greece. Here you can find incredibly beautiful luxury villas for rent, each one accompanied with it's own private pool. The villas are categorized in 4 different groups and are carefully selected with immaculate architecture and interior design, that reminisces the Greek culture and the Cycladic luxury.
Let's take a small peek at the Mykonos Luxury Villas collection:
Celebrity Collection – The celebrity collection holds some of the most beautiful and VIP villas you could ever find. These villas are truly made of dreams and movies. Are you exclusive enough to gain access into one of these beauties?
Platinum Villas – Platinum villas are the perfect getaway for total privacy maximum pleasure. Designed with true elegance, luxury and style, each of these villas comes with it's own private pool, so you don't have to share your beautiful moments, with no one, except your loved ones.
Prestige Villas – Prestige villas are some of the most indulgent, magnificent and idyllic villas in Mykonos town. As you can already tell by the name, these villas are the true embodiment of prestige. They offer some of the finest experiences you could ever hope from a villa. Each one of these also comes with it's own private pool. There's nothing getting in the way of your dreamy vacation.
Gold Villas – Gold Villas are some of the most elegant yet budget friendly villas you could ever find in Mykonos. In Mykonos Luxury, there's no such thing as luxury for the few. Everyone should be able to experience the magical holiday they're dreaming of. Each Gold villa comes with a private pool, so you can truly be mesmerized by the beauty of the scenery and the comforts these villas have to offer.
Villas In Mykonos Town – If you want to stay in the heart of Mykonos then our villas in Mykonos town is the best option.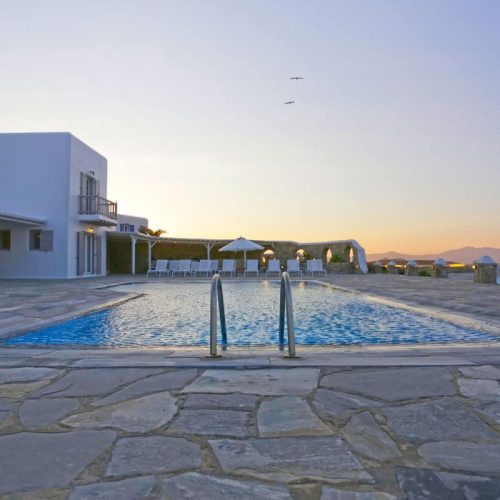 They sound amazing, right?
Just imagine yourself arriving in Mykonos town. You get to your private villa and there's nothing but beauty all around you. You wake up every morning to a light breeze, the hot Greek sun and a breath-taking view of the sea.
So peaceful. So serene. So magical.
You can enjoy your breakfast right by your own private pool or take a quick dive right before you star exploring the island and experiencing every little pleasure Mykonos has to offer. If you're visiting with your partner, just imagine drinking an exotic cocktail right by the pool, while your loved one is by your side and you're watching the sunset. Holding hands and cuddling. Now that's the perfect idea of romance.
Total privacy and a unique experience.
The sky changes all these magical colours, right in front of your eyes. And you can experience all these things while you're lounging around and enjoying the incredible view.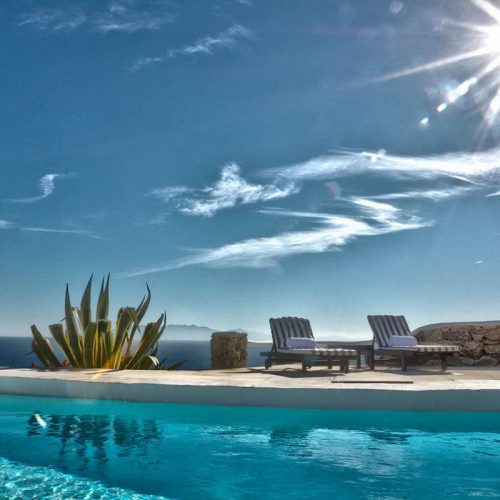 But we're not quite done yet.
Mykonos Luxury has so much more to offer. Apart from the best villas, you can rent a luxury car, you can charter a private yacht (learn more) and explore every hidden beach there is, or you can charter a luxury private jet and enjoy the view from the top.
Mykonos Luxury offers you the best holiday of your life. The kind of summer vacation that is an actual experience. Well worth your time. You'll be creating some unforgettable memories that will stay with you long after your trip is over.
What are you waiting for?
Mykonos is a heavenly paradise you simply must visit. There's not a place in the world, quite as magnificent as this one. Just head over to Mykonos Luxury website and book your private villa today.
Your ideal vacation is literally one click away.
Experience the true meaning of luxury vacation. Because you're so worth it.