If you're looking for a new space to explore or new adventures to embark on, why not consider a new destination for an epic end of summer getaway, or a fabulous fall retreat? You have a whole Spring Break to make up for, and plenty of unique locations may be just the hidden gems that hold the secret to your best vacation ever. When we're all done hitting pause, here are nine great places to hit PLAY!
Golden Isles, Georgia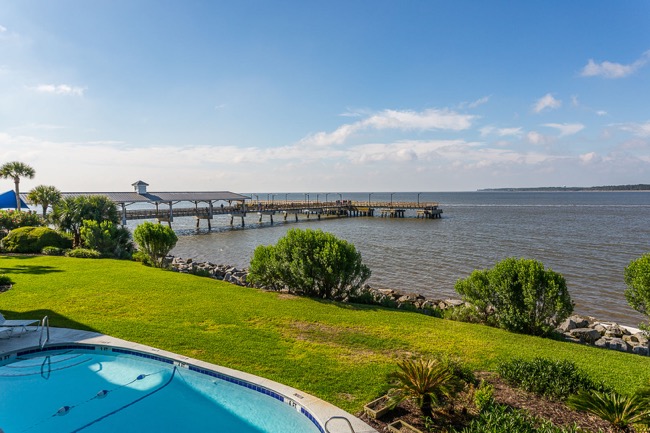 Georgia's Golden Isles are nestled between the Atlantic Ocean's shores and the natural salt marshes of the state's southern barrier. Composed of St. Simons Island, Little St. Simons Island, Jekyll Island, Sea Island, and Brunswick on the mainland, the Golden Isles serve as the midway point between Jacksonville, Florida and Savannah, Georgia. The area is full of outdoor recreation and water-centric adventures, as well as shops, restaurants, golf courses, and historic sites.
St. Simons Island is the largest of the Golden Isles, and the Pier Village district is the center of activity on the island. A testament to tradition, Sea Island offers sweeping views of the marsh and Black Banks River, birdwatching, and dazzling sunsets. Embracing the combination of modern flair and coastal charm, this area embodies the appeal of the southern Atlantic region in a way that no other destination can. Notable points of interest in the Golden Isles include St. Simons Island Pier, Fort Frederica National Monument, St. Simons Island Lighthouse, Sea Island Golf Club, and the best beaches on the Georgia Coast, including East Beach and Massengale Park.
Where to stay in the Golden Isles
– Lighthouse Vacations – https://lighthousevacations.com/
– Jekyll Island Club Resort – https://www.jekyllclub.com/jekyll-island-club/
– The Cloister at Sea Island – https://www.seaisland.com/accommodations/the-cloister/
Learn more about visiting Georgia's Golden Isles.
North Georgia Mountains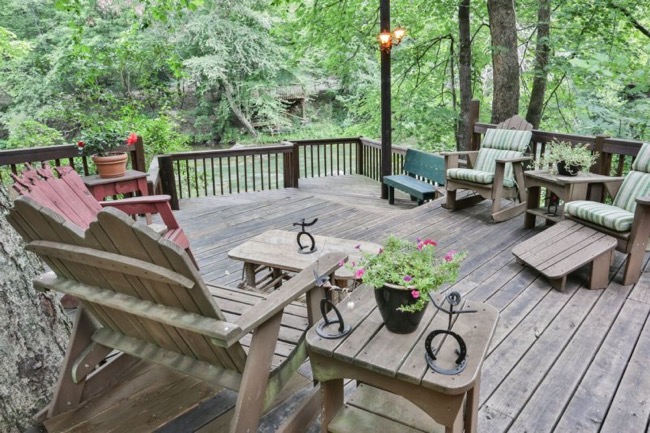 The North Georgia Mountains are known for small-town charm, natural environs, and stunning views. Enjoy mountain panoramas framed by rivers, streams, ponds, lakes, and creeks with a heaping helping of southern cuisine, local wine vineyards, hiking trails, state parks, and historical landmarks to visit. The highlight of the region may arguably be the hidden gems of Blue Ridge and Ellijay.
Ellijay has that southern hospitality feel. Visit apple orchards and vineyards or stroll the town square to find charming local shops and original hometown cooking. Make art and pottery with the children, or rent a bike for a ride around town. Blue Ridge is like a step back in time. With a downtown that is cozy and quaint; five-star restaurants, unique boutiques, and friendly folks all around. Check out historical sites, waterfalls, and many hiking trails, including the Benton-MacKaye Trail and the legendary Appalachian Trail. Plan a day out in a canoe or kayak to enjoy water activities, or just kick back at your cabin home and relax. Make sure to take a ride on the Blue Ridge Scenic Railway! It's the ideal place to celebrate the bountiful harvest and vibrant color of fall.
Where to stay in the North Georgia Mountains
– Reid Ridge Lodge – http://reidridgelodge.com/
– Blue Sky Cabin Rentals – https://www.blueskycabinrentals.com/
– Aska Lodge Bed & Breakfast – http://askalodge.net/
Learn more about visiting the North Georgia Mountains.
St. George Island, Florida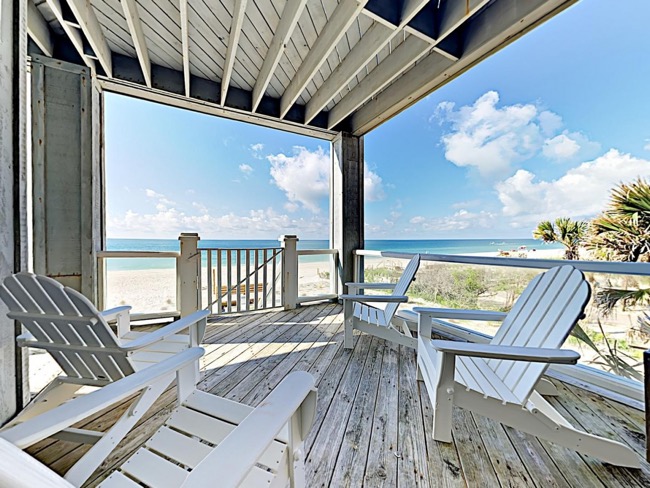 Florida's Forgotten Coast is nestled along the Gulf Coast in the state's Panhandle region, about halfway between Panama City and the state's capital of Tallahassee. St. George Island is the unspoiled gem of the area, spanning 28 miles situated between the Gulf of Mexico and Apalachicola Bay. The island offers a sleepy feel with a slower pace than other Florida beach destinations. You'll truly be able to embrace 'island time' at St. George!
Known for its famous lighthouse, St. George is also home to the St. George Island State Park, quaint beach shops and art galleries, and several charming local restaurants. Florida's Apalachicola region has a storied history, and more than 900 structures within its Historic District are listed on the National Register of Historic Places. From land-based exploration to water adventures, there is something for every kind of traveler to discover and enjoy – even the family members of the four-legged variety, thanks to pet-friendly shops, recreation areas, and eateries, as well as the Apalachicola Dog Park! With miles of pristine beaches, diverse waterways, lush natural spaces, and a wealth of culture, a St. George Island vacation has the potential to be whatever you want or need it to be!
Where to stay on St. George Island
– Fickling Vacation Rentals – https://www.ficklingvacationrentals.com/
– The St. George Inn – http://www.stgeorgeinn.com/
Learn more about visiting St. George Island, Florida.
Telluride And Mountain Village, Colorado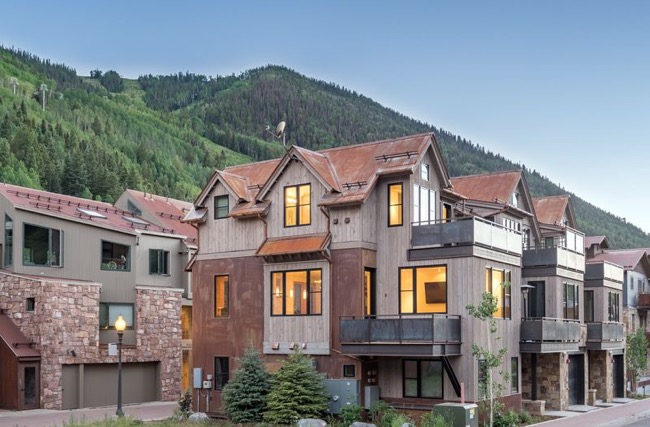 Tucked into a box canyon surrounded by up to 14,000-foot peaks, the town of Telluride is just eight blocks wide and twelve blocks long. Because of its significant role in the history of the American West, the core area of Telluride was designated a National Historic Landmark District in 1964. Mountain Village is perched above the valley floor at 9,500 feet, providing access to the Telluride Ski Resort and Uncompahgre National Forest. The Town of Mountain Village includes approximately 2,100 acres of rolling aspen and spruce-covered mountainsides. The two towns are connected by a free, scenic gondola—the only transportation system of its kind in North America. This popular scenic attraction provides access to hiking and biking trails in the summer and ski slopes in the winter.
Telluride's 36-acre Town Park is a community recreation space and the center of events in the town, especially during the summer and fall months. The expansive open spaces of Telluride Town Park at the base of the San Juan Mountains provide a scenic, natural environment for community gatherings and family-friendly events, including the Telluride Blues and Brews Festival, Telluride Bluegrass Festival, Telluride Jazz Festival, and The Ride Festival.
Where to stay in Telluride and Mountain Village
– Lodging In Telluride – https://www.lodgingintelluride.com/
– The Peaks Resort & Spa – https://www.thepeaksresort.com/
– The Hotel Telluride – https://thehoteltelluride.com/
Learn more about visiting Telluride and Mountain Village.
Steamboat Springs, Colorado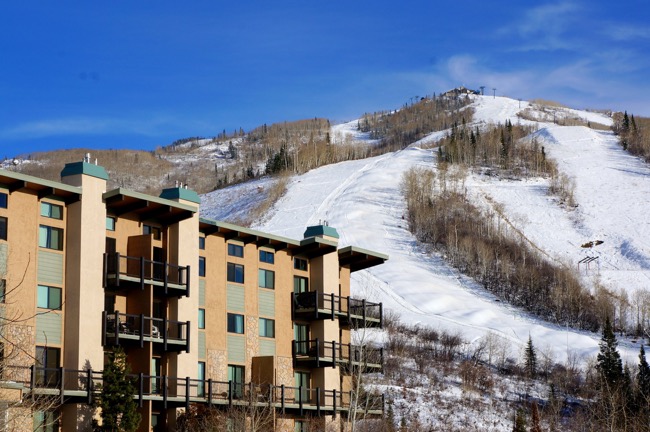 Steamboat Springs is best known for winter skiing. In fact, Steamboat is sometimes referred to as "Ski Town USA," and it has produced more winter Olympians than any other town in America. What few visitors know is that Steamboat Springs actually began as a summer resort town in the early 20th century. Today, the warmer months are still one of the best times to visit. It's also the perfect time to appreciate the 'Boat's western heritage—there's a rodeo every weekend!
There's a lot more to Steamboat Springs than its world-class ski resort. From tubing down the steep slope of Howelsen Hill, to snowshoeing across scenic vistas, or melting your muscles in one of two area hot springs, the town of Steamboat Springs keeps the adventure coming throughout your winter vacation. And in the summer, it's always sunny in Steamboat! Whether you're tubing down the rapids of the Yampa River, fly fishing along its banks, or mountain biking among dozens of area trails, a Steamboat Springs summer is one you'll want to experience again and again. Add an eclectic mix of 60+ restaurants, bars and live music venues, plus plenty of arts, western culture and kids entertainment, and it's no wonder families travel from all over the world to experience the town of Steamboat Springs year after year.
Where to stay in Steamboat Springs
The Steamboat Grand – https://steamboatgrand.com/
Steamboat Vacation Rentals – https://www.steamboatvacationrentals.net/
The Inn at Steamboat – http://innatsteamboat.com/
Learn more about visiting Steamboat Springs, Colorado.
North Myrtle Beach, South Carolina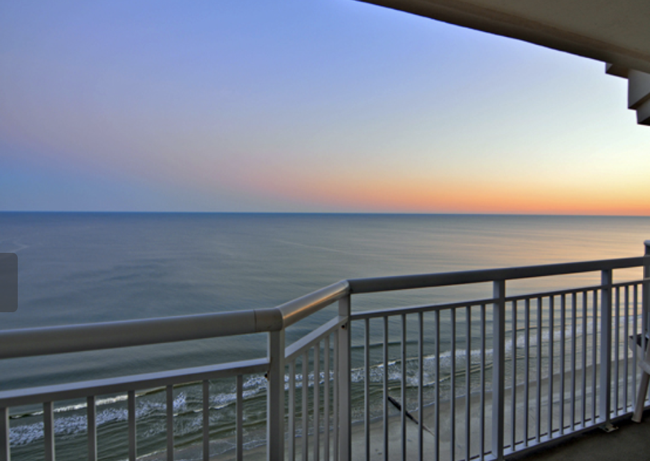 North Myrtle Beach is the crown jewel of the Carolina coast – home to world-class golf courses, fabulous attractions and entertainment, and some of the best seafood along the east coast.The city of North Myrtle Beach consists of about nine miles of beaches in four distinct sections: Windy Hill, Crescent Beach, Ocean Drive, and Cherry Grove. The area features more than 100 golf courses – some of the best in the nation – and more than 1800 restaurants to choose from along the "Grand Strand". Myrtle Beach and North Myrtle Beach are two of the notable towns that make up the Grand Strand – a more than 60-mile stretch of inspiring oceanfront from Little River to Georgetown, South Carolina. With Myrtle Beach and all its attractions just minutes away, North Myrtle Beach is a great place to vacation, away from all the heavy traffic and hustle of "the big city".
Entertainment options in North Myrtle Beach lean more to the unique appeal of laid-back, but sophisticated Carolina nature and culture. Situated on the Intracoastal Waterway, Barefoot Landing plays host to many of the area's top attractions. Barefoot Landing is the home of many famous attractions and restaurants, such as Lulu's, Alligator Adventure, and the House Of Blues. On the south end of NMB you can find the most thrilling shows at Pirates Voyage or the Alabama Theatre. Relax beachside where the ocean and marsh meet in Cherry Grove. if you want to savor the genuine taste of a home-cooked southern meal, there's nothing like the culinary flavors of North Myrtle Beach, and the offerings of "restaurant row".
Where to stay in North Myrtle Beach
– Grand Strand Resorts – https://www.northmyrtlebeach.com/
– Prince Resort at the Cherry Grove Pier – https://www.princeresortonline.com/
– SeaSide Resort – https://www.seasidemb.com/
Learn more about visiting North Myrtle Beach, South Carolina.
Ocean City, Maryland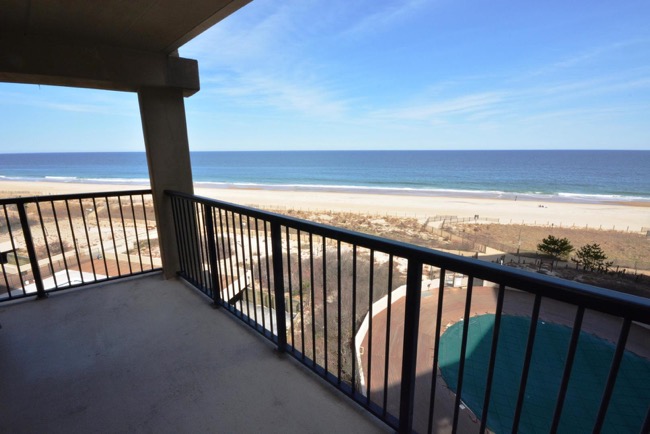 Ocean City, Maryland is the state's largest resort, situated between the Atlantic Ocean to the east and Assawoman Bay to the west for that tranquil island feel. Ocean City is best known for pristine beaches, countless attractions, world-class restaurants, active nightlife, and an iconic three-mile long oceanfront boardwalk. Whether your brand of escape features deep sea fishing, jet skiing or playing a round of golf at one of the many nearby golf courses, Ocean City is the ideal place to find traditional beach fun – and then some.
For nature lovers, there is the nearby Assateague Island Park with its natural beach habitat and wild horses. The Inlet is filled with amusement park rides and carnival games. It's fun for the whole family! Midtown Ocean City is home to the Convention Center and Performing Arts Center, hosting events throughout the year, from orchestras to plays to ballets. Uptown Ocean City features mini-golf courses and restaurants. Catch a flick at the luxurious Sun & Surf Movie Theater or take the kids to Northside Park to explore the playground and family-friendly events.
Where to stay in Ocean City
– Castle in the Sand Hotel – https://castleinthesand.com/
– Shoreline Properties – https://www.shorepro.com/
– The Atlantic Hotel – http://www.atlantichotelocmd.com/
Learn more about visiting Ocean City, Maryland.
Brunswick Islands, North Carolina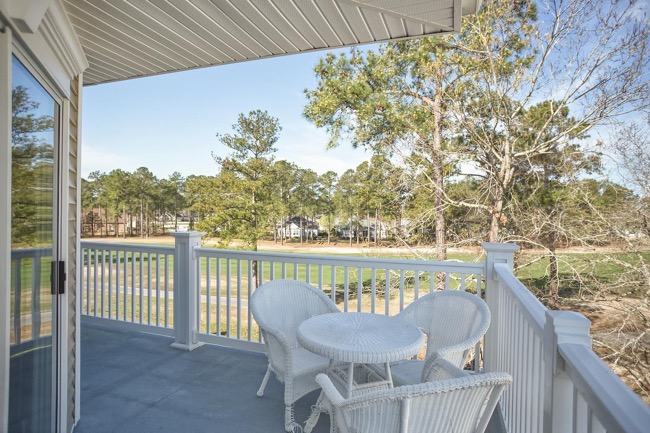 Conveniently located on the Crystal Coast just over the South Carolina state line, Calabash, and the Brunswick Islands of North Carolina, are part of the Myrtle Beach metropolitan area. Calabash is a small fishing village often referred to as the Seafood Capital of the World. Explore Brunswick County's best beaches: dip your toes in the water at Ocean Isle Beach or take in watercolor sunsets at Sunset Beach – ranked number 4 on National Geographic's "21 Best Beaches in the World" list in 2017!
Climb to the top of the Oak Island Lighthouse, or the oldest lighthouse in North Carolina, Old Baldy. Kayak through salt marshes, waterways, creeks and inlets. Featuring 567 holes of golf spread across more than 30 championship courses, Brunswick is a golfer's paradise, but the outdoor recreation doesn't end there. With five piers and an array of fishing charters offering inshore angling and deep-water excursions, few places on the Atlantic Coast provide access to such thriving waters teeming with everything from flounder, redfish, speckled trout, and blue crab to trophy species from the Gulf Stream, like tuna, wahoo, dolphin and sailfish. There is never a shortage of fun to be had in the Brunswick Islands.
Where to stay in the Brunswick Islands
– Brunswick Plantation Resort – https://www.brunswickplantation.com/
– The Sunset Inn – https://www.thesunsetinn.net/
– Ocean Isle Inn – https://www.oceanisleinn.com/
Learn more about visiting Calabash and the Brunswick Islands.
Outer Banks, North Carolina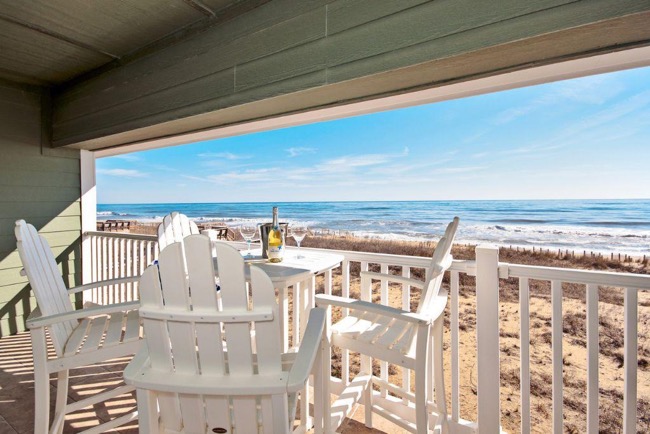 The Outer Banks is a stretch of coastline unrivaled on the East Coast. From Corolla to Ocracoke, enjoy more than 100 miles of unspoiled beaches. From the Atlantic shores to the Sound, enjoy pristine coastlines, original restaurants, local shops, and family-friendly attractions, including the Wright Brothers Monument, Jockey's Ridge, Roanoke Island, Historic Manteo, several fishing piers, and a variety of entertainment options up and down "the Bypass" on Croatan Highway.
Nags Head has been a resort destination since the 1830s and continues to attract vacationers from across the United States and internationally. Enjoy the serene beaches and Pamlico soundfront on the Hatteras Island beaches of Waves, Salvo, Rodanthe, and Avon. Just a short drive away, the Cape Hatteras National Seashore offers natural attractions and plenty of water related activities. Visit Ocracoke Island for spectacular lighthouses, fishing piers, world class surfing, kiteboarding, and more. Over 70% of Hatteras Island is protected land.
Where to stay in the Outer Banks
– First Flight Rentals – https://www.firstflightrentals.com/
– John Yancey Oceanfront Inn – https://www.johnyanceyinn.com/
– Dolphin Motel – https://www.dolphinmotel.net/
Learn more about visiting the Outer Banks of North Carolina.