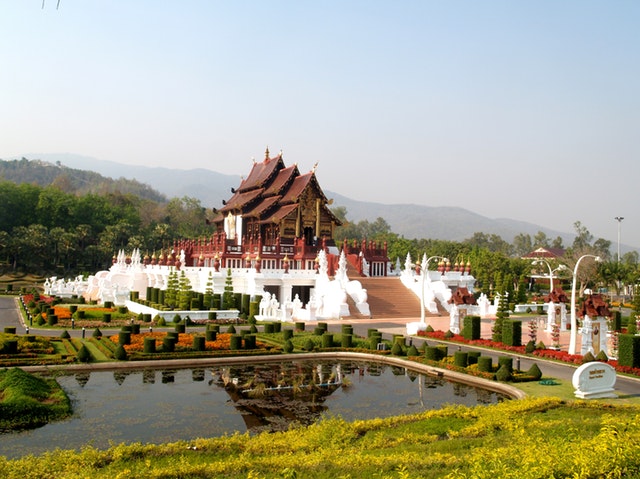 South-east Asia is stretched between the Indian and Pacific Ocean and geographically lies on the east of India. The area is already popular with globe-tramping backpackers, and is famous for its beautiful beaches, global food, economical accommodation and flights.
Have a quick rundown at some of the popular destinations in South-East Asia, which can become your favorite picks-ups too –
1. Chiang Mai, Thailand
Chiang Mai is also known as the 'Rose of the North'. The cultural capital of Thailand has some of the most beautiful beaches, primeval temples, mountainous landscape and a plethora of natural attractions for tourists. There is a lot to see and explore in this striking city. It is renowned for its museums, spas, lush green gardens, and jungles. You can find the best of the accommodations here as per your budget. There are beautiful properties on river side, if you want to go for a romantic getaway. If you are a foodie, you will love this place even more. Do not miss out on their signature dish 'Khao Sui' for some real indulgence. You easily get visa for such cities and mostly it's on arrival. To keep yourself protected, you just need to get all information about travel insurance as per your travel plans and purchase an international travel insurance policy before your trip. Then you are all good to go!
2. Sa Pa, Vietnam
The northwest market town of Sa Pa is vibrant and charming as ever. You will feel mesmerized in the picturesque Muong Hoa Valley. You can trek around the beautiful Fanispan Mountain and embrace the beauty of nature. Also, experience hiking in the rice trek of the plunging Muong Hoa valley. There are number of world renowned restaurants offering you Vietnamese delicacies. Also, take a chance to splurge in the Saturday night love market!
3. Bali, Indonesia
Bali is famous with honeymooners for its calm and serene life. And the place offers you the most surreal beaches, jungles, greenery and lush landscape. You will find world-renowned surf barrels at Kuta beach, water games at Nusa Dua and the real balm is Ubud village. This side of Bali will soothe your soul with culture, beauty and freshness. You will find the most beautiful and economical pool villas in the heart of Indonesia, i.e. Bali. There is night life, markets, authentic food and beauty all around you.
4. Koh Samui, Thailand
This is the most beautiful and third largest island of Thailand. It is bliss to be surrounded by crystalline waters, breezy palm-fringed beaches, and a line of luxury resorts, which eem wrapped in the beauty of this breathtaking island. The food here is a treat for your taste, who doesn't love the scrumptious 'Thai food'. You will get a range of fresh juices here, as nowhere else in the world. There is beach, water games, water activities, nightlife, elephant Park, and a full retreat in store for you. Simply rejuvenate in the arms of this little heaven on earth, in the Gulf of Thailand.
5. Borneo, Malaysia
Borneo Island has striking beaches and primeval, biodiverse rainforest. The 3rd largest island in the world is home to wild animals like leopards and orangutans. You can experience the beauty of the Kinabatangan River in a motorboat and treat your eyes with some green landscape around it. You will find monkeys and orangutans jumping the tree branches. The experience is truly mesmerizing for any visitor. Soak yourself in the raw beauty of this vibrant island, stashed with wildlife and ardent adventures. Mount Kinabulu is famous with hiking lovers. Kinabulu Park has mountainous landscape and lodges, if you want to stay there. Do not miss the Orangutan sanctuary at the Sandakan. But, before your trip, try to get all information about travel insurance in Malaysia and enjoy your vacations in a secured manner, in this beautiful country.
6. Bohol, the Philippines
The land of chocolate hills is one of the blockbuster destinations of Philippines. This nugget-shaped island is home to the world's smallest primate 'tarsier'. Nalusuan is the man-made resort island where you can try scuba diving, snorkeling and fishing. Alona beach is also popular with scuba divers and snorkeling enthusiasts. The beautiful mahogany trees at Bilar man-made Forest offer a blissful sight. Tourists love to take up a tour to the Philippine Tarsier Sanctuary.
7. Luang Prabang, Laos
It lies in the center of northern Laos, and is labelled as a UNESCO World Heritage Site for its great cultural, historic and architectural values. This place is home to a number of UNESCO protected sites and temples. You will see a symphonic relationship between the man-made developments and natural environment. The beauty of the teak-blanketed slopes, mishmash of bamboo huts, coffee roasters and cocktail lounges, is a treat to eyes. Popular tourist spots are – Wat Cham Chi, a famous Buddist temple, Mount Phousi for hiking and sunset, and Royal Palace, Luang Prabang.
Summing it up –
South-east Asia is home to many beautiful islands and countries, and considering the economical synchrony, it is certainly on one of the top tourist destinations for Indians, as well other countries around the world.