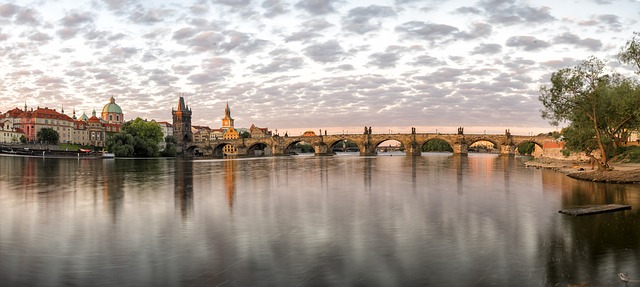 The Charles Bridge in Prague is undoubtedly one of the most beautiful bridges in the world. It was inaugurated by King Charles IV, the Holy Roman Emperor and King of Bohemia. For hundreds of years, the bridge has functioned as a crucial link between Prague's Old Town and the Lesser Quarter of the Prague Castle. The Charles Bridge attracts thousands of visitors daily, who come to experience the magnificent views from this ancient landmark.
The Charles Bridge was not the original bridge that connected the two sides of Prague city. The first bridge was made of wood; it collapsed due to floods in the 11th century. After which King Vratislav I ordered a stone bridge to be constructed, and was named the Judith Bridge. This bridge too collapsed during a flood in the 14th century. However, one of the two towers on the west bank still stands to this day; protecting the bridge. Now the Charles Bridge is the oldest of the 17 bridges that cross the Vltava River in Prague and is the most visited.
The Charles Bridge is a popular destination and a big tourist site attraction. It is approximately 516 meters long and has a wide spread of 10 meters. The beautiful bridge spans 16 arches and is lined with 30 Baroque statues of religious figures secured by ice guards. In recent past years, renovation has been done on the bridge to ensure it endures a lifetime. The Charles Bridge is a must-see on your visit to Prague. It is a magnificent symbol of the attractive Prague city and will remain so for years to come.
The Prague's Charles Bridge has visitors all throughout the year. The bridge's most atmospheric experience is at dawn when you can see the glorious sunrise. During the day, the bridge is a lively attraction; you can easily get lost in the mass of people lined with many traders, vendors, musicians, and artists. When the sun sets and the street lights are turned on, the city of Prague city look entirely different. At night the bridge has the most spectacular views with great musical presentations and the sight of the towers of Prague Castle glowing brightly against the night-time sky.
Looking left, to where Prague's Charles Bridge crosses over the river, one can see the magical view of the Vltava bank and surrounding buildings where movies like Mission Impossible and Kafka were partly directed.
You can also visit Loreta, a complex of buildings in Prague with dominating bright colors. It is connected to many legends and will make you feel spiritual. The National Museum at Wenceslas Square will leave you speechless as it looks more beautiful in the dark blending with the big concrete area. There more sights worth seeing in Prague city while you experience the Prague's Charles Bridge at night.