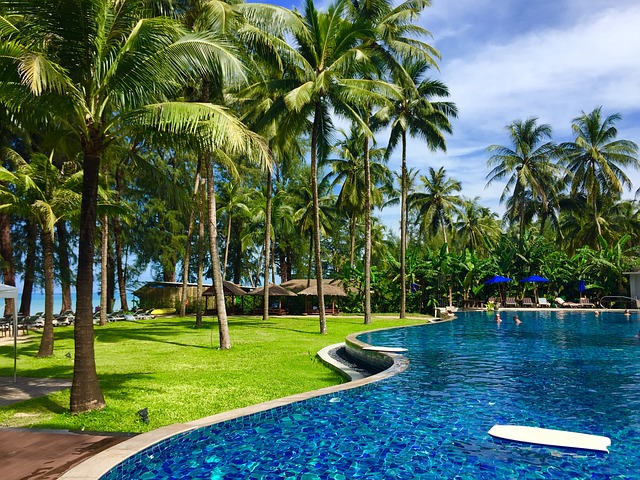 Planning family vacations is hard. You have to choose a destination everyone can get on board with. You have to schedule out your itinerary and have backup plans for the inevitable bumps in the road. But most of all, you have to pick a spot where everyone has something they can enjoy.
A lot of families pick all-inclusives because they seem to fall into this catch-all category, but if you're feeling uncertain about going all-inclusive, you might want to consider the benefits and drawbacks.
Sure, many families swear by all-inclusive resorts, praising their convenience and variety of activities for different ages. Others will come out with horror stories of miserable kids and unappealing food or worse.
Vacation time is precious, so it's important to choose wisely. If you've never been on an all-inclusive vacation before, these are some of the pros and cons to consider before you book.
Pro: It's easier to budget.
When you book an all-inclusive, everything is part of the deal, from flights and your room, to meals and drinks at the bar, to trips and activities. Once you've paid, you've paid.
You won't need to worry about bills creeping up, or have to work out a budget for restaurant dining. You'll be able to enjoy a glass of wine or an after-dinner drink without worrying about the cost. When you're travelling with a family, that's a big plus.
It's difficult to budget for family vacations, but booking an all-inclusive takes out the uncertainty and means you know you can definitely afford to take the trip you book.
Con: You may feel limited.
Having everything included is great, but it does come at a cost. You're not going to be going out exploring the local restaurants every night if you've got a great choice of food included in your package in the resort.
You probably won't end up traveling far from the resort at all. That can be a great thing, but you might end up feeling like you haven't got enough bang for your vacation buck. It can help to budget for eating a couple of meals away from the resort, and perhaps a day's car hire so you can get out and explore.
Pro: The food and drink are usually great.
The food at all-inclusive resorts varies hugely, but is usually good with lots of options. It'll generally be buffet-style, which is great for fussy kids, as there'll always be something they want to eat.
Depending on the resort, you might also get extra options, like beach barbecues, multiple a la carte restaurants, or special themed dinners.
Con: If you don't like it, you're stuck there.
Any type of vacation can be ruined by a bad hotel choice, but if you're at an all-inclusive, this is especially true.
If you hate it when you get there, or the food is terrible, there's not much you can do to change things. Whereas if you're in a standard hotel, you can avoid spending much time there other than at night.
Pro: There's everything you need in one place.
Especially if your children are small, having everything you need on site, as you will in an all-inclusive resort, is fantastic.
Larger all-inclusive resorts will usually have multiple restaurants, bars and pools, as well as other facilities such as spas and children's play areas. They're also usually on the beach, and sometimes even have their own area of private beach.
So, you won't find yourself trekking around town trying to find something to occupy fractious children.
Con: You may miss out on local culture.
Especially if you've traveled abroad for your all-inclusive vacation, you may feel that you're missing out on exploring the local culture by staying in an all-inclusive.
They're generally fairly separate from local towns, and you're unlikely to encounter many locals, except perhaps those working there. If soaking up the culture is important to you, try and book an all-inclusive that's as central as possible, so you can wander out and enjoy some local sights and sounds.
Pro: You can choose a family-friendly resort.
All-inclusives are not all the same. Some market to families specifically and some are adults-only. that include kids' clubs, babysitting and plenty of facilities for young ones. Pick one of these and steer clear of couples' resorts and those with a more adult vibe.
Con: It may not be as all-inclusive as you think.
While most all-inclusives will include all meals and drinks at any time of day, plus a whole raft of activities, some are less generous. Check that you can get drinks and snacks all day, for example, and if there's an activity you really want to do, check it's part of the deal.
Pro: It's a chance to try new things.
Because activities are included, you might find that you try out things you wouldn't if you had to pay extra for them. That beach yoga class or windsurfing lesson suddenly seems way more appealing if it's part of the package, because if you decide you don't like it, you haven't lost out on any money.
Pro: It really is relaxing.
All-inclusive resorts are perfect if you want the kind of vacation that you don't have to spend time planning, and for which you don't need to pack anything other than your beachwear and maybe a cocktail dress.
Of course, trekking down the Amazon or climbing a mountain is fun, but sometimes, you just need to kick back and do nothing for a few days. That's where an all-inclusive comes into its own.