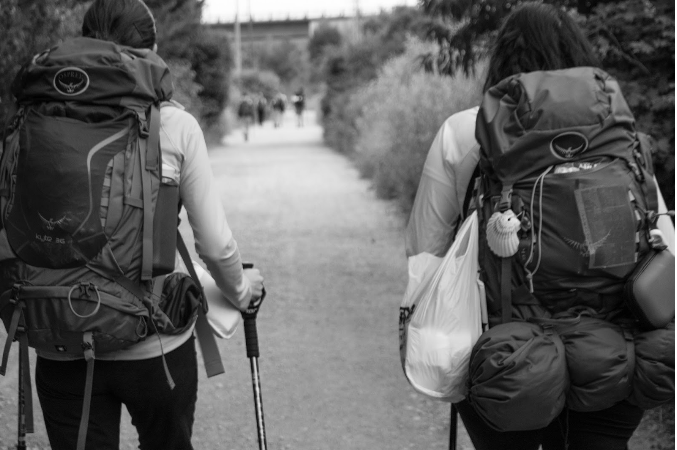 It is a big decision when you decide to go on a pilgrimage, and the Camino de Santiago is no exception.
This pilgrimage to the shrine of the apostle St James is perfect for both spiritual growth and the physical challenge. It is the epitome of soul food and a chance to get away from the busyness of day to day life and do some real reflection in beautiful surroundings.
However, logistically this type of trip can be quite difficult to plan and organise. It is not just one route, there are several starting all over northern Spain, France and Portugal. Each one takes a different path, has different attractions, and different experiences to be had along the way.
Planning is key to a successful Camino de Santiago
There are some many different routes, with so many starting points the options and combinations of trip are huge. You also need to know how long you have available, how far to travel each day, where to eat and stay each night, and how to transfer your larger luggage to each overnight stop.
All in several languages.It is no wonder people turn to the experts for help. With guides like Santiago ways, the small details and the language barriers are taken care of, and you can build the perfect itinerary for you.
The other great thing about using a regional expert, is that they will already have long lasting relationships with the best hotels, country houses and guest houses to make sure that you have the best places to lay your head each night.
They will also have insider knowledge of where to go to eat, where you can try delicious local dishes, cooked fresh for passing travellers.
They can even transfer your luggage from stage to stage of the route for you and provide 24-hour emergency telephone assistance should you need it.
This is great for group bookings, where coordination of up to 15 people is a task in itself, without trying to make all the bookings yourself. It is also great for those looking to cycle the route who definitely won't be able to carry all their luggage with them. Every single traveller is provided with a full information dossies, containing a complete complete guide of your chosen route, maps, historical information and the pilgrims credentials for the trip.
The hardest part is choosing which wonderful route to take
Choosing a route is the first decision you need to make. The Camino Frances, or the French Way is the most popular, particularly with beginners who choose to start at Sarria in Galicia. Sarria is approximately 111 KM from Santiago, and the minimum distance to qualify for the 'compostela' the traditional certificate that shows you have completed the Camino de Santiago.
The route is a great introductory route for those who wish to capture the essence of the Camino de Santiago. Along the way you can discover beautiful cities and towns, charming medieval villages and awe inspiring landscapes of Northern Spain.
You might also choose one of the Portugues routes, either the Camino Portugues – a more rural route, or the coastal path which allows you to experience the majesty of the Atlantic Ocean.
If coastal routes are your thing, the Camino del Norte also offers an amazing experience, with 5 stages that take you along the northern coast of SPain, through cities like Bilbao, Santander and San Sebastian. San Sebastian is particularly recommended for food lovers, as it is famous for its culinary and gastronomic experiences, and is one of the the top 10 cities in Europe for Michelin starred restaurants.
These are just some of the choices available, there are still more. So start building your perfect trip today and get ready for the experience of a lifetime.