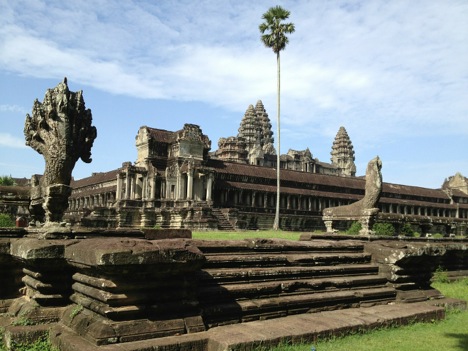 Siem Reap City is one of the most prosperous regions in Cambodia. This city's close proximity to Angkor Wat temple has turned it into a premier travel destination. More than two million visitors from all over the world come to Siem Reap every year to explore the rich history and 1000-year old heritage of the ancient Cambodian empire. If you are considering booking a flight to Cambodia, don't leave home without reading this article first. 
Psah Chas
One of the main tourist districts in known as Psah Chas or Old Market. Lots of people from Europe and America can be seen dining in restaurants, drinking at the bars, and dancing in the nightclubs. The night market keeps going well past midnight in awe of tourists who have turned this quiet little downtown into a bustling one.
Angkor Wat and the temple region
The main attraction of Siem Reap is Angkor Wat and its temples. This region covers more than 150 miles of northwestern Cambodia. The temple complex is a UN Heritage Site with hundreds of 9th to 14th century structures. The Khmer Empire has left its marks here in the forms of carved artwork and priceless archaeological ruins that have been left untouched for more than 500 years. 
The traditional Khmer dance and performances
Since the earliest days of tourism in the beginning of 19th century, it's been a Cambodian tradition to treat visitors with an Apsara dance. You will get a true taste of classical Khmer culture and no visit to Siem Reap is complete without attending at least one Khmer performance. The most popular dance shows are now the dinner performances that combine buffet with a 1 hour performance so make sure you get your invite to the next event. 
When you leave UK to go on holiday to Cambodia, it is necessary to have holiday insurance for peace of mind. In case you need emergency medical treatment, the last thing you want is to run up a large medical bill at the hospital. In addition to covering medical bills, your insurance policy can also help with lost or stolen baggage. Remember to find a good insurer who can offer you advice on buying the right coverage so you won't have to foot the bill yourself. 
Angkor Park
The archaeological park in Angkor is home to the magnificent ruins that include the famous Bayon, Angkor Wat, and hundreds of other ancient Khmer Empire temples. Angkor Park is a World Heritage Site that stretches 200 miles outside the city of Siem Reap. To get to this archaeological park, you must first come to Siem Reap and book your hotel in this city as there are no places to stay in the actual park grounds. The park's entrance is located only 1 mile north of the town so you can easily have the best of both by dining at Siem Reap's finest restaurants and exploring the Angkor Park with your family or friends.