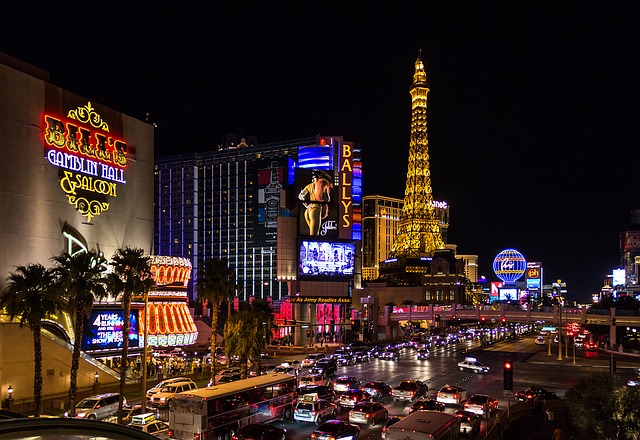 Nineteen of the twenty five largest hotels in the world can be found on the Las Vegas strip (that's by number of rooms rather than overall size), all of them are casino complexes as well as hotels, and many of them offer extra things to see and do as well some of them aimed at the foot traffic that goes past their door.
If you're not planning to visit Vegas anytime soon you can still get some gaming action online at lottery-bonus-code.com, where you can get a signup bonus when you join.
Outside the Mirage for example, every night on the hour from 5pm till 11pm, an artificial volcano 'erupts' spewing pina colada scented smoke into the night air. The fountains of Bellagio outside the Bellagio hotel and casino, is a magical show of lights, music and water that can be watched every few minutes throughout the evening.
For people who don't want to walk along the strip, there's the Las Vegas monorail that runs almost 4 miles of the strip along the east side, from Tropical Avenue to Sahara Road. It takes about 15 minutes to travel its full length.
Putting aside the gambling for a moment, Las Vegas has a lot more that it can offer people. Virtually every hotel has shows on a nightly basis, from dancing girls to musicals and variety shows. See the Chippendales or Sin City Bad Girls perform, listen to good music, or even watch a magic show performed by one of the worlds great magicians such as Penn and Teller, or David Copperfield.
The Las Vegas space flights offer people the chance to experience what it might be like in outer space. A specially designed Boeing 727 takes them up into the air and then performs various moves that allow people to feel the effects of a real space flight including weightlessness. It only lasts a few minutes, but is something you'll remember for the rest of your life.
The Stratosphere Towers in Las Vegas is the tallest free standing observation tower in America – ok technically it is a casino and hotel as well, but it's the view from the top and other activities there which may reeeally excite you. The viewing platforms at the top let you see not just Las Vegas, but also the surrounding area including mountains and desert. There is a restaurant here known as 'top of the world' which revolves, and also three thrill rides.
Big shot which is a reverse bungee jump that shoots you 160 feet into the air at 45 miles per hour. Insanity which dangles you over the edge of the tower and then spins in a circle at about 40 miles per hour, and Skyjump which is a controlled descent bungee jump like ride that lets you plummet 855 feet attached to a high speed descent wire.
Other nearby sights to see, and places of interest to visit, include Madame Tussauds, the Fashion Show Mall, Red Rock Canyon National Conservation area, and Mount Charleston.
Flying to Vegas doesn't have to be expensive, and lots of cheap flights to Las Vegas can be found through online booking sites who work with all the major airlines and some minor ones to offer you the best deals possible. You can arrange a simple flight, or a whole holiday including hotel and other costs.