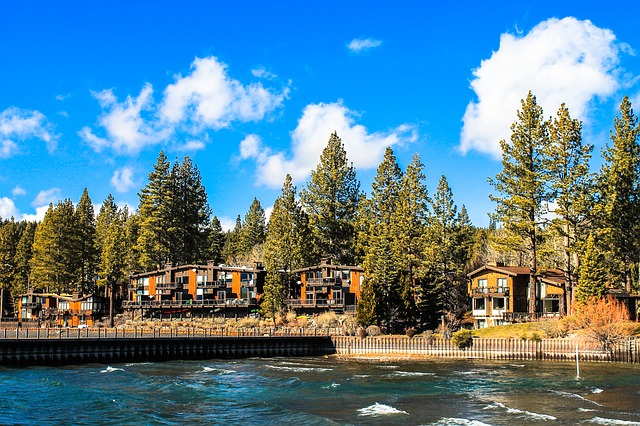 Ah, spring break. What better way to recharge your whole family than taking a well-deserved vacation during spring break? Leave school and work behind and head out on the open road. Previously, this meant piling all the kids in the car and driving 8-12 hours until you finally reach your destination – tired, crabby, and with tired, crabby kids – and then fussing with multiple hotel rooms and uncomfortable hotel beds. A better option would be to stay in a vacation rental instead of a hotel! Renting an entire house for your vacation means the kids aren't spread among multiple rooms and won't be driving everyone crazy running up and down the hallways. They can each have their own bedrooms as well as multiple porches, decks, and yards for them to roam or relax in. You can also save a ton of money because your vacation rental comes with a fully equipped kitchen in case you decide to DIY during mealtimes.
To give you a head start, here are four amazing destinations for a family vacation within a few hours of some central locations.
Gatlinburg TN
Driving time from DC: 8 hours
Gatlinburg is a great mountain resort near the foot of the Smoky Mountains in the state of Tennessee. A Gatlinburg rental cabin is a great way to experience the city without sacrificing comfort or amenities. It is mostly known for the Great Smoky Mountain National Park with its more than 600 miles of hiking trails, but it also offers the Ober Gatlinburg Ski Area and Amusement Park if you feel like snowboarding, ice skating, or skiing instead of hiking or camping. If indoor activities are more interesting to your family, check out the Ripley's Aquarium of the Smokies, Ripley's Moving Theater for ride-the-movie thrills, Ripley's Penguin Play House, or Ripley's Believe It or Not! Odditorium for indoor adventures. Gatlinburg also offers water parks, ropes course, ziplines, museums, and other fun attractions that are appropriate for the whole family. If you are looking for grown-up attractions, look no further than the spate of distilleries, wineries, and microbreweries available throughout the city, including authentic moonshine distilleries. Overall, Gatlinburg is a great vacation destination because it offers great outdoor fun as well as other family-friendly events and attractions.
Seaside FL
Driving time from Atlanta: 5 hours
Seaside, FL is a beautiful beachfront resort community located between Panama City Beach and Destin along scenic Highway 30A. If you are looking to avoid the crowds and noisy attractions over your spring break, Seaside is the place for you. It has the largest private beachfront along the Highway 30A corridor and it's one of the best reasons to stay directly in town – the white sandy beaches are literally 5 minutes from your front door. Seaside is known for its lovely vacation rental cottages, walkable town center, and warm white beaches. It boasts some of the prettiest beaches in America as well as the perfectly pedestrian way of life. Beautiful cottage rentals allow you to spread out and enjoy the fantastic weather as well as give each family member their own space for the length of your vacation. You can walk or bike everywhere, enjoy locally owned waterfront dining, and experience some quality family time as you explore the quaint offerings of Seaside. Don't leave town without getting a Hawaiian shave ice or frozen custard at the local favorite Frost Bites, the only vintage Jetstream in Seaside that serves cold treats. Water fun is the main attraction of Seaside, with stand-up paddleboarding, parasailing, and kayaking to name a few activities in addition to the beautiful beaches and swimming pools. Exploring is made easy with multiple state parks, rich forests, and rare coastal dune lakes amid a series of hiking and horseback riding trails. The best part of Seaside is that you can do everything, or you can do nothing – it's a stunning place to just sit on the deck or porch and relax!
Branson, MO
Driving time from Dallas: 7 hours
Branson, MO is well known for its family-friendly entertainment and breathtaking natural surroundings. It is located 40 miles south of Springfield and near the heart of the Ozark Mountains. It offers music, live entertainment, scenic views, and affordable family fun for spring breakers. For more than 50 years Branson has offered live music shows, everything from bluegrass to gospel to classical concerts. In addition, Branson offers Silver Dollar City (an 1880s-style theme park), the Titanic Museum Attraction (where you can experience what it felt like to be on the Titanic), Dolly Parton's Stampede Dinner Attraction (Dolly Parton's fun version of dinner and a show), and the Showboat Branson Belle tour (a riverboat on Table Rock Lake that offers a 2-hour cruise that includes dinner, magic, and comedy to entertain the entire family). If you and your family prefer the outdoors, then Table Rock Lake provides you with 800 miles of shoreline where you can boat, fish, swim, or just hang out on the sandy beaches of Moonshine Beach. To zipline through the trees of Wolfe Mountain, check out the Branson Zipline and Canopy Tours or learn about the local wildlife in the Ozarks region on a photo safari. There is something for everyone in Branson, MO, so your family will be greatly entertained during your stay.
Lake Tahoe, CA
Driving time from San Francisco: 3 hours
If you prefer an outdoor oasis that includes both sand and snow, then Lake Tahoe, CA may be the best place for you to take your family. The north shore of Lake Tahoe boasts 12 different ski resorts where you can have fun on the bunny slopes or challenge yourself on the black hills. Skiing and snowboarding are the main attractions on the north side, whereas beaches and the largest alpine lake in America reside on the south side of Lake Tahoe. The lake itself is deep and wide, a surreal color of blue and surrounded by the majestic Sierra Nevada Mountains that are perfect for hiking, biking, and camping. There is an average of 300 days of sunshine every year in this area, so spring break will have great weather! Experts say the best skiing is in March because of the slightly warmer temperatures. Winter sports, water sports, golfing, nightlife, camping, and even pet-friendly lodging can be found in this natural marvel of a location. If you prefer other kid-friendly entertainment, check out the KidZone Museum, the Truckee Railroad Museum, the Tahoe Maritime Museum, or the many art galleries that can be found in surrounding areas. Natural beauty is front and center at Lake Tahoe, but every family member will enjoy their time at this picturesque location.
Wherever you spend your spring break, being with your family is the most important element. As long as you are together it will be a memorable vacation!