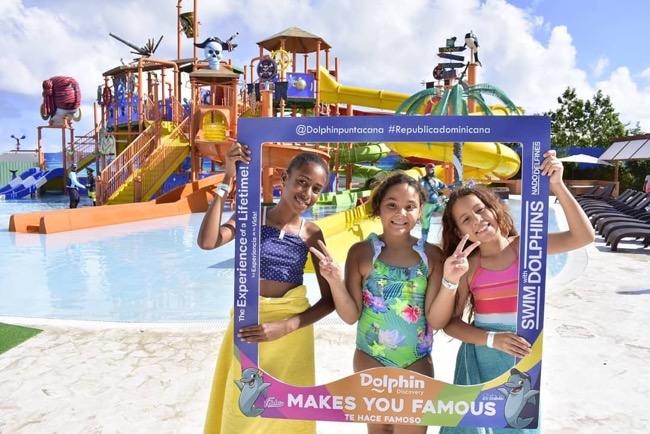 Punta Cana has stood out over the last years as one of the most visited places in the world. Its idyllic location in the Caribbean sea bless this Dominican Republic area with crystal clear waters and white sand beaches that look like they were brought straight out of a dream. However, as tempting as this may sound for an adult, the idea is way less charming for kids who often find a lack of activities adapted for their age gap in this area. Thankfully, Dolphin Discovery has opened Pirate Island, a recreational area especially designed for the small ones in our family.
Discover Pirate Island
Spending the family holidays in Punta Cana sounds like a dream to many of us. However, people wanting to visit this place with kids may soon realize that the range of activities for children in Punta Cana may be restricted to the most exclusive resorts. Thankfully, there is finally an alternative in the province of Bavaro Punta Cana aimed for kids. Pirate Island is the new attraction at Dolphin Discovery that will let your kids' imagination run free.
One of the things that have traditionally attracted kids to the Caribbean has been the concept of pirates. Pirate Island is an attraction specially designed to bring that fantasy into live. The attraction is located in an area of over of 800 square meters, right between two murals painted by a local artist. These murals help bringing a feeling of immersion to the attraction, since they depict a sunken Spanish galleon with an old rusty anchor and multiple colourful sea creatures, among which, dolphins could not be missing as the stars of the park. Once you enter the attraction, the first thing that strikes you is its colourful slides. There are 8 different slides, all in different shades, heights, shapes and sizes, with covered and uncovered spirals. All these features are accompanied with some amazing decoration that includes a 6ft tall skull, the faces of evil pirates, palm trees, treasure chests, badgers and the world famous Pirate Morgan. Overall, Pirate Island has everything your kid could ever need to feel like a real pirate and enjoy a day of real fun that they will never forget.
Fun for all the family
Adults also get their fair share of fun with the all day activities in Punta Cana available at Dolphin Discovery. Among the installations of this park we can find the dolphin habitat, boutique, photography area, an amazing swimming pool and a snack restaurant. Everything you could need for a perfect family day can be found within the park installations.
But if there is something that you can not miss during your visit to Dolphin Discovery is, as its own name states, the dolphins.
Dolphins are truly amazing creatures. They are highly intelligent, social and funny animals, and in Dolphin Discovery they are the stars. This water park in Punta Cana features multiple activities in which families will be able to interact with the dolphins. You can choose between 3 different packages the one that would fit you and your family better:
– The dolphin encounter program is specially designed for all ages. It is the perfect option for families with small children or with members that are not very prolific swimmers, since during this activity all the participants stand on a small platform. From this platform you will be able to interact with the playful dolphins, which have been trained to give the visitors a hug, a handshake and a kiss.
– The Dolphin Royal Swim program features the same platform interactions with the dolphins, but will also allow you to swim next to them. The pinnacle of this activity comes with a foot push, where two dolphins will get behind you and help you raise above the water by pushing on your feet.
– The Dolphin Swim Adventure program is an exclusive activity that will allow you not only to perform the same activities than in the dolphin encounter program, but also to swim around with the animals while holding on to them or to a boogie board that they will carry around.