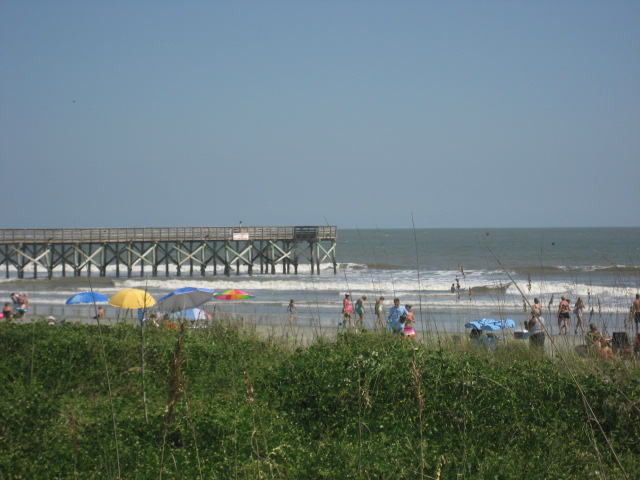 Imagine it; the Balmy, sea salt air blowing through your hair, the gorgeous sandy beaches stretching on for miles, and the bustling downtown city center, dotted with luxury restaurants, homey beach bars, and historical attractions: This is what awaits you in sunny Isle of Palms, South Carolina.
As one of the east coast's premier vacation destinations, Isle of Palms has long played host to millions of annual vacationers looking to stretch out on the beach. But, Isle of Palms is more than just a fantastic beach destination – it is also home to some truly unique and enjoyable attractions and restaurants that you simply cannot miss. Fortunately, if you want to experience everything that makes Isle of Palms such a unique South Carolinan jewel, and find the best eateries nearby, you're in the right place! Let us take you on an attraction and culinary journey of this amazing vacation destination, so you can see what Isle of Palms is all about!
Visit the Fort Sumter National Monument
Have a history buff in the family? Fort Sumter is where the confederate forces fired the first shots of the Civil War upon Federal troops on April 12, 1861, making it one of the most historically fascinating destinations in the United States. Made up of three sites – the original Fort Sumter, Fort Moultrie, and the Fort Sumter Education Center – this attraction gives you plenty of opportunities to learn about one of the most tumultuous times of our nation's history, all while doing a bit of sightseeing to boot! If you visit, don't forget to take a boat tour to view the outside of the monument; it's truly a sight you won't soon forget!
Where to Eat After
The Obstinate Daughter – though located on Sullivan's Island – is just 20 minutes from central Isle of Palms, and just 15 minutes from the Fort Sumter ferry landing at Patriots Point. Offering eclectic New American fare, including fanciful flatbreads, fresh fish, and fantastic pasta, this local favorite is just what the doctor ordered after a short ferry ride back from Fort Sumter! Don't forget to try the delectable Cappelletti, stuffed with Foie Gras and doused in truffle butter and chives. It's a personal favorite, and a dish unlike any you'll find throughout Isle of Palms!
Stop By Dewees Island
A short ferry ride from central Isle of Palms leaves you on Dewees Island, a natural wonderland with plenty of opportunities for fishing, swimming, shrimping, crabbing, and more! Learn how to Crab at the Crab Dock – every Monday from 10:30 – 11:30 AM – or go birdwatching to catch a glimpse of the wood stork, white ibis, and Rosette Spoonbill that roost here every summer. Dewees Island is also a great place to go fishing, with Red Drum, Speckled Trout, and Flounder all in abundance. Overall, if you're looking for a great spot to experience the coastal outdoors, Dewees Island is the place to be!
Where to Eat After
Morgan Creek Grill on Isle of Palms is just up the road from the Dewees Island Ferry, and is one of the more delicious waterfront restaurants on the island. This is a fantastic spot to dine on comfort food from the ocean, with golden fried flounder and oyster and shrimp and grits being a few of the highlights. If you want something a bit less fried, the lobster roll is sweet, savory, and a perfect way to cap of a day on Dewees Island!
Relax at Isle of Palms Beach
The piece de resistance of Isle of Palms attractions, Isle of Palms Beach is one of the most gorgeous beaches you'll find on the East Coast. Here, it's almost always sunny, and the warmer Atlantic waters provide beach goers with pleasant temperatures throughout the beach-going season! Add in the incredible sights, over 50 beach access points, and its proximity to all the shops, restaurants, and other attractions that make Isle of Palms so unique, and it's easy to see why this is one of the more popular beaches here in South Carolina.
Where to Eat After
Because Isle of Palms Beach is central to many of the restaurants in the area, you have your pick of the litter after you're done lounging at the beach! But, if I were going to choose something special, the Windjammer would be the gold medal winner! Offering a deck that overlooks the beach, fantastic bar fare, and a fun filled atmosphere that screams beach bum, this drinks-fueled bar provides you with exactly what you've been looking for here in Isle of Palms; a laidback restaurant where you can eat, drink, then get back to the beach as soon as you're done refueling!
Trust me; these locales are perfect candidates to visit when on your Isle of Palms trip, but don't let these be the only spots you try! Isle of Palms is home to a variety of amazing restaurants and attractions, and these are just the beginning. Visit our site today to see some of the best vacation hot spots in the area, and see why Isle of Palms is your next favorite vacation destination!