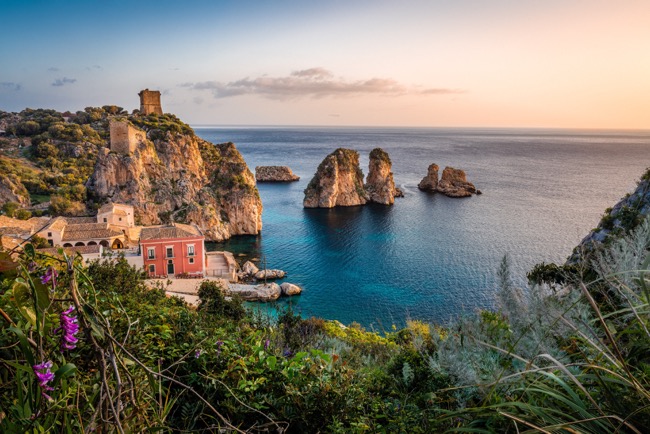 When you first hear of anywhere Italian, you imagine a wine country, a fancy beach, chilling with your pina colada, with your big hat on and a camera hanging on your neck. Well, in addition to the smell of pizza and gelato in the air, the Italian country has so much to offer. Good food, scenic views, rich culture, and a whole lot of good vibes to top it all up. A day, week, or month in the Italian region of Sicily will have you shouting 'Buonasera' to everyone you meet. And below are the best locations in the region with the best luxury villas in Sicily.
Porto Palo di Menfi
If you are looking for a place that you can take a walk on the beach and still walk around the area for a bit of shopping, eat out or go for clubbing at night, then this is the place for you. The Porto Palo di Menfi has one of the most beautiful sand beaches in Italy, where you get to let loose to either take a brief swim in the turquoise blue water or just chill on the shores taking in the breeze. And if you have a passion for swimming, you can swim across a small distance to get to a nearby island. It is truly a visit of a lifetime. Wine tasting is also an activity you can partake in while you are there.
Marinella di Selinunte
Another Italian neighborhood you will appreciate is this one, which has a plethora of activities to get to and one of the best accommodations ever. You can get to sightseeing tours, get to go to an archeological excursion at the ancient Greek archaeological park which is the largest in Europe. Other things to get to are cultural and theme tours, wine tastings, and so much more. This area is truly a hub of happiness, so when you get to Sicily, pay a visit to the Marinella Di Selinunte part of the region.
San Teodoro Marsala
In Marsala, Sicily, there also a number of things to do and exciting places to go. Well, if you are a laid-back kind of person, a day by the beach will do you good. But if you are an adventure junkie, San Teodoro in Marsala has so many things you can get to. Well, apart from the usual beach activities, you can go for an afternoon tour to the wineries or head down to the Isle of Motya.
Scopello
The Scopello area in Sicily is a paradise you will be grateful you visited. The scenes of the protruding coral reefs hills from the blue waters below are a sight to behold that several spots have the same landscape. You could visit the Tonarra di Scopello and the Baglio Di Scopello, which are similar but very different at the same time. And additionally, you can get to enjoy the cuisines from seafood, Italian, or Mediterranean.
Fontane Bianche Near Siracusa
The Fontane Bianche near Siracusa has also its fair share of activities a lot of people will enjoy. You can take nature walks through parks and reservations, take part in a number of outdoor activities or explore the beachfront, which is home to some of the best Italian restaurants.