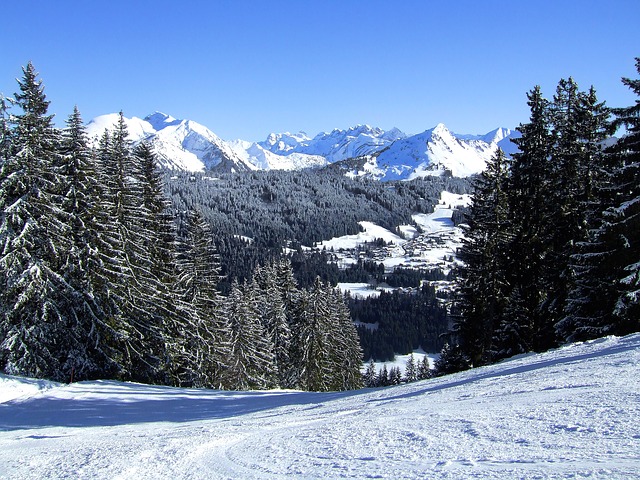 France is probably the top ski destination in Europe with a variety of resorts and excellent ski infrastructure. Every ski resort has something unique, so you need to research and make the right choice. Your excellent household knowledge will come in handy as the seemingly trivial details can make a difference to your overall holiday experience. If you are a beginner or traveling with small children, your ski area should ideally offer beginner lift passes, a good ski school, and gentle practice slopes. Advanced skiers need to crave demanding terrain, while group travelers may need a mixed level of slopes to take care of all the party members.
1. Tignes
The first and most important treat about Tignes is that it is one of the highest ski resorts in the Alps – in Europe. The holiday village itself is located at 2,100 meters above sea level, while the slopes below the Grand Motte Glacier are approximately 3,455 meters above sea level. The slopes are designed for skiers and cover a total area of ​​300 kilometers, with snow that lasts all year round. Massive snow cannons begin firing during the warmer summer months, though the sheer height of Tignes makes it easier for the snow to remain viable.
Tignes is easily accessible by road and is only 1,000 kilometers from Calais. The first 960 kilometers are via freeways or freeways, which makes the majority of the journey relatively smooth and fast. It is most convenient to work with a tour operator who specializes in skiing holidays in the Alps.
You can also take the direct Eurostar service from London, which will take you directly to Bourg St Maurice. It then takes about 45 minutes by taxi or minibus to reach the resort itself. You can also arrive by plane in Geneva, Chambery, Grenoble or Lyon. Chambery is closest to two hours; Geneva is the next to take three hours to transfer, while the transfer from Lyon and Grenoble takes three and a half hours.
Keep all this in mind and you will understand how Tignes is a special highlight for those who enjoy skiing in the Alps!
2. Les Menuires
When it comes to skiing, Les Menuires offers you one of the best ways to enjoy both the slopes and the joys of Afterski attractions. Les Menuires is ideally located in the upper part of the Belleville Valley, part of the world famous Three Valleys region in the French Alps. From Les Menuires, you can experience a variety of skiing experiences in Méribel, Courchevel, Val Thorens and Morzine, which can be reached by a Geneva to Morzine transfer.
The resort offers a wide selection of bars, restaurants, and other facilities. There are at least 48 dining options to choose from. It also has several popular pubs and nightclubs. Enjoy the traditional cuisine of Restaurant Cafe Au Village or the modern sounds of Discothèque Le Pop.
3. Ski in La Plagne
Think traditional, think forest-lined, think picture-postcard-perfect. This beautiful resort consists of 10 separate villages with large, wooded slopes, excellent practice fields, and good cross-country ski trails. The ski resort, to which all these ski resorts have access, is more than 225 km one of the largest in the world. It is served by more than 100 lifts with 2000 meters of altitude by a glacier with year-round snow cover.
4. Three Valleys
In Three Valleys, where ski accommodation France is extensive, you can enjoy a range of apartment complex. Résidence Le Valset is located in Val Thorens, strategically located at the entrance to the ski area. The landscape is exceptional, which you can admire from the balcony. The apartment is self-catering and you can choose accommodation that includes transport from the apartment to the ski area. The rent is made more affordable by accommodation only services.
5. Portes du Soleil
Portes du Soleil is a large region of the Alps. Among the fourteen valleys, Avoriaz is undoubtedly the most popular. Avoriaz is known for the most reliable snow, which is located at high altitude. The Pierre & Vacances Sepia is a three-star residence in Avoriaz with direct access to the slopes and close to ski lifts. To get the best possible value for a self-catering service, Chalets Des Alpages is a good choice.
6. Espace Killy
Espace Killy is known worldwide as the largest ski resort and is known for its challenging slopes. The resorts of Val d'Isère and Tignes are the favorites among the tourists for the active nightlife, which is highlighted by lively bars. Chalet Chardon in Tignes is definitely a good find and a more affordable one. You can enjoy the picturesque view of the village and the fantastic lake. The equally inexpensive Chalet Alley represents the authentic alpine style. Val d'Isère offers chalets and hotels for those who feel extravagant
6. Chamonix
The area of ​​Chamonix is ​​usually referred to as Chamonix, but you will find the city center and a few smaller villages on the outskirts. Everyone has their advantages and disadvantages, but these professionals always outweigh the disadvantages. For this reason, the holiday in one of the many Chamonix chalets is highly rated and recommended by travel experts and tourists.
For a calmer and less crowded holiday, the Chamonix chalets in Vallorcine are ideal. Vallorcine is the last town in the Chamonix Valley; it is only a few kilometers from the Swiss border you can use Geneva to Chamonix bus. From now on it is still considered a "hidden gem". As a hidden gem, you might accept fewer accommodations, but that's not the case. While the nights are quiet, the day is spent with skiers using the train station and lifts in the city center. There is also a supermarket that is ideal for those who are holidaying in Chamonix self-catering chalets.
Ski holidays can be tailored to your needs as the possibilities are limitless; you can choose a self-catering accommodation or just enjoy a luxurious weekend, depending on your preferences. With a comprehensive online search portal you can narrow your search and find the best ski resorts for you, your family and friends. You will be proud of your housekeeping and your holiday mates will thank you for being the perfect planner!