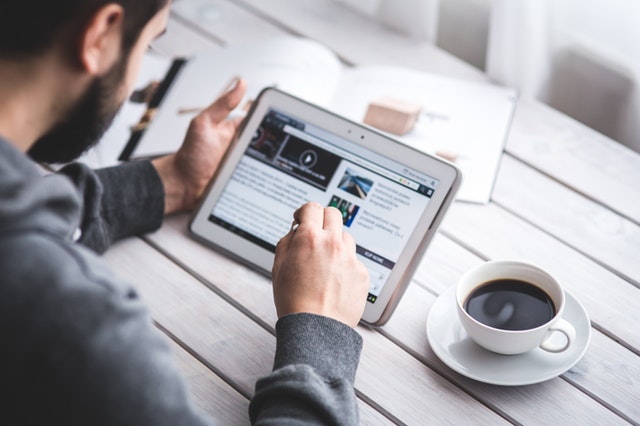 When travelling, having a great tablet can make all the difference to your experience. A tablet lets you listen to music, read books and watch videos during long journeys, while you can also use it to research destinations and find out the opening hours of local attractions. There are some great new releases onto the tablet market and we have 3 top picks for the best tablets to travel with this year.
Tablets are ideal travel companions. They are larger than a Smartphone, so they are more user-friendly, but they are smaller than a laptop, so they are more convenient and travel-friendly. Tablets are great for reading, researching and playing online games such as video games, online bingo and online casino games whilst on the move.
Here are our top picks for different activities:
Kobo H20 e-reader
The Kobo H20 e-reader is a great choice of tablet for travellers who like to read. This beauty of a tablet is waterproof and can withstand dust and sand so you can take it to the beach without worrying. The screen is easy to see as it has a special coating and is ideal for reading for long stretches as it is anti-glare for perfect use in the sun.
The Kobo H20 e-reader has over 4 million digital materials to choose from including newspapers and novels. It is easy to turn the pages with a touch of your finger and the text can be changed easily with 11 font styles so you can find the perfect one for your eyes.
Samsung Galaxy Tab A
The Samsung Galaxy Tab A is ideal for taking the place of most of your digital equipment. Instead of taking a camera, book, MP3 player and map, you can just pack this neat tablet and have all your gadgets in one item. The 7 inch screen is user-friendly and large enough to watch movies without strain, while still being small enough for daily use. It is lightweight too, which makes it ideal for travel.
The 5mp camera has edit facilities for great snaps while you can add a simple micro SD card to store all your pictures. The quad-core processor lets you run apps and media at high speed so you can enjoy a quick gaming session wherever you are. The 11 hour battery life means this tablet can last for ages without needing a top up which is ideal if you are out for the whole day without the charger.
Amazon Fire HD 10
The Amazon Fire HD 10 is a great tablet for watching videos as the high resolution makes the picture top quality whatever the format. The vivid detail capable on this gadget means you can enjoy movies and TV shows in great detail. Other features include lots of storage giving you space for 7500 photos and 6 hours of HD video.
This gadget also has access to Alexa the voice enabled assistant so this can help with navigating around a new city and finding out new information. The top graphics and video capabilities of the Amazon Fire HD also make it a good choice for gamers.
Whichever tablet you choose for your travel companion, these top quality gadgets will make your travel experience even smoother and more enjoyable.