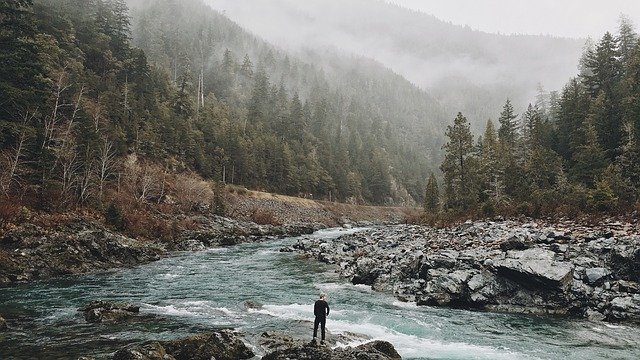 If you're an outdoors type, then your holidays are probably best spent hiking and getting up bright and early to get plenty of fresh air. An outdoors holiday is often what dreams are made of for those who have a box full of hiking boots next to the front door and a closet full of Gore-Tex. If you're thinking of having the ultimate holiday in the presence of Mother Nature, then here are few ways to maximize your time away.
Book an adventure holiday
If you're usually one for hiking and mountain trails, then an adventure holiday is one of the best ways to enjoy the great outdoors in a way that's more hands on. For example, zip-lining has become a huge industry in hot climates and tropical countries such as Costa Rica; it enables tourists to experience the vibrant landscape without the barrier of a window, and with the full rush of an adrenaline kick as you go.
Choose a campsite or travel home
Instead of hotels or staying in cottages, it's well worth considering camping or opting for a travel home. RVs and caravans are the best way of opening out straight into the sunshine on your travels, while also minimizing costs. If you don't have the money for the full up-front cost of an RV, you can always look for a used RV for sale, as these will be far more affordable.
Visit holy monuments
Holy monuments are often host to a country's fascinating history. In countries such as Sri Lanka, you can even find temple to beach walks, which enable you to soak up both the history and the views. But generally speaking, visiting places of worship often provides an insight into a country's original architecture and the founding religions that sculpted its governments and society. Taking a walk around these ancient monuments enables you to enjoy the outdoors and see some important historical sites.
Sports on the beach
Enjoying a nice long stroll is one of the most pleasant ways to spend time on the beach on vacation, but you can still dial up your experience to the next level. Renting kite buggies is a fun way to seek an adrenaline thrill with your family, and is also a one-of-a-kind experience to try out while you're abroad. It might not be possible on all beaches, but if you have flat sands and are able to make it down while the tide is out, you could easily lose yourself in this activity. Otherwise, playing football or volleyball, and going for a swim will help you prolong your time in the fresh sea air.
Jump in
Whether you'd prefer balmy waters or you don't mind a dip in more icy temperatures, swimming and other water activities are a perfect opportunity to immerse yourself in the great outdoors. Here are a few ways to explore the seas and lakes of the countries that you might visit:
– Kayaking: if you're traveling as a couple or with children this is the perfect activity for group participation. There are usually two seats, which is just the right amount if you don't happen to possess a lot of upper-body strength. If you're in an area with beautiful still lakes or quiet shallow bays, this will give you a feeling of exploration and adventure.
– Swim with sea life: if you're in an area with crystal-clear waters, such as Greece or perhaps even the Caribbean, then swimming with sea life is a good way to learn how to snorkel or perhaps even scuba dive. If you're happy to brace yourself for colder waters, then areas such as Canada have Beluga whales.
– Surfing: there are so many surfing hotspots around the world that you are spoiled for choice when it comes to destinations. Everywhere from Costa Rice to Cornwall has surfing rentals and schools for you to try out your best moves in the green room.
– White water rafting: this won't be suitable for those who have very small children, but white water rafting is like kayaking for those who want leave part of their control down to Mother Nature. It's about as natural a rollercoaster as you can get, and a fun way to see the wilds of some countries.
Enjoying the great outdoors while on holiday will take your activities to the next level. Spending time speeding down the beach in a kite buggy or thrill-seeking on the rapids in a water raft will give you memories to cherish for years to come.