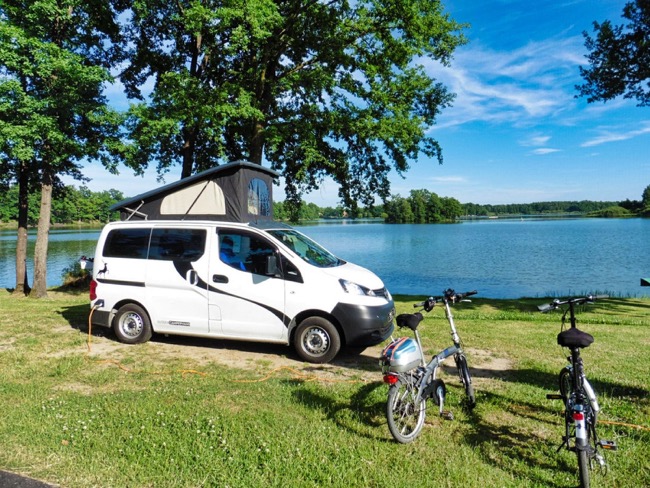 UK holidays are back in fashion! Tourists are flocking here from all over the world, and British people are exploring closer to home. So what are the best ways to travel the UK in 2020?
British people are no longer quite so ready to queue for three hours before getting on a plane for a week's holiday. Many people have realised that jetting off to lie beside a swimming pool for two weeks is not all that exciting. It's much more fun to take the slow road, explore a country and its culture in a camper car, mingle with the local people, buy jewellery, arts and crafts and enjoy local food. On top of this, the recent upheavals in the travel industry have put people right off package holidays. Buying a camper puts you back in control.
The tide has turned. This year more and more people have decided to explore the British Isles buying small campers for sale – such as the NV200 CamperCar, which is a similar size to the old vintage VW campervans of the past, but much more affordable and reliable. There is a reason why so many tourists come to the UK. We have all been discovering (and rediscovering) the beauty of our glorious seaside resorts, walking on spectacular coastal paths, climbing mountains, and exploring magnificent castles and stately homes. Even the humblest village pubs seem to offer delicious home cooked food, while in most towns there are restaurants to suit every budget, with menus inspired by cuisine from all over the world.
With the sterling exchange rate fluctuating right now, taking a campervan holiday in the UK offers great value for money, too.
UK travel options
So, what are the best ways to travel the UK in 2020? Is it by bus, or train, car or campervan? A lot may depend on who you are, how fit you are and how much luggage you wish to take with you. Very few of us can fit a fortnight's luggage into bicycle panniers, and I'm not sure how many hotels would be thrilled to look after hot-and-bothered cyclists for just one night at a time, so I'm counting that option out straight away.
Let the train take the strain
The train network does criss-cross the British countryside, so in theory you could travel everywhere by public transport (with the odd taxi or bus here and there) and see Britain from the comfort of your train seat. So what's it really like to travel with all your luggage on a train?
Well, I've discovered that certain routes are so busy that you may not get a seat, let alone space for your luggage. My elderly father, remembering the delights of train travel 65 years ago, when he was young and fit, booked a family holiday for us all from Great Bedwyn station in Wiltshire to Cornwall – a route that takes in the famous track beside the sea at Dawlish in Devon. Romantic stylised railway posters once sold the dream of travelling effortlessly to the Devon Riviera in a train, with a big yellow sun in a bright blue sky, and the blue ocean waves lapping gently on the shore, beside the track.
Luckily, my sister and I tagged along to carry the bags and enjoy a family holiday with him and we all caught a large taxi to Great Bedwyn station. When we got on the first train we all had a bit of a shock – people were sitting in the reserved seats we'd booked, and had removed our reservation signs. Despite our tickets bearing their seat numbers, they refused to budge. So we sat elsewhere. Before long we were turfed out of those seats, as the busy train filled up. We got seats in the end, but not together. There was only one train change, at Taunton, but the connecting train was due on another platform, which involved getting Dad to climb up and over a steep railway bridge. "Where is the lift? And where are the porters?" said Dad, looking around hopefully. Oh dear, how times had changed since he had last travelled by train!
We got him and the bags to the platform just in time for the connecting train. Then the train zigzagged south to hug the South Devon coast, before striking out inland to Bodmin Moor. From there it was a long taxi journey to Mawgan Porth and our very expensive hotel. What a long day of travel.
We had a good holiday – but every time we wanted to go anywhere it involved booking a taxi – or walking. We didn't go far.
Car and hotel holidays
Of course you could book a series of hotels around the country and travel there by car. This suits anyone who wants to explore tourist attractions between the hotels, and who is prepared to plan a long way ahead to get the best deals. The only drawback is that it's not flexible. If you get mired in traffic, you might not reach the hotel in time for dinner. Visitors to London and the South-East of England are especially surprised by the time it can take to drive from A to B, purely due to the high volume of traffic on the roads.
Bed and breakfast holidays
You may decide that a series of bed and breakfast rooms is the answer. Some are good, while others can be a bit damp and chilly, due to lack of use. Of course you will need to arrive in time to check in to your room, get the key, unpack your overnight things and set off in search of somewhere to eat your evening meal. Your hosts may be able to recommend somewhere – but if you're travelling in the summer you may well find the local eateries asking you anxiously, "Have you booked?"
Campervans are more flexible
This is where touring the UK by campervan is the best way to travel. Only with a campervan or motorhome will you have the complete freedom to be spontaneous and follow your nose as you explore the UK. If there's too much traffic on the route you had planned, you can consult the map or the satnav and come up with a different route, or decide to spend a few hours eating, drinking and resting in a beauty spot or a lay-by, before continuing your journey later, when the rush has died down. Having all you need in the campervan – food, shelter, warmth and a comfy bed for the night – leads to a feeling of absolute freedom.
Yes, some campervan owners do book a few campsites along the way, but others are happy to "wing it" and just stop when they are tired, then find a suitable place to park up for the night. When you're touring in small campervans like the Nissan NV200 camper car, you can often fit into small lay-bys and seafront car parking bays. Wild camping is free, as long as you pick the right spot.
And if absolute wild camping doesn't really appeal, how about going for a meal in a pub, then asking if you can stay the night in your camper in their car park? More and more pubs will allow you to stay, as long as you're eating and drinking there for the evening. Some even have electric hook-up points and a CL licence for up to five campervans or motorhomes per night. These are licences given out to the owners of suitable pockets of land by the Motor Caravan Club, the Caravan and Motorhome Club, or the Camping and Caravanning Club
Campervan investing makes sense
Of course, other types of camping holidays are worth considering when you're looking for the best ways to travel the UK in 2020. Tents are relatively cheap and may even come with a sewn-in groundsheet, to prevent any wildlife joining you at night.
Caravans are quite popular with young families, too. They don't offer the cheap holiday that they used to, however. Some family campsites charge £35 per night, with hidden extra fees for dogs, children, awnings and pup tents, if you have them.
Unlike with a campervan, you can't go wild camping when you are towing a caravan. The car and caravan combination is far too large for anywhere other than a campsite at night. And you can't even stop en-route for a brew in a caravan, unless you're sure you can park in a drive-through double space and leave the caravan hitched up to the car so that it won't tip up when you climb in the caravan and put the kettle on.
This is why campervan investing makes so much sense for anyone who wants to discover the best ways to travel the UK. Small campervans are no bigger than many cars, so they're often used every day, for the drive to work, or to the shops, as well as for days out and holidays.
With a campervan you can stop in a lay-by or car park almost anywhere, put the kettle on, take your ingredients out of the fridge and cook up a delicious meal at the drop of a hat. It's such a flexible lifestyle that you'll love the freedom to roam.
What price can you put on freedom, I wonder? Campervan investing makes sense because not only do you gain the most comfortable and relaxing way to travel the UK in 2020, but you are joining a very happy band of like-minded people. This means that when you decide to sell your campervan on, you shouldn't lose much money.
Campervan investing has to be the most enjoyable investment you can have. Campervans do not depreciate in value nearly as much as cars. In fact we have known some people who have bought a campervan, used it for a few years, then sold it on, for more money than they originally paid. You can't say fairer than that.