4 pros and cons to consider before booking your next trip
New Zealand is a vacation hotspot, and for very good reason. From all over the world tourists flock to explore this beautiful part of the globe in an independent, fun and cost effective way – by campervan.
However, whilst this type of trip is suited to the majority of adventure seeking vagabonds, it may not be everybody's cup of travel tea. A vacation should be about enjoyment, fun and relaxation and whilst a campervan affords you to enjoy all three in abundance, it is best to be clear on just what the pros and cons of a campervan New Zealand vacation are.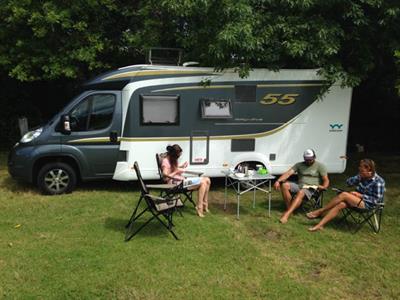 Pro – Travel to the tick of your own clock
Arguably the biggest advantage a hire campervan in NZ affords is being able to enjoy your trip on your time. You get to go where you want, when you want and to stay for as long as you want.
Whilst it is advised that you have an overall route plan and itinerary in place before turning the key in the ignition and putting your foot down, it is always much more relaxed to know that you can go at your own pace and change your route along the way as new and unexpected opportunities arise.
Con – Responsibility and route planning
If you are fond of traipsing about in tour groups, being whisked here and there without any decision making or route planning on your part, then campervan hire trips might not be best for you.
Whilst having the freedom to plan and draw up your own itinerary can be viewed as a plus for the more independently minded traveller, it can be stressful for those folks who prefer to follow and not lead.
Pro – Easy on the budget
Wherever you lay hat is your home with a campervan, and this particular home does not come with an exorbitant peak-season accommodation rate. All established campervan parks and camp grounds are affordable and if you have a self-contained campervan that has its own toilet and waste storage system, you can camp in any area that does not prohibit camping – for free.
Buying your own fresh produce and cooking yourself has two huge advantages – it's cheap, and you get to source out, buy and prepare awesome meals using the best fresh produce, meat and dairy that NZ has to offer – and it has plenty.
Con – Crowds and the curse of the cook
If your route leads you to some of the most popular campsites and campervan parks, you could find yourself winding your way through a scene that resembles a refugee camp for well-fed, privileged travellers all living out their four wheeled vacation fantasies in a first world country – in other words it can get awfully crowded.
Likewise if you are one of those who suffer from the curse of the cook – transforming edible single components of a meal into an inedible concoction that not even the dog will go near – then you will most likely be eating out for the majority of your meals. Well, either that or play a daily round of gastronomic Russian roulette.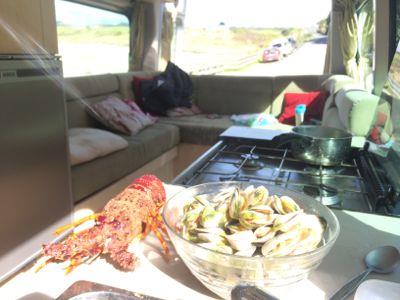 Pro – Spontaneity is your ally
Life on the open road means you never know what new opportunities and awesome adventures will come your way. A campervan will allow you to detour from your pre-planned route and fully open yourself up to living in the moment, welcoming new opportunities and new travel friends with open arms.
Con – Spontaneity is not your ally
If you are the kind of person who really dislikes any form of surprise, who prefers your journey to progress with all the predictability of an Amen in a church, then perhaps campervan travel is not your best option.
That being said, we feel that it's hard to find anything negative to say about being spontaneous when adventuring through New Zealand in a campervan. So, we are going to have to let the con on this point slip.
Pro – Band of brothers, and sisters…and um, parents and aunties and cousins and friends
Nothing brings friends, families or couples together more than sharing in an adventure together. Crisscrossing a landscape as spectacular as NZ affords everyone the opportunity to revel in experiences that they won't forget for a lifetime.
Fishing, surfing, hiking, bungee jumping, horse riding, golfing, mountain biking, wine tasting, sightseeing, dolphin and whale watching – there are enough awesome activities to do both as a group or individually to ensure everyone in your campervan tribe goes home smiling and satisfied.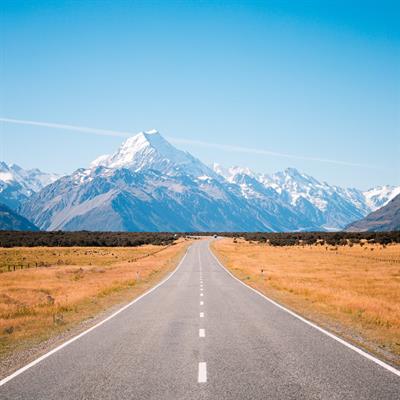 Con – The cats in a tin can effect
Having said that, being trapped in a confined space – albeit a moving one – with people who have a nails on chalkboard effect on you, can be nothing short of hell in a tin can.
Family trips are a great idea is if your family enjoys spending time with one another. But, if hatchets lie buried, and grievances lie smouldering beneath a superficial veneer of pleasantries, be assured that living in the confined space of a campervan will unearth those hatchets and those grievances will erupt – which may be exactly what you needed to heal past wounds, or just contribute to a miserable time away.
Campervan trips in New Zealand can be incredible. The places you go, the people you meet and the adventures you enjoy will last with you for a lifetime. However, if you are not the type of person who is able to embrace the unpredictable and adapt to changing opportunities and challenges then perhaps you should consider another way to experience NZ.
For the rest of you keen to join the smiling, carefree tribe of campervans New Zealand vagabonds, hop online and begin scouting out the ideal route for you. Good luck and bon voyage.