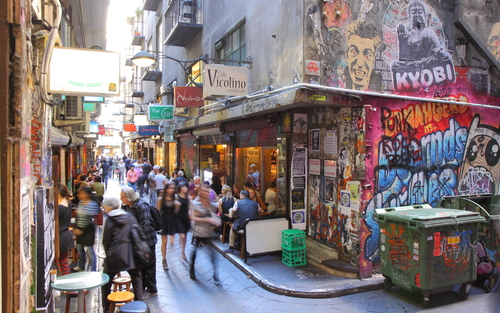 [Image source: Shutterstock.]
Arguably Australia's most multicultural capital city, Melbourne is lucky enough to be home to a smorgasbord of cultures and cuisines. No matter what your tastebuds want to track down, this is the city that you'll be able to find it in.
However, because of Melbourne's sheer size, it can be difficult to know where to go to find the best nosh for your dosh. Never fear! We've done the hard work for you. Read on to find out the best places where you can cure your hunger in Melbourne.
Italian
Chatty Vespa
Chatty Vespa Italian restaurant in Prahran is your one stop shop for all things pizza in Melbourne. Whether you want to eat in or indulge in some take out in the comfort of your own home, this authentic Italian establishment can fulfil your every pizza need. Using only the best and freshest ingredients, you can ensure that your pizza will make you feel as good as it tastes.
Bar Idda
Located at 132 Lygon St, Brunswick East, Bar Idda is a little Sicilian slice of heaven. Serving authentic, homemade dishes coupled with delicious Italian wine, this quaint but bustling establishment focuses on fresh, seasonal produce. Residing in a 100-year-old heritage listed building, Bar Idda are proud to represent their Mediterranean roots in this colourful corner of Melbourne.
Korean
Toodouri
Located at 260 Victoria St, North Melbourne, Toodouri is a Korean BBQ restaurant that has a huge range of high quality meats and vegetables that you can cook at your leisure. Not so experienced on the grill? Don't worry, the friendly staff have no problem helping you out. They also offer all the Korean classics, such as kimchi pancake, kimchi soup and egg roll.
Joomak
A self-described Melbourne/Korean style pub, Joomak is located in the basement of 407-409 Swanston Street in the city. With no signage, you'll have to have your wits about you to find this place – it's one of Melbourne's best kept secrets. Offering all things Korean from fried chicken to hot pots to kimchi pancakes, you can't go wrong with this spot.
American
Royal Stacks
With several locations around Melbourne – including Collins Street in the CBD, Chadstone and Brunswick – Royal Stacks' burgers are a carefully crafted explosion of flavour. All of their ingredients are Australian-sourced, and you can taste the difference. Don't get confused by the plethora of burger places that grace Melbourne; add Royal Stacks as your top burgers to bite.
Belles Hot Chicken
Now serving incredible chicken at Fitzroy, Richmond, Windsor and Barangaroo, there is no reason that you can't get yourself to a Belles Hot Chicken venue. It's all in the seasoning and the sauces; Belles dishes up chicken that you will never have tried before, be it as wings, tenders or in a sandwich. Complemented by a delicious natural wine list, Belles needs to be on your to-do-list this weekend.
Pan-Asian
Supernormal
A modern Melbourne institution, Supernormal is located at 180 Flinders Street in the CBD. Serving up one of the city's finest selections of Asian-inspired cuisines, complemented by a large list of sake, wine, whisky and cocktails. The restaurant is a particularly beautiful space, as well, which only adds to the atmosphere.
Lucy Liu
Another one of Melbourne's historic culinary hotspots, Lucy Liu is also situated in the CBD, at 23 Oliver Lane. Residing in a trendy bar down a laneway, you can't get more Melbourne than this place. Serving everything from silky smooth dumplings to stick pork belly, this pan-Asian restaurant certainly won't disappoint.
Don't go hungry any longer!
Tantalise your tastebuds with our list of arguably the best and most accessible restaurants that Melbourne has to offer. Whether you're after Korean or a burger; Italian or some dumplings, this list will see you through. Happy eating!