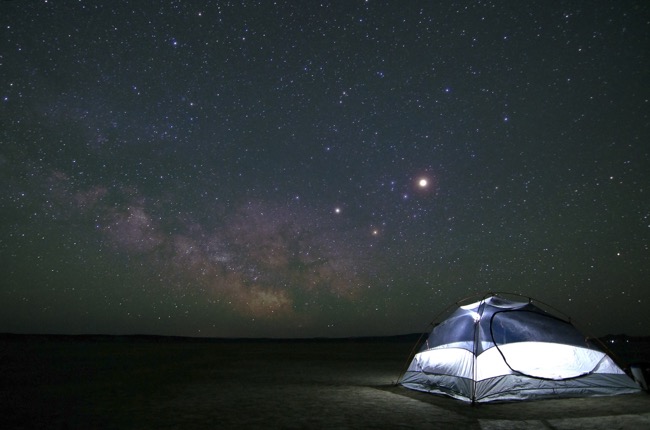 Getting away on holiday does not always need to be about all inclusive holidays at bustling complexes with a poolside location. For many people the perfect holiday is more about escaping the hustle and bustle and getting away from the crowds. Camping is still a very popular choice, whether you have children in tow or you are just looking to get away from it all. All across Europe there are hidden gems, including the more basic, back to nature style escapes and those that offer more of a glamping experience.
We have rounded up 7 of the best destination for you:
Col d'Ibardin Campsite, France
Located 16 miles outside of Biarritz, you can either make the 12 hour drive from the UK or take the shorter option and fly. The is a gorgeous gem nestled in a wooded haven of towering oak trees, and offers a perfect family holiday, but is equally suited to peace seekers. Featuring pre-pitched tent like pods, known as geo-domes, this is a step up from camping mats on the floor and leaking canvases. Each domed holiday home offers an external covered kitchen area, with a kingsize bed and children sleeping facilities all neatly contained. A maximum of 6 people can stay, and this is restricted to 4 adults per booking. These gorgeous bohemian pods offer an amazing base from which to explore the locality. Nearby you will find some stunning beaches with sand stretching for miles, amazing forest areas for walking and hiking and plenty of activities on offer to boot. Hire bikes or immerse yourself in the culture of the quaint Basque towns.
Resort Baumgeflüster, Germany
Continuing the theme of glorious forest scenery we move to Germany. Unless you are really looking to tour around Europe then a flight is your best option. Visitors to Resort Baumgeflüster will be awed by the stunning arrangement of stilted cabins, nestled in between the trees. This family friendly resort prides itself on being a hidden surprise and there is no shortage of glamour to this unusual location. Each treehouse brings a slice of opulence, with mod cons including hot and cold running water and luxurious bedrooms with box sprung beds. Not so much camping as 5 star glamour, on a breathtaking site that caters for families and even the family dog.
Camping Roma – Italy
Further afield again but just as glorious we find Camping Roma, here you are offered a choice of pitch spaces to bring your own tent and a good hammock or for those who prefer camping without sleeping on floors bungalows and chalets are available. This is a more traditional camp site that has been landscaped to be pretty but does not have the same unspoilt back to nature feel as the choices above. Situated just outside Rome this is the perfect base from which to explore the local area. The site has been designed to appeal to families and is well stocked with a large pool, plenty of sports and a good choice of well priced food. If you are there to soak up the culture, the site also runs some great day tips to Naples and Pompeii, or for the more adventurous feel free to head out on your own and see the sites.
Camping Manor Farm – Switzerland
If you fancy a jaunt to Switzerland then Manor Farm offers a whole lot more than the name might suggest. This is a campsite nestle conveniently on a lake side. Lake Thun sits in the impressive mountain range of the Bernese Oberland and creates a stunning backdrop for your retreat. Again you will find a mix of canvas pitches and more substantial chalets or caravans. Open right through the year this is another family friendly site when you bring your own home or rent one of theirs. The lake is truly magnificent and there is loads to do in the local area. Family friendly, from this awesome base you can access private bathing beaches and loads of water based activities. Land lovers need not fear there is loads to do on dry land and you can simply appreciate the scenery without getting wet.
Kur Camping Erlengrund, Salzburg state, Austria
In a stunning valley surrounded by mountains, is Kur Camping Erlengrund, a stunning site offering 90 camping pitches for those who fancy a traditional camping experience and 29 ski style chalet apartments for those who like a proper bed at night. Just 10 minutes outside of Bad Gastein this site offers a range of activities to keep you amused onsite. Or venture into the town itself which is noted for its thermal springs and waterfalls. Take in a spa treatment or get out and hike in the local area and return to the site for a swim in the pool or recharge in the sauna and spa.
Camping Village Simuni, Pag, Croatia
Ever fancied camping on the beach? Well Camping Village Simuni is about as close as you can get. With beach front bungalows set on the stunning sands, this glorious island is situated in the Adriatic Sea, with the wonderful sights of Pag 12km in one direction and for those who like to party, the nightlife of Zrce just 13km the other. The accommodation is basic yet charming, with satellite television and air conditioning as standard. If you fancy pitching your tent, have no fear there is plenty of space. Check out the waterpark and climbing wall or relax on the sand whilst the little ones tire themselves out in the sea.
Vilanova Park, Costa Dorada, Spain
If you fancy a trip to Spain, why not head over to Barcelona where you will find the Vilanova Park, an always open, family friendly camping experience. With plenty of onsite facilities such as water slides and pools, tennis courts and mini golf there is also a kids club to amuse your youngest party members. Again there is a great mix of chalets and cabins or plenty of space to pitch a tent or park your caravan. This is geared towards the family camper, and is a busy and bustling site. There is plenty to explore in the local area and the nearest beach is a short drive away, so a stay here can be as active or relaxed as you choose.