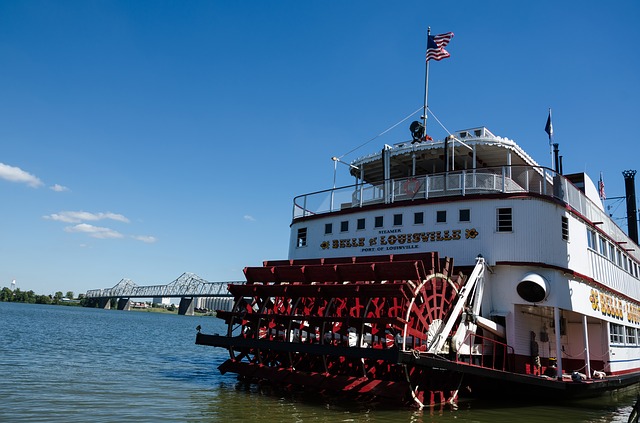 Sports fans flock to Louisville on a regular basis to take in the Cardinals in just about every sports genre.
The Cardinals understandably are the biggest draw when it comes to the college basketball hardwood, but anyone wanting to soak up Louisville culture has numerous sports to consider.
That even stretches to the yearly Kentucky Derby, but your reasons to visit Louisville don't need to be entirely sports-based. The list could go on forever, but here's a more succinct breakdown of some of the best things to do while in Louisville, Kentucky:
The Big Four Bridge
Slowly dip your toe into the Louisville culture by hitting up the Big Four Bridge, which brings Indiana and Kentucky together at long last. Amazing views, fun pit stops full of food, history and more await you on a relaxing stroll.
Waterfront Park
Take in the Ohio River at the Waterfront Park, which offers another outdoors jaunt to visitors. Waterfront Park boasts trails, scenic views and main attractions not too far from – you guessed it – the Big Four Bridge.
Louisville Mega Cavern
Looking for thrilling times without much sun? Head underground to the Louisville Mega Cavern, which incorporates zip lines and challenge bridges on exciting adventure tours. That, or just sit back and relax on the Mega Tram tour.
Kentucky Science Center
If you want to learn more about science, stop at the Kentucky Science Center when you're in Louisville. It's near many other main attractions and will tickle the brain with liquid nitrogen demonstrations, interactive exhibits and three floors of mind-bending knowledge just waiting to be soaked up.
Thomas Edison House
Head over to the house that started a technological revolution. Serving as a fantastic backdrop for a family photo even when closed, the original Thomas Edison House doesn't cost much and grants visitors access to a brilliant mind's old stomping grounds.
Old Forester Distillery
Distillery tours include a Bourbon-drenched crash course involving fermentation, distillation and barrel making. Any fan of liquor history gets front row seats to an engrossing process and Bourbon that will excite the taste buds. This is just one of many Distillery and Brewing tours available in Louisville, but easily one of the best.
Actors Theatre
Tap into your inner monologue at the Actors Theatre, which is home to over 400 performances a year and has been active since its inception in 1964. Student matinees, adult acting classes and renowned plays and musicals keep the Actors Theatre busy, year-round.
Muhammad Ali Center
He floated like a butterfly and stung like a be, but iconic boxer Muhammad Ali left a much bigger impression on the world than anyone can imagine. Dive into the culture of the late, great boxing sensation at the Muhammad Ali Center, where Cassius Clay's life, career and personality are all celebrated with careful consideration and impeccable detail.
Jack O'Lantern Spectacular
Going to Louisville during the fall? Then you better get ready for the Lack O'Lantern Spectacular, which uses 5,000 carved pumpkins to line a walking trail from October 8th through November 3rd. An Oxford, Massachusetts tradition lives on in Louisville, giving visitors a beautifully lit scenic stroll to enjoy.
21c Museum
Be sure to visit the Kentucky Derby Museum whether you're in town for the Kentucky Derby or not. If you want to enjoy a truly elite museum experience, however, head on over to 21c Museum. Over 9,000 square feet of artistic living space is dedicated to some of the most amazing creations from around the world.
The Belle of Louisville
Hit the water with The Belle of Louisville, which boards you on a vintage steamboat and brings you back to the early 1900's. Relearn Louisville's rivers from an American classic, whether by day or for longer cruises.
Louisville Slugger Museum & Factory
One more item on your lists when visiting Louisville has to be the Louisville Slugger Museum & Factory. Bring yourself back to when you were a kid swinging that baseball bat, only to marvel at the process that leads to Major League Baseball's official bat.
This is quite a bit to consider when visiting Louisville, and to be frank, it's only just scratching the surface. For every distillery, bar, eatery, museum and special attraction you visit or highlight, there might be 10-20 more to consider in that same genre.
Tourists and citizens of Louisville alike should have a good head-start with this list, however. From there, you can branch out to more Louisville activities in a city where the attractions are aplenty and the possibilities for good times seem endless.