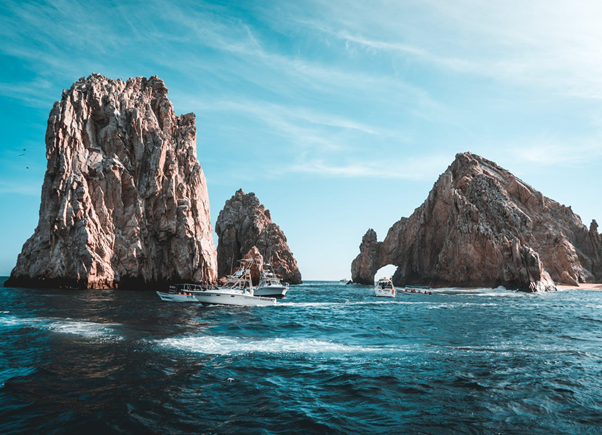 In 2018, Spain and Morocco were two of the travel hot spots; this year, passionate travellers flocked to Bali, Turkey and Paris. Every year there are new and different destinations on the map that passionate travellers are keen to visit. A simple scroll through social media and it's evident that popular destinations change like fashion trends. Last year, platforms such as Pinterest and Instagram were filled with images of Bali's temples and Paris' museums. Social media also plays a big role in inspiring aspiring travellers to discover countries around the world.
This year, it is predicted that Portugal, Mexico and Vietnam will be the dream destinations. If you're looking for your own Eat Pray Love travelling adventure in 2020, consider these three hot spots:
Eat in Portugal
Portugal is a beautiful southern European country. It is known for its charming countryside towns, cobblestone streets and friendly people. Lisbon, the capital of Portugal, is an old city along the Southcoast. It is a cosmopolitan area packed with popular restaurants, parks and charming little shops. Here you'll find some of the most delicious foods, including the famous Pasteis de Nata, Caldo Verde and Bacalhau. Eat your way through the streets of Lisbon or take the train through the country and visit beautiful towns and cities like Fundão, Castello Branco and Covilhã. If you're looking for a beach holiday, the Algarve in Portugal's Faro District is the perfect option. This region, just east of Lisbon, is breathtakingly beautiful with astonishing cliffs and stunning golden beaches.
Pray in Vietnam
Vietnam is situated along the South China Sea. It is home to stunning beaches, bustling cities and extraordinary pagodas and temples. Many travellers visit Vietnam for its rich history and spiritual and cultural aspects. Between the rice fields and the beach, you are bound to find renewed energy and inner peace. Vietnam offers a large range of attractions, including the Cu Chi Tunnels in Ho Chi Minh City, the My Son Sanctuary in Hoi An and Ha Long Bay in Ha Long Bay. Fun activities in Vietnam include tours to temples and rice fields, boat cruises to Vietnam's smaller islands and surfing lessons. This beautiful country is any adventurous travellers dream.
Love in Mexico
If colourful streets and plenty of spicy food is your thing, then a visit to Mexico will be a dream come true. Mexico is situated at the southern portion of North America. Mexico is home to 10 large, beautiful cities. This culture-rich country is known for their many cultural festivals, their sunny weather and their delicious food and drinks, including tequila, which is made from the Mexican agave cactus. Top activities in Mexico include visiting the Mayan ruins, strolling through the local markets and swimming in the ocean along the south and southwest coasts. In Mexico, you are bound to fall in love with the people, the culture and everything else Mexican.
How to pack for your trip in 2020
A new tendency that's becoming a big trend with travellers is to pack as light as possible. Even though this is usually the ideal, it's never as easy as it looks. If you've ever had a packing issue, you're definitely not alone. Millions of travellers around the world have the same problem: How to pack? If you find yourself packing and unpacking and finally giving up, you need to consider that your suitcase may be the problem. Taking the wrong suitcase or bag on holiday can lead to a myriad of issues. Luckily, these days there are specially designed suitcases that not only offers plenty of space but different compartments, so you can pack right and stay organised. If you're looking for the perfect suitcase, browse through the catalogues on latestspecials.co.za, you'll find the ideal suitcase in the Game specials. These cases are affordable, light and offers plenty of separate compartments. Invest in your travels, because a holiday shouldn't be stressful!
Travelling to top attractions has boomed over the last few years, and it doesn't look like 2020 will be any different. Travellers can look forward to excellent travel packages and flight specials to the three top destinations next year. Whether you're looking to spend a relaxing time in Portugal's countryside, drink tequila in the streets of Mexico or laze the days away on Vietnam's beaches, 2020's top travel destinations have something for everyone. It's time to get your calendar (and new suitcase!) ready and start planning your next adventure.