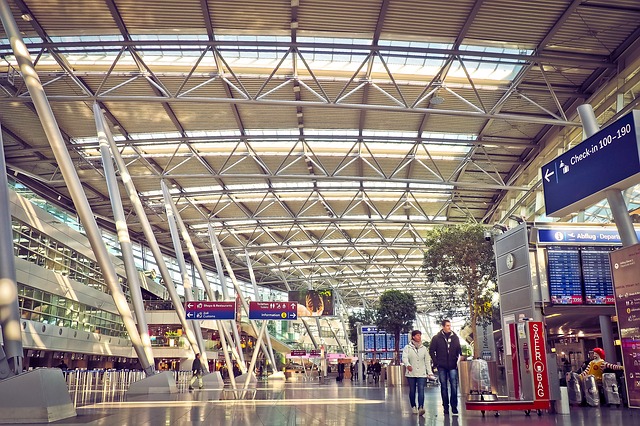 Nothing beats the excitement of travel, but there's nothing like a long layover to take the wind out of your sails. When all you want to do is get to your final destination a long layover can really feel like traveler's purgatory: you're not quite here, you're not quite there. Fortunately, there are ways to make the most of these in-between times and maybe even enjoy yourself a little! Check out these six tips to surviving airport layovers and change the way you travel forever.
Take a walk! Airports are a lot like miniature cities, there's plenty to see and do. Take advantage of your time between flights to walk around, stretch your legs, do some window-shopping, and people watching. Like any city, you'll notice that each airport has its own main shopping area, public places, and quite nooks and crannies to have some quiet time
Bring an external charger. While many airports provide USB ports , outlets, or charging stations not all do or they may all be in use. Whether you use your phone or tablet to listen to music, catch up on the news, or even play the US Powerball lottery online, you don't want to be without entertainment. Bringing a charger and outlet adapter of your own will ensure that your device will always have a charge no matter what.
Have a bite to eat. Airport dining has come a long way and it's now possible to find some seriously good grub in airports the world over. Trying the local flavors and delicacies, even if it is just for one meal, can be a mini-trip all by itself. Having a food meal en route to your final destination can be a great way to rest up and feel refreshed. It's also not a bad way to set yourself up for a nap on the next leg of your journey.
Head for the lounge. Many airlines offer one-day passes for their airport lounges. Delta's single day pass costs $59 and is typical in that it offers admission to the lounge, snacks, and non-alcoholic drinks. Opt for the lounge if you've got a layover of 3-5 hours and you're tired and hungry. The comfortable lounge seating is way beyond airport terminal benches and the snacks and drinks are all you can eat. Taking a nap is also a lot easier as lounges tend to be much quieter and more secluded.
See what entertainment the airport has to offer. San Francisco International, SFO, has two yoga rooms that are open 24/7, Munich's airport offers behind the scenes tours, and Singapore's Changi Airport has two free cinemas to keep passengers entertained. In short, you may be pleasantly surprised what's available to passengers passing through the world's airports.
Take a trip. If your layover is long enough, you can leave the airport and head into town for a few hours of sightseeing. You can reach many city centers via public transit or shuttles from the airport. Also, many airports offer luggage check in and storage so you don't have to lug your bags around. Just be sure you give yourself enough time to get back to the airport, pass through security, and board your flight.
Next time you find yourself with a few hours in between flights in an airport make the most of it by following these tips. Layovers don't have to be something to dread if you do what you can to make the most of your time. Happy travelling!