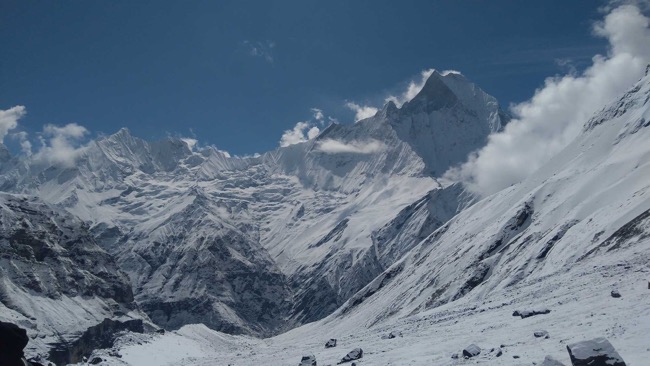 For adventure trekkers and mountaineers Nepal is the first and most famous destination in the world. Nepalese Himalayas offers a numerous trekking routes and destination from easy to adventurous. Are you planning to do trekking in Nepal? let's help you with a overview of the 5 best trekking destination based on number of trekkers, popularity, scenery culture and etc.
The best trek can be depend on his/her experience, difficulty, trip duration, budget, trekking style and etc. Here we have listed ten best treks in Nepal.
1. Everest Base Camp trekking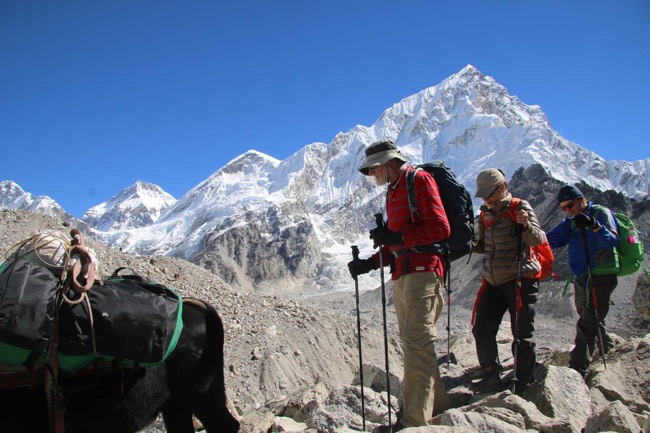 Everest Base Camp Trekking is an ultimate adventure destination for nature and mountain lovers, also considered to be one of the best trekking destination in the world. A journey for those who are dreaming soar higher than ever the cloud, miles from the modern vehicles, daily luxuries and conveniences make Everest base camp is best choice.
Observing magnificent landscapes, imposing and prestigious peaks, tapering ridges, ancient Mani walls, Buddhist Stupas, thousands years old monasteries, colorful Sherpa villages and walking in Khumbu Glacier contribute to turning this trek into an unforgettable experience of the life time. Everest Base Camp trek hike up to Kalapathar (5,455m) for one of the highest point of the trekking, from here one gains a lifetime memory of an implausible panorama views of Mt. Everest, Makalu, Nuptse, Lhotse, Pumori, Ama Dablam and other majestic of Everest Himalayan regions Region.
Teahouse trekking is operated in this region from Lukla to base camp. You will have choice for verities of exquisite foods which are available during the trekking.
Trip facts:-
Max Altitude: 5545 M / 18492 ft.
Duration: 12 Days
Trekking Difficulty: Moderate
Best season: March to May / September to October
Accommodation: Tea houses
Required permits: Sagarmatha National park permit and TIMS card.
2. Annapurna Circuit Trekking
Annapurna circuit trekking is one of the most famous trekking in Nepal. It is an iconic trekking odyssey around the range of peaks of the Annapurna Massif. This 55 km stretch of mountains is the showpiece of the route circumnavigating it. The Journet passes through a thrilling array of eco-diversity and cultures. The heart of it all is Annapurna I 8,091 M ranked as the world 10th highest mountain and the first peak over 8000 m to have been scaled.
The Annapurna circuit is also nicknamed the apple Pie Circuit Known for the delicious, hard-won desert along the way. Pie is found in high elevation towns along the way. The Annapurna circuit trekking is world-renowned trek and still Nepal's most popular. This long stretch of the Annapurnas includes thirteen prominences over 7,000 m and at least 16 over 6,000 m.
The Thorung La is a watershed pass that marks the changeover from the Marsyangdi RiverValley to the Kali Gandaki River and a whole new set of views, landscape and cultures. On a descent from the Passes is the ancient temple of Muktinath mentioned in the Hindu Sage, the Mahabharata. It has been a pilgrimage destination for centuries and is set in a poplar tree thicket. Hindi and Buddhist patrons alike considered flames (from burning Natural gas) emanating from a crack in rock to be sacred. A shine has been build up around the flames, revered for its unification of fire, water, earth, and air. With in the Temple compound is a spring-fed array of 108 bulls-head brass water spouts used for ritual bathing.
Trip facts:-
Max Altitude: 5416 M / 17769 ft.
Days: 15 Days
Trekking Difficulty: Medium
Best season: March to May / September to November
Accommodation: Tea Houses
Required permits: Annapurna conservation area permit and TIM's card.
3. Annapurna Base Camp Trekking
Talking about trekking the first place anyone suggests would obviously be Annapurna Base Camp Trek. From a long time ago no other trekking destinations have been able to make this trekker's paradise bite dust due to its magnificent and easy accessible route which can even enjoyed with your family and kids. The Annapurna Base Camp trek is one of the most desirable and the most talked about treks in the Annapurna region. Annapurna Base Camp trek rewards its travelers with a lifelong memorable adventure of standing at the foot of the World's 10th highest peak. The trek welcomes the travelers with breathtaking scenery of the paddy fields, subtropical forests, waterfalls, gigantic cliffs and various beautiful small villages.
Annapurna Base Camp Trek inaugurates from the different trailheads starting just a couple of hours away from Pokhara and widely passes through the gorgeous waterfalls, astonishingly beautiful villages, terraced farmlands, blooming rhododendron forests, and amazing mountain views one can only dream of before reaching the base of the beautifully snowcapped Annapurna. The trek begins from Nayapul, going north up to Gorepani followed by the famous viewpoint of Poon Hill. From Gorepani you travel towards Chomrong and thereupon breezing into the Modi Kola Valley which leads up to the base camp.
Trip facts:-
Max Altitude: 4130 M / 13550 ft.
Days: 11 Days
Trekking Difficulty: Medium
Best season: March to May / September to November
Accommodation: Tea Houses
Required permits: Annapurna conservation area permit and TIM's card.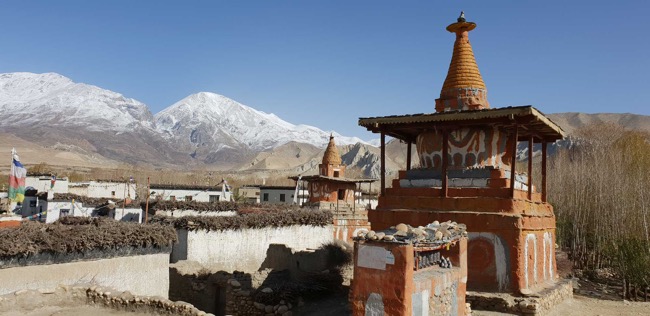 Upper Mustang also known as mini Tibet is a culturally and Geo-politically sensitive area and was not open for trekking until 1992. The picturesque landscapes, the 16th centuries Buddhist monasteries and the caves carved into sheer cliff wall in Mustang attracts the tourist. Upper Mustang is a striking terrain of semi-arid desert with deep ravines rocks. The area is hidden behind the majestic Himalayan of Annapurna and Dhaulagiri. Trekking in Upper Mustang is a best opportunity to the fascinating landscape and the rich Tibetan culture.
To visit Upper Mustang you should have obtain restricted area permit from registered trekking agency of Nepal. A minimum of two trekkers are required to obtain the restricted area permit of Upper Mustang.
Trip Facts:-
Max Altitude: 3800 M / 12467 ft.
Days: 13 Days
Trekking Difficulty: Medium
Best season: March to December
Accommodation: Tea houses
Required permits: Upper Mustang Restricted area Permit fees and Annapurna conservation area fees.
5. Manaslu Circuit trekking
Manaslu circuit is a less crowded and true remote adventure trekking destination in Nepal. Despite, the ratio of tourists are increasing since teahouses were built here in 2010. A classic trek in Nepal Manaslu circuit trekking offers small local villages of Buddhism with spectacular views of snowcapped peaks, thundering rivers, suspension bridges, high passes and ancient Buddhist Stupas. The continuous through the beautiful village to-wards Larkye-La Pass to Bhimthang, Tilije, Dharapani gate of round Annapurna trekking. We also passes along the several lush forests with huge verities of vegetation, the lower part of the trekking you can see the blooming rhododendron and Oak forest.
The Manaslu Conservation area has a large diversity of birds and wild animals such as grey musk deer, blue sheep, Himalayan Thar along with endangered animals like snow Leopards and red pandas are conserving. The stunning views of Manaslu, Himchuli, Ganesh Himal and the gorge of Budigandaki are also the highlights of the trekking.
Manaslu area is a restricted trekking in Nepal. A minimum of two trekkers are required to obtain the Manaslu restricted area permit. Permit is only issued registered trekking agencies of Nepal.
Trip Facts:-
Max Altitude: 5153m/16901ft
Duration: 19 Days
Trekking Difficulty: Moderate.
Best season: March to May / September to October.
Accommodation: Tea houses.
Required permits: Manaslu restricted area permit, Annapurna Conservation area permit and TIMS Card.