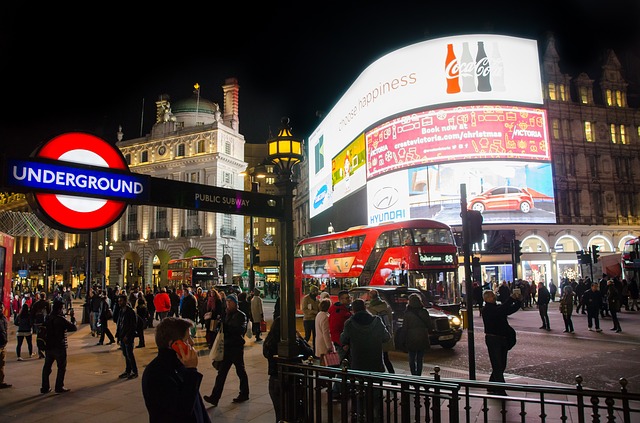 Want to visit London but changing lines on the London tube is too confusing for you? Fear not! Book your flight straight away because this guide will highlight top locations on the Jubilee Line for you to visit – let's get started!
King's Cross St Pancras Station – Platform 9¾
If you're a Harry Potter fan you'll have definitely heard of Platform 9¾ – the secret and magical platform where Harry Potter takes the Hogwarts Express to get to Hogwarts! Every year, this place is filled with fans and tourists who simply want a picture with the luggage trolley that is half embedded into the wall. Located inside King's Cross Rail station, which is besides King's Cross St Pancras station (Zone 1), there is usually a clear queue and a professional photographer who can help you take pictures if you want to purchase it. If that doesn't suit you, you are also welcome to take pictures with your own camera because the location spot itself is free! During opening times, it will be slightly busier so if you want to avoid queues then I would suggest you go either before the opening time or after the closing time. After that, you can visit the Harry Potter shop next to the photo spot as well and potentially find some special Harry Potter merchandise!
Opening times of Harry Potter shop:
Monday to Saturday (from 8:00 AM to 10:00 PM)
Sunday (from 9:00 AM to 9:00 PM)
Covent Garden Station – The Apple Market
The Apple Market is located in the centre of Covent Garden and only a 3-minute walk away from Covent Garden station (Zone 1). The square itself is surrounded by well-known retail stores, open-air cafes, pubs and restaurants, making it convenient to satisfy both your shopping and food desires. Meanwhile, the Apple Market is filled with Artisan stalls that sell handmade art and crafts, antiques and collectables. Here, you can find unique items that are beautifully designed; it's like hunting for treasure!
Next to the Apple Market is Covent Garden Piazza, where street performers provide free entertainment. The time for these may vary but the street performers include mime artists, musicians and contortionists. Covent Garden itself is a very casual but lively place that provides comfortable vibes; perfect for an afternoon or evening stroll!
Opening times for The Apple Market:
Monday to Saturday (from 10:00 AM to 6:00 PM)
Sunday (from 11:00 AM to 5:00 PM)
*The opening times may differ for different stores, especially on public holidays, so please check before visiting
Leicester Square Station – China Town, Trafalgar Square
Only 2-minutes away from Leicester Square station (Zone 1) is the legendary ChinaTown! From the station, you will be immediately welcomed by traditional Chinese lanterns used for street decorations which eventually guide you to the main area; the iconic and vibrant Qing Dynasty designed gate is where it all starts. This active neighbourhood is quite busy because it is packed with a great variety of choices in stores to suit everyone's liking. First thing's first – here, you will find many different authentic Asian cuisines including Chinese, Korean, Vietnamese, Taiwanese, Malaysian and Japanese. If there's food then there's got to be snacks or desserts too, right? There are countless Asian cafes, dessert houses, bubble tea stores, snack stores and Chinese bakeries located in every corner for your convenience. If that's not enough, there are also several decent-sized Chinese supermarkets, Korean and Japanese stores for you to shop for any needed Asian groceries. Scattered around Chinatown, there are stores which sell Asian cosmetic and skincare, Chinese-cultured souvenirs as well as Korean-pop merchandise items.
China Town is busiest during Chinese New Year, where there are annual public celebrations for this festive season including lion dances on the streets and in front of shops. Although it can be crowded, the bustling vibe and thrilling sight are absolutely worth it!
Opening times for China Town:
*ChinaTown is open at all hours, but the opening times for different stores along this street differs individually, especially on public holidays, so please check before visiting
Not far away, walking simply down a straight road for 4 minutes from Leicester Square station is Trafalgar Square! Situated in Charing Cross, the heart of London, Trafalgar Square is a public square that has been a significant landmark and London Tourist attraction spot since the 13th century. The square is a place of gathering for annual festivities, community gatherings as well as campaigning events throughout the year. The architectural buildings, the fountains, the Landseer lions and Nelson's column should definitely not be missed if you do visit. From one of the sides of the square, you can see Big Ben clearly as well!
Opening times for Trafalgar Square:
*Trafalgar Square is open at all hours but events may be held at the square depending on the season
Hyde Park Corner Station – Hyde Park (British Summer Time, Royal Parks Half Marathon, Winter wonderland
Hyde Park itself is only a 1-minute walk from Hyde Park Corner station (Zone 1) and is the largest park in central London, covering over 350 acres. Throughout the year, many people visit for different events and activities – on days with better weather, rental activities like boat paddling, cycling and horse riding are highly popular. There are numerous cycling paths across Hyde Park, making it one of the most popular places for cycling, jogging and roller skating. Within Hyde Park, there are also a few children's playgrounds as well as tourist attraction sites such as the Rose Garden and Speaker's Corner. The British Summer Time, Royal Parks Half Marathon and Winter Wonderland are one of the major events held at Hyde Park each year.
Winter Wonderland itself is open from late November till mid-January every year. It is free to enter and services/items can be purchased inside separately. There are over 100 rides, roller coasters and games, an ice skating rink which may require pre-booking, various Christmas market stalls, bars and market food stalls! To sum it up – churros, hot chocolate Baileys, mulled wine, shows and music performances; a perfectly fun and festive way to enjoy a day out with family or friends during Christmas!
Opening times for Hyde Park:
Every day (from 5:00 AM to 12:00 MIDNIGHT)
*However, opening hours for events/tourist attractions may differ so please check before visiting
I'm sure you would like to make the most out of your days to explore London, so just to make things a bit easier here is information regarding the first and last tube times, and specifically for the Piccadilly Line. There's no time to waste – book your ticket to fly from Sydney to London now!