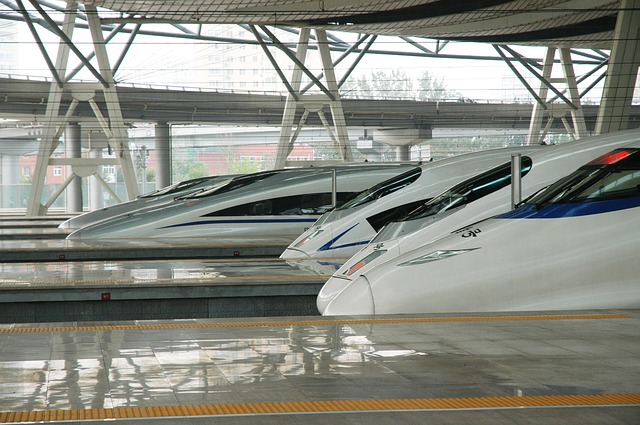 China's first rail lines were laid in the nine­teenth century, and the country's current leaders have invested heavily in the network, seeing a healthy transport infrastructure as essential to economic growth. With US$42 billion earmarked for rail development between 2002 and 2005, services are constantly improving, with modern, high speed engines on major lines slashing around twenty five percent off journey times, and around 7000km of new track currently being laid – including, by 2006, a link to Tibet, whose geography has previously defied con­nection. All this means that China's rail network is vast and efficient, making train the safest, most reliable way to get around the country.
Timetable and tickets
The first step in train travel is getting hold of a timetable. Usually on display somewhere in the ticket office, or sold from stalls around the station, timetables can be hard to deci­pher; you need to be able to recognize the characters for both where you are and your destination, then memorize the train number and how many services there are, in case your first choice isn't available.
One way ticket, show the date of travel and destination, along with the train number, carriage and seat or berth number. They become available up to five days in advance, though demand frequently outstrips supply, so it's wise to plan ahead. It's easiest to book tickets through an agent, such as the CITS or a hotel travel service, though you'll pay a commission of ¥30 or more per person. Alternatively, many cities have downtown advance purchase offices, though some are so well hidden that even the Chinese don't seem to know about them; it makes sense to try these places first as train stations are often local far from city centers. If the office is run by the railway you won't pay a commission, whereas private operators charge a small mark up. Otherwise, head to the train sta­tion ticket office; most premises are com­puterized nowadays and, while queues can still tie you up for an hour, you'll generally get what you're after in the end. At the counter, state your destination, the day you'd like to travel, and the class you want, or have it written down (station staff rarely speak English, though you may strike it lucky in big cities). If there's nothing else available, the you can ask the ticket office for an unre­served ticket which doesn't give you an assigned seat but at least lets you on the train – though you might have to stand tor the entire journey if you can't upgrade on board.
You can always return your ticket; you should be able to get most of the fare refunded by returning the ticket to a ticket office at least two hours before depar­ture. If there's a window specifically for returned tickets, the people in the queue are actually a potential quick source of tickets Chinese speakers are best placed to take advantage. If there is no other way of buying a ticket and you simply have to get on the train, try the touts who inevitably hang around busy stations, though be careful not to end up with a photocopied ticket instead of the real thing.
Boarding the train
Ake sure bring your passport with your Chinese visa. Even if you've bought your ticket in advance, you should still turn up at the station with time to spare before your train leaves. All luggage has to be passed through x-ray machines at the station entrance to check for dangerous goods such as firecrackers – officials can get irate if you try to skip the procedure, but there's rarely anyone paying any attention to the monitors. Carry film through separately to avoid the possibility of getting it fogged. You then need to work out which platform your train leaves from most stations have electronic departure boards in Chinese, or you can show your ticket to sta­tion staff who will point you in the right direction. Passengers are not allowed on to the platform until the train is in and ready to leave, which can result in some mighty stampedes when the gates open. To upgrade your ticket on board, make your way immediately to the controller's booth, in the hard seat carriage next to the restaurant car (usually #8 – all carriages are numbered on the outside), where you can sign up for beds or seats ·as they become available.
Types of train
here are three types of train in China, each given their own code on timetables. Express trains are marked T; fast are K; ordinary have a number only and are the slowest option. T and K trains reach 100-200kph and have modern fittings with text messages scrolled at the carriage's end announcing temperature, arrival time at next station, and speed. No smoking rules are often vigorously enforced. The numbered services. though older and stopping more frequently, can be well maintained, with smoking banned in sleeper carriages Some, however, are elderly plod­ders destined for the scrapheap whose inte­riors are crusty with cigarette smoke and sunflower seed husks on the linoleum floor. As always in China, the faster services are slightly more expensive.
Classes
There are four train classes. The best is soft sleeper, which costs slightly less than flying and is patronized by foreigners, party officials and successful entrepreneurs. It's a nice experience; there's a plush waiting room at most stations, and on the train itself you get a four-berth compartment with a soft mattress, fan, optional radio, and a choice of Western or Chinese style toilets. If you've a long way to travel and can afford it, soft sleeper is well worth the money, allow­ing you to arrive rested and ready to enjoy your destination.
Hard sleeper, about two thirds the price of soft sleeper, is favorited by China's middle class and money conscious foreigners, and hence is also the most difficult to book in advance. It's not a bad way to travel, though dawn to dusk piped music and a relentless investigation of yourself and pos­sessions by fellow passengers can wear thin. Carriages are divided into twenty sets of three tiered bunks; the lowest bunk is the most expensive, but gets used as commu­nal seating during the day and you may appreciate being able to withdraw to a high­er level. The end tier of bunks is closest to night lights and the connecting space between carriages, where smokers congre­gate. Each set of six bunks has its own vac­uum flask of boiled water (topped up from the urn at the end of each carriage), and you bring your own mugs and beverage. Every carriage also has a toilet and washbasin, which can become unsavory; do what the locals do and carry a face towel to keep clean on long journeys. There are fairly spa­cious luggage racks. though make sure you chain your bags securely while you sleep.
Note that in either sleeper class, on board­ing the carriage you will have your ticket exchanged for a metal tag by the attendant. The tag is swapped back for your ticket (so you'll be able to get through the barrier at the station) about half an hour before you arrive at your destination; you'll be woken up wha ever hour of the day or night this hap­pens to be.
Soft seat is increasingly available on services whose complete route takes less than a day. Seats are around the cost of an express bus fare, have plenty of legroom, and are well padded. Much more common is hard seat, which is really only recommended for the impecunious it costs around half the soft seat fare or on relative­ly short journeys. The basic hard seat setup is a padded three-person bench with just enough room to sit, though more modern carriages are relatively comfortable. On older trains, the air is thick with cigarette smoke and every available inch of floorspace is crammed with travelers who were unable to book a seat, bear in mind that should you board a train with an unreserved ticket, you'll be standing with them. Again, you'll be the subject of intense and unabashed speculation, this time from peasants and labourers who can't afford to travel in better style. The best way to cope is to join in as best you can, whether you can speak Chinese or not; you'll probably end up playing cards, sharing food and drinking with them.
Food, though often expensive and pretty ordinary, is always available on trains, either as polystyrene boxes of rice and stir fries wheeled around along with snacks, or in the restaurant car between soft sleeper section and the rest of the train. You can also buy snacks from vendors at train stations during the longer station stops.