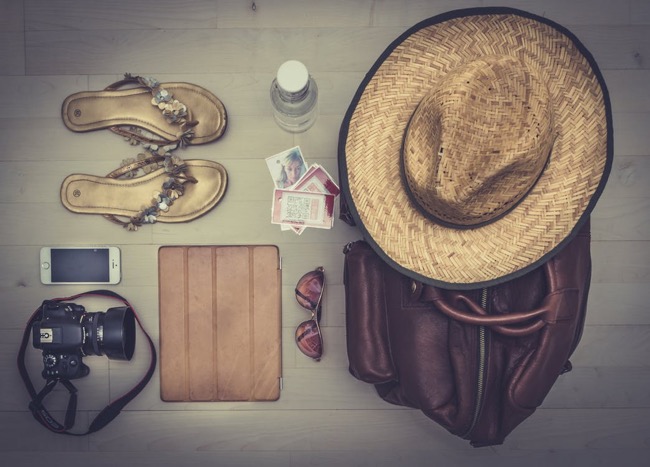 I remember joking with a friend many years ago about the benefits of traveling in winter because we could stuff our coat pockets with excess items and then wear the jacket at boarding to hide items that we couldn't fit in our carry-on luggage.
Fast forward to 2017 when two Australian-based designers created the "The Airport Jacket", a coat that can carry up to 33lbs (15kg) of luggage on your body!
So how can we pack all of the things we need in our hand luggage without going to this extreme?
The weight and size dimensions of allowed carry-on baggage will differ between airlines (it's definitely worth checking with your airline before you go). A general rule of thumb is that the bag must fit comfortably in the overhead compartment or under the seat in front of you.
However, more important than the size or weight of your hand luggage, is the contents.
In response to the coordinated terror attacks on September 11, 2001, the Department of Homeland Security created the Transportation Security Administration (TSA).
In 2006, the TSA implemented the 3-1-1 liquids rule after authorities in the United Kingdom discovered a plan to bomb airplanes using a cocktail of liquids as explosives.
Under the 3-1-1 liquids rule, each passenger may carry liquids, gels and aerosols in 3.4-ounce (100ml) travel-size containers. These containers must fit into one quart-size (950ml) bag. There are exceptions to this rule if you are are traveling with children or have a disability or medical condition.
The most common items that fall under the 3-1-1 rule are makeup, toothpaste, lotion, hand sanitizer and other toiletries. Instead of taking these on board, why not free up some room for an extra book or snacks and use travel wipes on your flight instead?
7 Ways Wipes Can Help
Conveniently packed and small, single-use travel wipes makes traveling so much easier. Tuck a few into your purse for easy access and put your larger bag in the overhead locker to leave some space at your feet!
Here are some ideas on when you can pull out a wipe when you're traveling.
1. Sanitizing Surfaces
As soon as you board the airplane, wipe down the tray table, armrests and seat belt buckle with a disposable antibacterial wipe. Use one on your hands after using the bathroom and before eating.
2. Taking Care of Booty Hygiene
If you need something better than those paper-thin, rough sheets of toilet paper found in airplane bathrooms, try a flushable wipe for a thorough yet gentle clean.
3. Keeping Your Breath Minty Fresh
There is always a huge line-up for the bathrooms right after meals. This is also often when passengers are spending longer in there brushing their teeth. Try to get to the bathroom when others are still eating and use a tooth wipe to clean your teeth and freshen your breath right at your seat!
4. Removing Makeup, Oil and Dirt
Take off your makeup with a cleansing towelette before you go to sleep on an overnight flight. The air in the plane can really dry out your skin, so look for a wipe that moisturizes at the same time.
5. Freshening up in the Morning
When you wake up, give your body a once-over with a body wipe which can also double up as a deodorant.
6. Protecting Your Skin from the Sun
If you are traveling to a sunny location, don't forget to apply some sunscreen to your face, neck and arms before you land.
7. Cleaning Dirty Screens and Lenses
Get rid of greasy fingerprints from your phone, tablet, laptop, camera lenses, eyeglasses and sunglasses with a quick wipe.
Now you're all set to arrive at your destination!
Have you used travel wipes? Which ones can't you travel without?