Italy prides itself on being one of the best holiday destinations in the world.
Those who have been to Italy knows that this destination is one of the most charming, magical, and extraordinary countries to visit during vacation. Tourists visit Italy every year to celebrate the country's heritage, culture, history, warm weather, and romantic splendor.
Italy boasts some of the most popular cuisines around the world. This is one of the major reasons why millions flock to the country every year. Italy is among the few countries across the globe with magnificent architecture, rich history, anthropology, beautiful islands, mountains, lush vineyards, and enchanting forests.
Bellarome Italian Vacations
Bellarome Italian Vacations is a leading tourist agency in Italy for both seasoned and new vacationers alike. They offer the best luxurious holiday packages for different Italian locations. No one knows the best destinations better than Bellarome.
Bellarome Italian Vacations is the premier provider of customized holidays in Italy. With an expert team of professionals, you can be sure that all your travel and activity needs during your vacation will be well taken care of. Bellarome offers personalized trips that suit specific preferences for individuals, couples, or groups.
Below you will learn about the Trentino-Alto Adige as one of Italy's most famous exotic holiday destinations.
Trentino-Adige
Trentino-Alto Adige is endowed with beautiful reserves, high passes, and beautiful villages.
Trentino-Alto Adige is filled with splendid landscapes such as basins, valleys, and mountains. The region enjoys great weather with prevalent warm conditions. This is a true paradise for nature lovers who engage in hiking, skiing and a host of other outdoor sports.
Trentino tourism attractions are available all year round. In every season, there is a variety of activities to engage in. Trentino skiing is one of the most famous tourist activity in these Italian highlands. Other similarly exciting tourist activities in Trentino include guided hiking tours, mountain climbing, mountain biking, rafting, canoeing, golfing, snowboarding, horseback riding and many more outdoor activities. 
Visit Trento to experience these and a host of other Trento tourist attractions activities. 
The Dolomite Mountains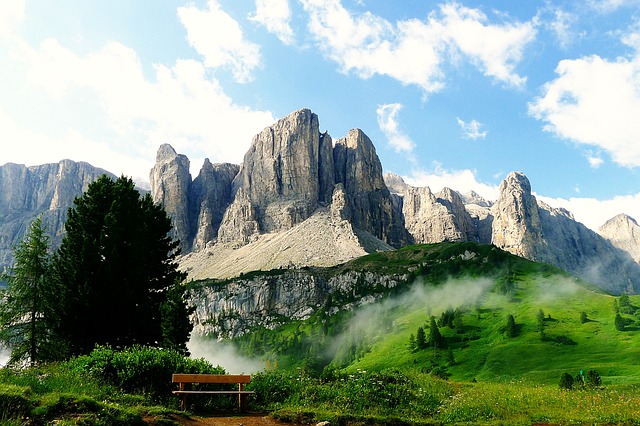 A trip to Italy can never be complete without visiting the Dolomites Mountains, one of the most fascinating mountains in the world. The events to engage in while at the Dolomite Mountains are always very variegated. Some of the most famous cultural events include "I suoni delle Dolomiti" (the sound of the Dolomites), which is a classical festival that includes world art and music.
The Dolomite region is well-known for the sumptuous cuisines that are available in this region.  When you spend your holiday in the Dolomites, you can be lucky to witness some of the regional gastronomic events.
Such events include the famous Kuchlkirchtig in Bressanone and several other thematic events like the chestnut festival in the Valle Isarco or the speck festival in the Val di Funes.
Merano Italy
Italy is the home for art lovers, adventurers, and anyone who wishes to enjoy a romantic trip with their significant other. With its world-class wine, delicious dishes, and breathtaking vacation spots, Italy has won the hearts of many lovers and newlyweds as a favorite holiday destination.
An Italian honeymoon is often the epitome of class and elegance. Italy provides the best spots for newlywed couples to experience la dolce vita. Individuals can organize to have their honeymoon vacations to various destinations in Italy.
An individual visiting Merano will easily recognize the numerous mountains surrounding the town. It is surrounded by the valley of Passeier and Vinshchgau, which is also called Val Venosta.
Merano is also was known as 'the City of Flowers.' In Merano, you will find a host of flowers and shady trees which provide holiday makers with ample places to relax in between sightseeing tours. The climate of this town is warm and very inviting, providing the best conditions for one to relax under the shade of a tree as you sip from a glass of your favorite wine.
Spending some time in a spa is a great way to rest your body and mind after an eventful day touring the breathtaking Italian tourist sites. Treat yourself to luxurious spas which are available at countless locations throughout Italy. These health spas feature an excellent combination of five-star revitalizing amenities and treatments.
With experts in the hospitality industry, you can rest assured that you will leave the spa more relaxed and rejuvenated.
Conclusion
Visiting Italy for a luxury holiday is just the kind of vacation that many people around the world would desire. Achieving this dream is something that can be achieved with proper planning and by engaging the right individuals who know the Italian tourist industry inside out. 
Contact Bellarome Italian Vacations for the best Italy tourist experience.