Australia is well known for its wine with over a billion liters produced annually. Its wine is very tasty compared to those produced in other parts of the world. With a demanding market there are over 60 designated wine regions producing world-class wines. Australia has diverse landscapes and favorable climates making it favorable for wine producing. The east coast in particular is a productive wine rowing region Here are some vineyards worth visiting in h East coast of Australia.
Hunter Valley, New South Wales
It all began in the Hunter Valley as early as the 1820's making this the oldest wine-producing area in Australia. Today, this area has over 150 cellar doors. This is where your problem begins, knowing which one to visit in your tour. You need to stay for some days to sample the wine and enjoy the scenery including Barrington Tops National Park, a world Heritage site.
It is the closest region to Sydney, being a two-hour drive to the north. it's one of the most accessible wine regions making it one of the best places to visit in Australia. The top wine varieties in this region are the Semillon, Shiraz, and Verdelho. The famous winemakers in this region are Audrey Wilkinson, Tyrell's Wines, and Wyndham Estate.
Port Macquarie, New South Wales
The other wonderful place to visit is Port Macquarie with gorgeous beaches, national parks, and beautiful rivers. It is only four hours from Sydney by road. Enjoy the fresh produce and great-tasting oysters from River Hastings and watch whales and dolphins. You can't miss taking Koala Hospital daily tours around the exquisite places around Port Macquarie. Take your time to walk along the sandy beaches and experience outdoors activities like horse riding, golf, skydiving, water skiing, fishing, paragliding, cycling, kayaking, and boating. One of the best known wineries here is Cassegrain Wines, where you can try wines made with the Chambourcin grape variety. This grape is a staple of modern Australian wine and to try it is to understand Australian wine culture.
Yarra Valley, Victoria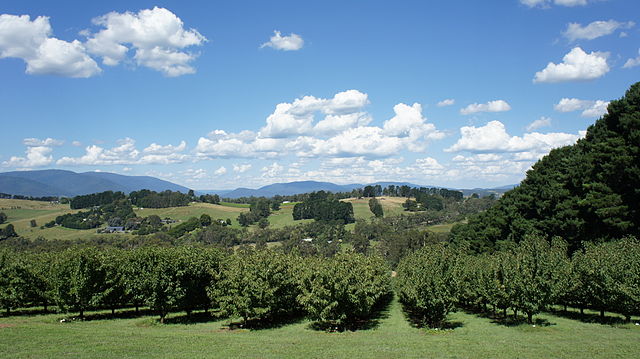 Home to about 80 wineries, the Yarra Valley is the coolest wine region in Australia. Here you will find large estates like Rochford's and small family-run wineries. Even though it is the smallest wine region, the Yarra Valley has a great diversity of wine from fortified dessert wines, sparkling wines to the famous pinot noirs. Visit this region for the wine and tour even the microbreweries and sample the local beer. There is lots of fresh food produced locally to accompany the wine.
Driving from Melbourne, it takes only an hour to get here meaning you can easily get a full day round trip, but to maximize the experience without hurrying, visiting on a long weekend will leave you with unforgettable memories. But check ahead since some places are shut over the weekend.
Its top wine varieties include Chardonnay, cabernet, and pinot noir. The famous winemakers in this region include Domaine Chandon, De Bortoli Wines, and Tarrawarra Estate.
Barossa Valley, South Australia
This is the most famous wine region and is home to some of the largest wineries. Other than wine, Barossa Valley provides delicious local food to enjoy with the wine. During the tour, you can take the Butcher, Baker and Winemaker trail to experience the memorable culinary adventure that allows you to fill your picnic hamper with whatever gourmet choice that pleases you along the trail.
From Adelaide, you can reach this wine region in just one hour. If you want to enjoy wine sampling, it is recommended that you plan an overnight stay. But there are several wine trips that do one day trip from Adelaide. The top wine varieties here are Riesling, Shiraz and Cabernet Sauvignon. The famous winemakers in the Barossa Valley include Wolf Blass, Penfolds and Jacob's Creek.