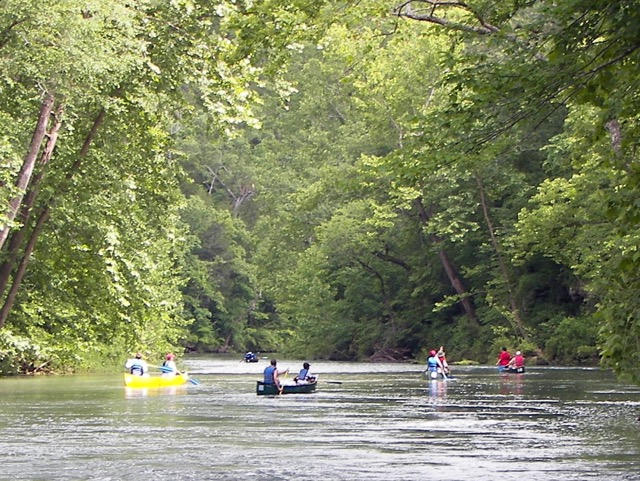 The Ozark region is a versatile getaway for just about any vacation getaway that you can think of for a family, couples, or even for a group looking for a variety of guided historic tours and shopping expeditions. You can relax in a mountain landscape dotted with lakes and streams and go biking, parasailing, fishing, golfing, and on historic guided tours and come back to quaint Victorian accommodations or to a luxury resort hotel.
Accommodations
Westgate Branson Woods
The accommodations at the Westgate Branson Woods are aesthetically sleek and designed with kitchenettes including microwaves and mini-fridges for additional convenience. Each room has a flat-screen television and surround-sound audio system with complimentary DVD and CD players and the entire resort offers free Wi-Fi service. Spa 54 is a state-of-the-art spa experience that you can enjoy before or after you have checked out one of the dozens of shops right in the resort. You can also take part in golf every day of your stay or simply rent a boat and go out on the lake to do some parasailing. In the evening, if you want to get away without the kids, use the Granny Nannies service!
Osage Village Inn
This hotel has a B & B feel with a Victorian flair at the quality level of a fine hotel without paying more. Each room's design reflects the Victorian theme of the Inn and is done in warm burgundy hues and hunter green and equipped with a king-sized bed and a refrigerator. Each morning when you venture downstairs, you will be greeted and shown where you can partake in a homey buffet consisting of a variety of pastries, cinnamon rolls, coffee and juices, cereals, as well as made-to-order eggs and toast. If you want to relax in a Jacuzzi each evening, suites that have their own private Jacuzzi are available. There is also a community pool and over 100 shops within walking distance at the Osage Beach shopping outlet.
The Lodge at Old Kinderhook
This rustic getaway is located right on the Lake of the Ozarks and has 84 rooms that overlook the on-site golf course. The rooms offer a king-sized bed as well as sleeper sofa or two queen-sized beds. If you are visiting during the winter months, you can ice skate at their lodge rink or enjoy their indoor pool and their newly renovated spa. In the summer months, you can use the outdoor pool amenity as well as the fire pits. If you plan on coming up to the lodge from the lake on your own boat, then there are boat slips that are available to use during your stay that you can reserve in advance.
Lone Oak Point Resort
The condominium accommodations that are offered at Lone Oak Point are perfect for a family to enjoy or for a couple's getaway. They are on the lake and located on 8 sprawling acres in multi-story condominium buildings that give you a bird's-eye view of the entire resort. You not only have the option of renting these condos but if you really like this resort, you can actually buy one and live there full time!
Things to Do in the Ozarks
Biking
If you are interested in a mountain trail, then you want to take the Ozark Mountain Bicycle Trail that is 40 miles long and runs through the Buffalo National River region. An even more challenging mountain trail is the Backwoods Ozark Tour which is 58 miles long and rated as "difficult."
If you prefer a flatter trail, then consider taking the Mountain View to Mountain Home Bike Tour. This is a stop-and-start journey of approximately 60 miles through the Ozark Mountain Home area and the Bull Shoals State Park.
Bird Watching
For a bit more solitude with your loved one, get up early in the morning and explore the Ozark Mountain range for rare birds. You will come across common feathered creatures like the woodpecker, hawk, and an occasional eagle and owl. If you take an evening stroll, you will hear the whip-poor-wills that are in abundance in these parts. As you venture out to specific migration locations, you will spot rarer species of birds:
Ozark National Forest: Look for warblers, vireos, and tanagers
Baker Prairie: this location is a natural conservancy of 65 acres with grasshopper sparrows, the painted bunting, and bobolinks during the spring months.
Horseback Riding
Rent a horse or two and go up to the Ozark Mountain Region high country and experience the landscape in the mountain trails in the higher elevations of the area. You can either explore on your own if you feel confident enough or you can use a guide.
Museums and Other History
The Ozark region is rich with history and culture, so you will be able to find many historical sites such as recreations of mountain villages circa the 1800s, cultural museums that highlight the richness of the state's history, and even take a guided tour called the Arkansas Heritage Tour to learn more specific details about the places that you are visiting.
Rock Climbing
If optimal physical challenges are your thing, then go to the local rock climbing school at the Arkansas Ozarks and climb the 70 and 80 ft. sandstone edifices near the Buffalo National River no matter what your skill level is in the sport. Classes are available at all skill levels. These rock climbing guided excursions are open all year.
Waterfall Tours
For a more zen experience, take a guided tour to the local waterfalls that the Ozark region is known for. The Twin Falls is the premiere falls within the state, and the hike is a challenging one to get there, but it is well worth it. The other falls, Falling Water Falls, is much easier to climb and reach by foot.