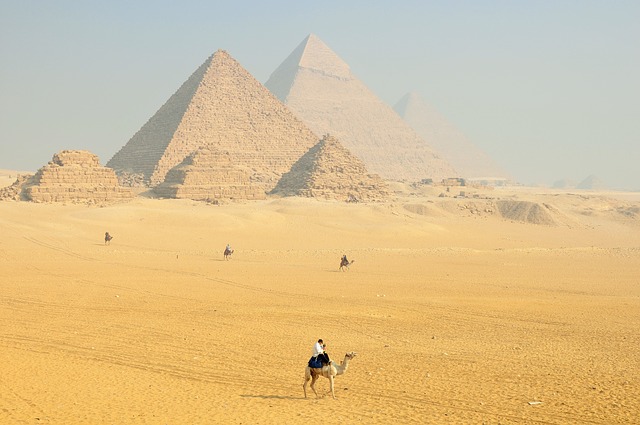 When traveling to Egypt, it's best if you have a week or two to explore. However, many travelers only have a single day, maybe because they're on a cruise or they're traveling for business.
Whatever your reason, you'll want a plan to see as much as possible in that single day. Here are some of the most popular cities and the best sights to see in one day.
Cairo and Giza in One Day
Typically when traveling to Egypt, most pair Cairo and Giza together because of their close proximity. When visiting this region of Egypt, you'll want to put these top highlights on your list:
The Pyramids of Giza: Named one of the Original Seven Wonders of the World, the Pyramids are a marvel. Make sure you book a guided tour to get the best view and avoid the masses of pushy vendors and salespeople.
Camel Rides: As part of your tour or as an independent experience, you can book a camel ride along the desert surrounding the pyramids. This is a one-of-a-kind experience that's well worth the price.
Egyptian Museum: One of the best places to stop on your Egyptian tour, the Egyptian Museum in Cairo is brimming with most of the nation's priceless artifacts and antiquities. You'll see mummies, busts of pharaohs, jewels, hieroglyphs, and so much more in a single museum. You could spend an entire day in this museum alone, so decide what you want to see beforehand to conserve time.
Khan El-Khalili Market: Finish out your day with some shopping at some of the largest open-air markets in Egypt. This commercial center dates back 600 years, and you can find beautiful treasures beyond the kitschy souvenirs sold elsewhere.
Alexandria in One Day
About three hours from Cairo is another bustling city, Alexandria, founded by Alexander the Great and once one of the busiest cities in the world. It's located along the Mediterranean Sea, so along with beautiful beaches and great views, you can enjoy local history and culture in a single day. Here are a few things to do:
Bibliotheca Alexandrina: This contemporary library is home to more than 8 million books. In its prime, it was one of the largest libraries in the world, leading Alexandria to become known as one of the capitals of the world in learning and technology. After vandalization and a fire, the library was out of commission for thousands of years, but it's since been restored, and is now filled with ancient tomes and scholars.
Fort Qaitbey: You can walk along the shoreline towards an ancient fort that's been guarding Alexandria since 1480. It's no longer in operation and now serves as a museum of sorts. You can explore the interior and climb to the roof to view the eastern harbor in all its glory.
Kom el-Dikka: This set of ruins was discovered in 1947 when the area was cleared to construct new housing. However, when construction laborers cleared the mounds of rubble to find thousands of square meters of ruins, including a small Roman theater, the area was designated a historic landmark and makes a great stop on your Alexandria tour!
Luxor in One Day
Luxor is the place to be if you're interested in Egyptian temples. To get the most out of the city's wonders in a 24-hour period, consider booking a guided day-tour to learn more about each site and make travel easier. Otherwise, plan to see these icons:
Karnak Temple: It took ancient Egyptians an incredible 2,000 years to build the Karnak Temple, making it one of the most visited sites in the country. It's the largest temple in Egypt with towering pillars and statues carved with intricate designs from top to bottom.
Luxor Temple: In about 10 minutes, you can drive from Karnak to Luxor Temple, a slightly less impressive, but worthwhile sight. It was built as a place of worship around 1390 BC, and still serves that purpose in present day, making it one of the oldest operating places of worship to date. The structure is still largely intact with impressive carvings and great photo ops.
Valley of the Kings and Valley of the Queens: Finish your tour with a boat ride along the Nile to the Valley of the Kings and/or the Valley of the Queens. This is the final resting place of hundreds of Pharaohs and their queens. Each tomb is filled with antiquities and treasures you can't find anywhere else in Egypt.
You can easily do one of these cities (possibly two, if you're ambitious) in one day. It's highly recommended that you take a guided tour if you want to maximize your time and cover your transportation, but if you choose not to, plan every detail beforehand so you don't miss a thing!