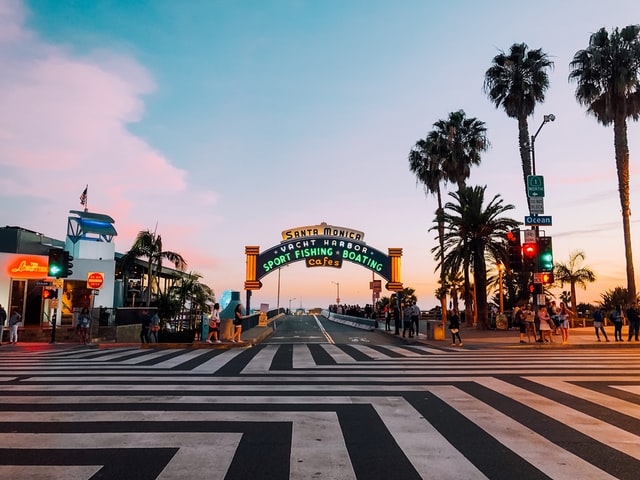 One of the most scenic neighborhoods in Los Angeles, Santa Monica is known for its pretty beach and the iconic Santa Monica Pier. So when you're looking at dining out in Santa Monica, why not pick a place that has a view of the beach or pier?
10 Santa Monica restaurants with a view
A beautiful backdrop is sure to make any meal even better. Read on for 10 great dinner spaces in Santa Monica with fantastic views.
1. The Penthouse
Elevate your dinner, and views, at The Penthouse. Located 18 stories up at the Huntley Hotel, this elegant spot offers panoramic ocean and city views, plus an outdoor space that includes open sky enclaves and beach cabanas.
Enjoy contemporary California cuisine and creative cocktails as you watch the sunset over the Pacific or the glittering lights of Los Angeles shining bright.
2. Catch
It's not surprising that a restaurant named Catch, situated along the California coast, would serve fresh seafood. The restaurant is also known for its excellent crudo, raw bar, and sushi offerings, as well as an extensive wine list. Those who aren't fans of seafood have options too. This swanky spot is located inside the Hotel Casa del Mar along the beach, boasting jaw-dropping ocean views framed by floor-to-ceiling windows.
3. The Lobster
Located at the entrance to the famous Santa Monica Pier, this historical gem dating back to 1923 has been completely revamped with a lovely terrace. Enjoy hearty seafood dishes, including lobster prepared multiple ways, with a side of views, then go for a romantic stroll along the beach right after dinner. Expect a big crowd of tourists and plenty of noise.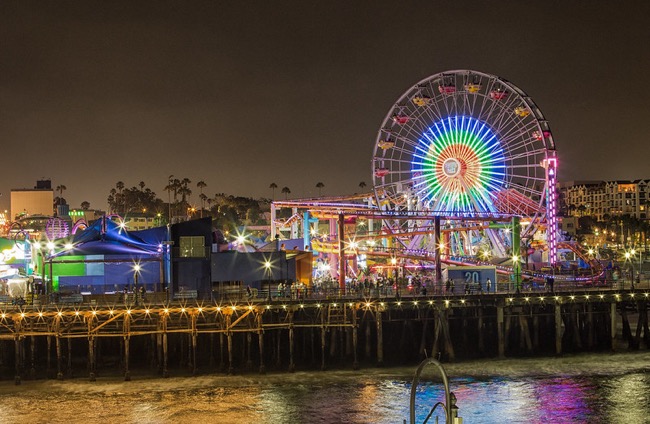 [Photo credit: Shawn Hinsey on Flickr.]
4. Elephante Beach House
This buzzing downtown Santa Monica hotspot offers incredible views from its rooftop lounge and restaurant. Sit on the outdoor terrace or just indoors, where you can get that perfect view of the Pacific.
Snack on delicious small plates before filling up on pizza or pasta. Three different bars offer tasty cocktails and a surprisingly long wine list. There's a lively late night scene and even a late night menu.
5. 1 Pico
Perched above the beach inside the luxurious Shutters on the Beach Hotel, 1 Pico serves up fresh California cuisine in a quiet and elegant setting. The ocean views are stunning, and the food fresh and market-driven.
Several prix fixe dinner options are also available, and there's an extensive wine list. It's a great choice for a special occasion at a dinner space with views in Santa Monica.
6. Calabra
Enjoy California and Mediterranean cuisine with views of the ocean and the Santa Monica Mountains at Calabra, perched on top of the Santa Monica Proper Hotel.
Soak up the views from a lovely sundeck, indoor lounge, or circular bar. Farm-fresh ingredients are used for both the food and cocktails. The wine list is short but well-curated.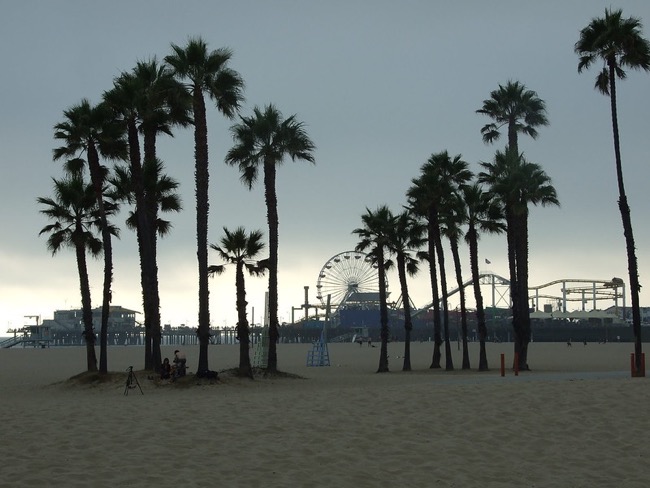 [Photo credit: Tasmin Slater on Flickr.]
7. Water Grill Santa Monica
Located right across from the ocean, Water Grill Santa Monica is a seafood lover's dream. It's the sister restaurant to the downtown restaurant of the same name and serves the same delicious food.
Market-style displays showcase the fresh seafood offerings, which you can enjoy raw and chilled in a massive tower, or cooked to your tastes. Enjoy cocktails, craft beer, and a wine selection heavy on American options.
8. Meat on Ocean
It's easy to get seafood near the ocean. For something a little different, try Meat on Ocean. As you can probably tell from the name, the restaurant is focused on meats. You can get just about any kind of steak here, though the aged steaks are the top choices.
Besides the outdoor terrace boasting views of the Pacific from across Ocean Avenue, there's also a charcuterie bar, dry aging room, and on-site butcher shop.
9. Del Frisco's Grille
Located right at the entrance to Santa Monica Pier, Del Frisco's Grille certainly has a great location. There are two outdoor patios available; sit at the one facing the pier for the best views.
Inside, the space offers communal tables and an open kitchen. The menu features American classics with fresh, seasonal ingredients. A must-try is the signature Cheesesteak Egg Rolls, which you may want to get multiple orders of.
10. Blue Plate Taco
Less than a block away from the Santa Monica Pier, Blue Plate Taco offers a clean coastal approach to Mexican cuisine. The décor is colorful and the atmosphere loud, but the tacos — and most dishes on the menu — are tasty, and the views of the ocean are pretty spectacular. There's also a full bar that serves an array of cocktails, tequilas and mezcal, plus margaritas and sangrias by the pitcher.
Planning the perfect dining experience in Santa Monica
First, start by picking a restaurant. The 10 Santa Monica dining spaces listed above are all great options where you can enjoy dinner with a view.
To help you decide, consider what kind of food you want or even what view. Check to see if reservations are required, or at least recommended. Some places are popular, and it will be tough to get a table without a reservation, especially one that is outdoors or with a view.
If reservations are required, make one as soon as you can, or aim for an off-peak time to increase your chances of having an incredible Santa Monica dining experience with a view.