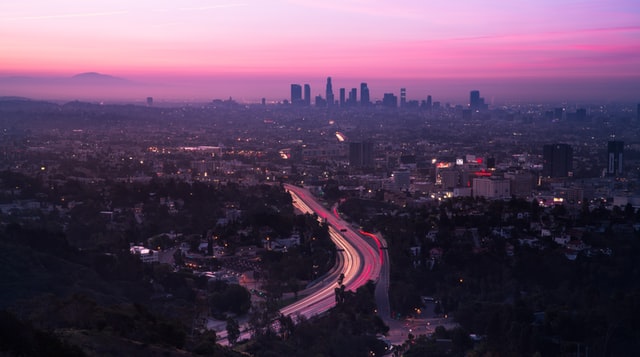 LAX Airport
The Los Angeles Airport can be considered a destination in itself. With oodles of great food, an amazing art collection, and tons of shopping options, LAX Airport is a great place to be in…once you're inside. Getting to the airport is another thing entirely and can be quite challenging. If you're driving to the airport, on-site LAX parking can pricey and challenging to access. If you are looking for more affordable LAX long-term parking options, choose parking near LAX instead of at the airport. These parking lots near LAX offer better prices, be booked ahead of your travel and are more easily accessible.
The fantastic weather and gorgeous beaches are not the only attractions that Los Angeles has to offer. Whether it's Hollywood, Beverly Hills, Santa Monica, or Malibu, Los Angeles is literally bursting with amazing things to see and do. So, try to spend your time and money enjoying all the awesome things that LA has to offer rather than circling around looking for a spot to park. Parking in Los Angeles doesn't have to cost an arm and a leg. By booking your LA parking space in advance, you can make your visit to the top attractions in Los Angeles easy and hassle-free.
There's always plenty of places to visit and things to do in Los Angeles. However, trying to find inexpensive parking in Los Angeles can be like searching for a needle in the proverbial haystack. On-street and on-site parking near LA's most popular amenities and attractions is almost always extraordinarily pricey. Here's our guide to finding parking near some of the most popular attractions in Los Angeles. Way.com is the leading parking provider in the USA.
Hollywood Walk of Fame
Probably the most quintessentially touristy thing to do in Los Angeles is visit the Hollywood Walk of Fame. The striking terrazzo-and-brass stars adorn both sides of Hollywood Boulevard from Gower to La Brea and both sides of Vine Street from Yucca to Sunset. You can walk around trying to spot your favorite celebrity's star and take a picture posing with it. The closest affordable parking spots you'll find near the Hollywood Walk of Fame will be in Selma Avenue or N McCadden Pl.
Rodeo Drive
This 2-mile-long street in LA is one of the most famous streets in the world. Over time, Rodeo Drive has become synonymous with luxury and affluence. Made famous by Julia Roberts' shopping spree in 'Pretty Woman' stores like Louis Vuitton, Bvlgari, Carolina Herrera, Burberry, Versace, and Dior dot the street. If you want to get a sense of how the other half lives, this is the place to be. The ideal places to park near Rodeo Drive would be the Polo Building Garage or Tower Records City in Sunset Blvd.
OUE Skyspace
Rising 69 floors above downtown LA, the OUE Skyspace is the ideal way to view the LA cityscape. Here you'll get all-day access to the spectacular views, interactive exhibits, educational movies about the area, and a bar. There's a glass slide, which whisks you to the bottom floor. OUE Skyspace hosts film screenings, sunset and sunrise yoga as well as parties all year round. If you want to visit OUE Skyspace, we recommend that you park either at The CalEdison DTLA parking lot or the Wells Fargo Center.
Dodger Stadium
A visit to the Dodger Stadium, one of America's oldest and most revered ballparks, is a must on any sports lovers things do in Los Angeles list. This iconic stadium has been home to some memorable moments in baseball history, remarkable special events, and the iconic Dodger Dog! The Dodger Stadium is the third-oldest continually used park in Major League Baseball. Moreover, it is of the most picturesque stadiums in the country with gorgeous views. The stadium overlooks the bustling downtown LA to the south and the imposing San Gabriel mountains to the north. Parking at the stadium can be a bit expensive, and if you want to save some money, we suggest you park in one of the lots on North Broadway or Old Chinatown.
Staples Center
A multipurpose arena in Downtown Los Angeles, Staples Center is the home arena for two NBA teams – the Los Angeles Clippers and the Los Angeles Lakers. Two other professional sports franchises – the Los Angeles Kings (NHL) and the Los Angeles Sparks (WNBA), also call Staples Center their home. Staples Center has hosted events ranging from world boxing championships to the Grammy Awards. Famous artists from Barbara Streisand to the Black Eyed Peas have rocked this arena with their musical performances. If you have an event to attend here, we recommend parking on West Olympic Boulevard or South Figueroa Street.
Grand Central Market
Grand Central Market in downtown LA is not only the best place to buy fresh produce, but it's also where you'll get to enjoy some of the best street food in Los Angeles. The historic Grand Central Market has been around for 100 years! It is open all through the week from early morning till ten at night and bustles with excitement and life. Once you're there, make sure to enjoy everything on offer, and there's a lot on offer! You'll find everything from Mexican to Japanese, to all-American burgers and ribs. There's plenty of specialty and novelty foods available too, plus fresh produce. This is a place you want to spend time exploring, and you should find an affordable place to park nearby. Some of the best parking spots near Grand Central Market can be located on South Spring Street and South Grand Avenue.
Chinatown
Chinatown is one of the oldest and most culturally important neighborhoods in Los Angeles. Here you'll find a slice of the orient hidden away in central Los Angeles with its pagoda-style buildings, red lanterns, traditional Chinese restaurants, and dim sum houses. Chinatown also has a Taoist temple, the Thien Hau Temple. Chinatown also plays home to some other important LA landmarks like the Union Station, LA State Historic Park, and the Chinese American Museum. The iconic restaurant Philippe the Original (claim to fame is that they invented the French dip sandwich) is also located here. If you're visiting Chinatown, the best places to park nearby can be found on North Broadway and North Hill Street.
Venice Beach Boardwalk
The world-famous Venice Beach Boardwalk is not be missed on your list of things to do in Los Angeles. This two-mile stretch gives you a glimpse into the artsy and bohemian side of California culture. The picturesque beach and vibrant boardwalk have something for everyone: specialty shops and eateries, souvenir vendors, street performers, fortune tellers, and much more. Some of the best places to park near the Venice Beach Boardwalk are Ocean Front Walk or Main Street, Venice.