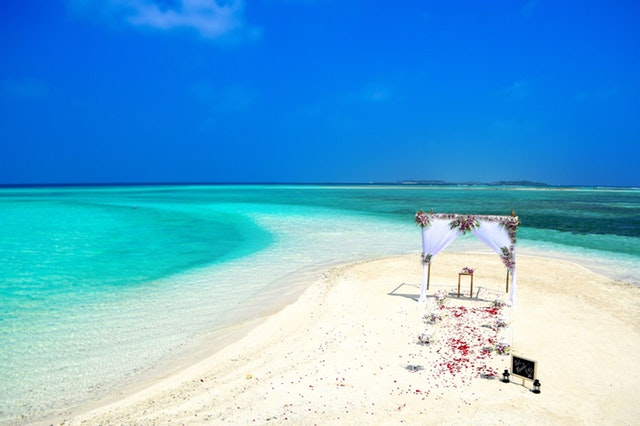 Destination weddings continue to gain traction, as increasing numbers of couples opt out of traditional white gown and black tie affairs for a chance to celebrate their union in an exotic locale. But why is getting married abroad so popular these days? For one, the majority of today's brides-to-be prefer more of a barefoot bash – an intimate party that is casual, speaks to their unique taste, and is most importantly, FUN.
According to a recent survey by The Knot, the #1 authority on all things bridal, 21 percent of U.S. couples had destination weddings in 2014. Costa Rica, Jamaica, Mexico, Antigua, Cayman Islands and Bermuda all ranked among the most popular warm-weather places to get hitched. Thanks to its close proximity to the States and jaw-dropping beaches, destination weddings in Mexico are highly sought after, offering a slew of luxury resorts, sightseeing opportunities and breathtaking venues.
In reality, there are dozens of compelling reasons to consider saying "I do" away from home – from experiencing the amazing beauty of foreign lands to enjoying quality bonding time with your closest friends and family. Here are a few more perks to planning your dream wedding day (or week!) in paradise.
Destination weddings can be affordable
The average U.S. wedding cost in 2015 was a whopping $32,640. Between the reception venue price tag, the ceremony site, the band and all the vendors, getting married isn't cheap. By contrast, a destination wedding can be super cost-effective if planned wisely. For instance, a few thousand dollars can purchase a week-long stay and marriage ceremony at a posh, all-inclusive resort in Costa Rica, including all meals, beverages and roundtrip airfare. Even better, couples can begin their honeymoon right away with no need to hop on a plane.
Spectacular scenery
Adventure-loving couples have the opportunity to take their vows beside a towering jungle waterfall, in the middle of a national park, or next to the crashing ocean surf. If you want to ditch the heels in favor of a barefoot beach wedding, or envision saying "I do" against a backdrop of turquoise waters or mesmerizing Mayan ruins, a destination wedding is your ticket to creating lasting memories.
Whittle down your guest list
A destination wedding allows couples to narrow down their guest list considerably, extending invites to their nearest and dearest who are able to make the journey. The average destination wedding has less than 50 guests! A smaller invite list not only streamlines costs, it allows you to spend more quality one-on-one time with those you care about most. By having a more intimate affair you can forget rushing around to greet long-lost relatives and people you barely know, and focus on having fun with your crew.
Everyone is in vacation mode
It's no secret why the majority of destination weddings take place in tropical, beach-centric locales renowned for their leisure sports and outdoor adventures. From world-class golf and wildlife excursions to zip-line canopy tours, your guests will have ample opportunity to rev up their adrenaline when the party is over, or simply relax poolside. There's usually something for everyone: dolphin encounters, archaeological ruins, whale watching, scuba diving and snorkeling. In short, everyone will be in a blissed-out vacation mode, including the couple!
The best part of destination weddings is that your honeymoon can start immediately after the ceremony. Skip that long flight, and the lag time, and jump right into enjoying marriage with your new spouse. A fun way to honeymoon in a country such as Mexico is by staying in a vacation rental. Some rentals are luxurious, and you and your spouse can enjoy having an entire apartment or home to yourselves, for a price that rivals hotels.