With a distinctive blend of towering sand dunes, savannah grassland, mountains, canyons and even the waters of the Kunene River, Namibia is one of Africa's most beautiful countries. With such a diverse range of activities and landscapes there is little doubt why it is known as the land of contrasts. With so much to offer there are many reasons to visit, here are 10 of the best.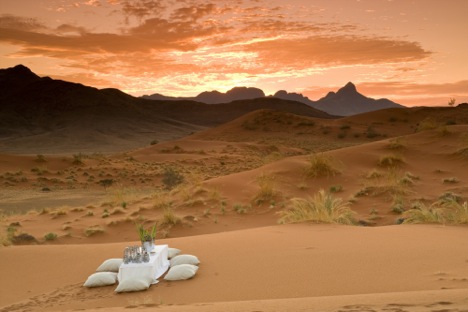 [Sossusvlei Desert Lodge]
10. Walking The Namabian Dunes
This special kind of walking safari is set against the sweeping desert backdrop of the Kalahari and Namib deserts. The latter is believed to be the oldest in the world, at an incredible 55 million years old. These guided walking safaris are practiced by most lodges and camps and lead guests up some of the mightiest dunes the country has to offer, including Dune 45, which stands at almost twice the height of the Statue of Liberty.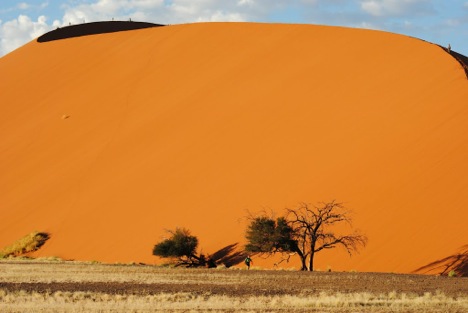 [Dune 45, Sossusvlei]
9. The Skeleton Coast
This giant stretch of beach, which spans over 6000 miles, is littered with thousands of bones and shipwrecks along its shoreline, hence its rather eerie name. The bones mostly belong to whales and seals; remnants from days in which they were hunted. Many of the shipwrecks found along the coast were caused by thick ocean fog that severely limits visibility. Boats of times gone by would have had no problem reaching the shore but without a powerful engine would not have been able to leave.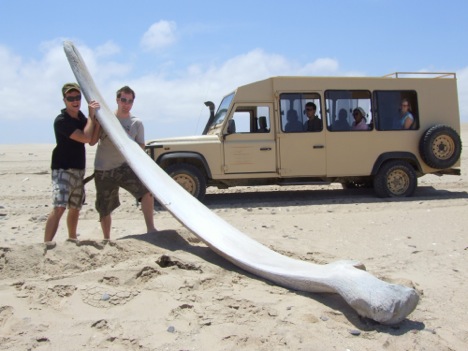 [Whale bone on the Skeleton Coast]
8. Etosha National Park
Get up close and personal with lion, elephant, the critically endangered black rhino, zebra, gemsbock and a host of other animals on game drives through Etosha National Park. The reserve has an area easily over 1000 square miles and provides some of the best game viewing in the country, particularly during the dry season, in which thousands of animals gather around the area's remaining water in order to survive.
7. Mountaineering
Aside from Namibia's looming red dunes there are plenty of other offerings for the avid climber, including various mountains and even extinct volcanoes. The mighty Spitzkoppe can present a challenge even to the experienced climber, known as 'Namibia's Matterhorn' it is comprised of rough granite rock that is over 700 million years old. However, for those wishing to conquer Namibia's highest offering, the 2606m Brandberg will push anyone's boundaries but through it climbers can reach the country's highest point, known as Königstein.
6. Black Rhino Tracking
Because of the demand for their horns black rhinos are critically endangered. Despite popular belief in the East, rhino horn contains no medicinal properties and is made from the same substance as your fingernails. With so much unnecessary violence towards this species the chance to see them relaxed in their natural habitat is a priceless opportunity. Wilderness Safari's Desert Rhino Camp is one of the places you can take part in black rhino tracking, which involves travelling via 4×4 and on foot in search of these rare creatures.
5. Fairy Circles
The reason for the strange bald circles found in Namibian grassland has long been a mystery. Before eventually disappearing, these bald spots upon the landscape can last from 25 – 80 years, amid various theories, it is believed an answer to the fairy circle phenomenon has been found. Through new research recently it is thought sand termites are behind it all, with these little creatures killing the grass within the area of the circle by feeding on the roots.
4. Cape Cross Seals
The protected area of Cape Cross is one of the best places to see the Cape fur seal. These large creatures are the world's biggest fur seal and can provide great entertainment to watch. Situated on the Namibian coastline the reserve is home to around 200,000 seals and is one of the largest Cape fur seal colonies in the world. Thanks to 200km of walkway onlookers can now get closer to the action.
3. Indigenous People
The Himba tribe are a semi-nomadic people that dwell in Northern Namibia. Although very much rooted in their age old traditions and culture, visits from the outside world is in no way a rarity. Through community based tourism initiatives, travellers can meet the Himba people and experience their unique way of life for themselves. Exploring how they survive in the harsh desert landscape and becoming familiarised with their social structure can be incredibly interesting to discover, purchasing some authentic Himba jewelry is also something to consider.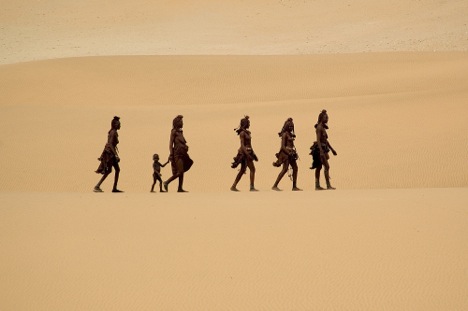 [Himba Women – Photo by Dana Allen for Wilderness Safaris]
2. Swakopmund Adventure Activities
The activity centre at Swakopmund provides those seeking an adrenaline rush with just that and much more. Sandboarding down various dunes, or quad biking across the desert terrain is on offer, along with the prospect of skydiving high above the land below or enjoying an action packed kayaking session.
1. Balloon Safari
Rising early of a morning, catch the sunrise from an amazing vantage point, high above the dusty ground below. Hot air balloon flights last around an hour and end in a sumptuous breakfast back at a guests lodgings. It's a unique way to see Namibia and one not often forgotten.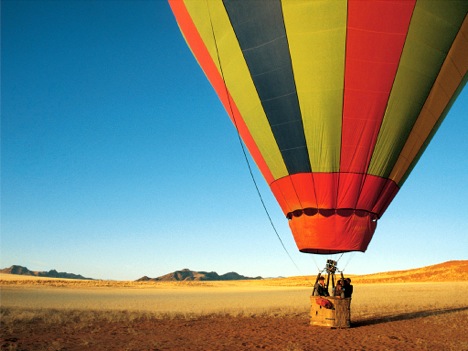 [Sossusvlei balloon safari – Photo by Wolwedans Namib Rand Nature Reserve]