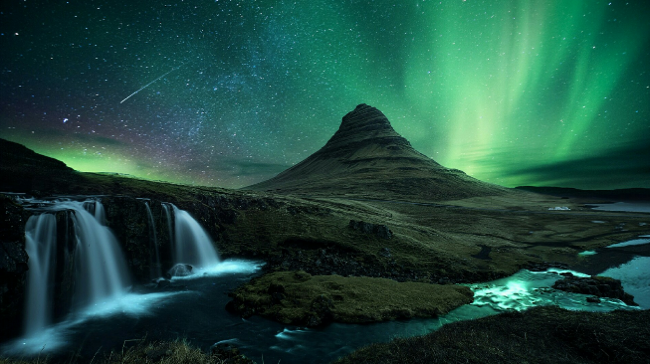 Iceland is one of the most interesting, unique and awe inspiring places on the planet. With spectacular scenery, fascinating wildlife, and a landscape quite literally formed in fire and ice it is one of those places that will speak to your soul.
With its sparse population, exploring Iceland can sometimes feel like you are the only person in a different world. The sights here will live with you forever. It is a rare chance in this ever shrinking world to discover something new and exciting for yourself. From Reykjavik cars that are built to cope with the terrain are easy to hire so you can get out there and explore for yourself. Here are some of the great highlights you simply can't afford to miss.
Dramatic landscapes on the Snaefellsnes Peninsula
On the far western edge of Iceland is the Snaefellsnes Peninsula, so named after its most dramatic feature, the 'Snow Mountain' that can be seen from as far away as the bay at Reykjavik. Day tours from Reykjavik are easy, the drive is around two hours, and it is a similar distance from the airport.
Here you get to experience a little of everything Iceland has to offer, from mountain peaks, glaciers, waterfalls and fjords, to volcanic rock formation and cave networks against the backdrop of the wild Atlantic coastline. You can visit anytime of year, even though the extreme Icelandic weather can make some of the country inaccessible for travellers, the roads into the Snaefellsnes Peninsula are still passable safely.
Be sure to spend some time in the Snaefellsjökull National Park, which has waterfalls, hot springs and lava tubes. No visit to Iceland is complete without taking a dip in a hot spring pool. Two of the best are the Lýsuhólslaug mineral water pool and the Landbrotalaug Hot Pot. Lýsuhólslaug is a man-made geothermal pool close to the beach of Langaholt. The other is a tiny hidden natural hot pool. This one is just big enough for one or two people and it really is out in the wilds.
Explore the Golden Circle at your own pace
One of the great things about driving for yourself is the freedom to do what you want when you want. One typical path you might want to start with is the Golden Circle tour that will take you to Geysir, Gullfoss waterfall and þingvellir National Park. The summer days here are long, and you can really take advantage of that.
If you want to stop and try rafting, snorkelling or hiking then you can. The evenings tend to be quieter as any coach tours will have departed already. Of course for the ultimate freedom then to explore by motorhome Iceland has even more to offer. You will even have the chance to see the Northern Lights away from artificial lights.
See where the world is tearing itself apart
One place you cannot miss is the boundary between the North American and Eurasian tectonic plates. Each year they move a little more apart, in fact did you know that Iceland grows by a few centimeters every year? You can park up and take a stroll over Leif the Lucky's bridge that goes over the plate boundary. Don't forget to pick up your certificate from nearby Duushús in Reykjanesbær, also home to Viking World and the Museum of Rock and Roll if you have time to stop.
Explore the beautiful ice caves all year round
The closest one to the capital is Húsafell, on Langjökull, the country's second largest glacier, you can arrange a small group visit to Into The Glacier, a man made ice cave that's accessible all year round. This one does need to be guided, as access to the glacier is by super jeep. But it is well worth the trip. So what are you waiting for? Start planning that itinerary!