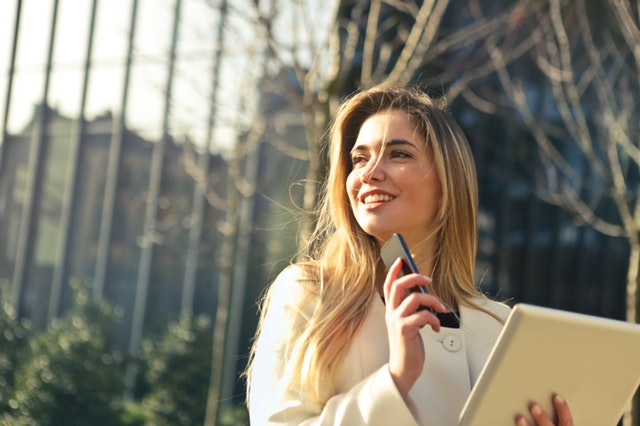 Traveling in Canada is a phenomenal experience! The diversity of the landscape which includes mountains, deserts, rainforest and tundras as well the classy yet extremely culturally diverse cities all around the country. Ohh and let's not forget the people – Generally known as one of the friendliest in the world!
From the frosty tundra of the Yukon to the rough shorelines along the east costs, the mountain range of Calgary over to the rainforests of Vancouver. It is a shame that too many travelers skip this big and beautiful country which is great for a wonderful road trip!
I promise you, that you could spend literally months traveling around Canada without ever feeling bored and I believe, that it is one of the most underrated travel destinations worldwide! It simply rocks!
Traveling to Canada has to be carefully planned though! This is especially true if you like to get a Prepaid SIM Card for Canada. The population is roughly 10x smaller than the USA with approximately the same land mass. You still have a few local Canadian internet service providers but the options are not as good as the neighbor's ISPs.
I believe that this won't change for a long time, as the small population results in a massive economic barrier of entry for new competitors to improve the overall internet service in Canada.
Canada has one of the fastest internet connection worldwide yet it also belongs to one of the most expensive countries for internet access. The Canadian Radio-television and Telecommunications Commission (CRTC) conducted a study in 2016 and found that on average, the consumer will pay about US$34.00 for 2GB of monthly data plan.
Furthermore, those prices have been relatively stable since 2012 and are for post-paid plans only. The majority of Canada uses mostly post-paid plans (post-paid revenues neared $17.2 billion while prepaid plan revenues were close to $877.3 million).
As a tourist coming to Canada, you will have a hard time getting a reasonably priced deal to access the mobile data internet and roaming is not a real option.
If you happen to own a SIM Card from a US carrier, for example, you will get charged about US$4.14 per MB used, US$0.81 for per Voice minute & US$0.31 per text message while roaming in Canada.
So, what are your options now?
The Pro's & Con's of Free Public Wi-Fi in Canada
Your first initial thought might be that you can just rely on Public Wi-Fi as it is something that we take for granted nowadays. We want free internet at the airport to the restaurant where we enjoy dinner with our SO.
But how safe are those freely available public wifi hotspots really? How safe is your data? It is clear that getting free internet access has its positive aspects but the negatives can cause a huge amount of damage to your personal data safety. Here are my thoughts about most important pro's and con's about public wifi hotspots.
The Advantages:
– It's free, obviously!
It will help you save a huge amount of roaming charges!
– Works in any emergency case
You can't predict these scenarios! Public wifi hotspots can help you to bring the situation under control
– Promotes productivity
You can literally work from anywhere
The Disadvantages:
– No reliability
You will have no guarantee that the internet access will work at all and it can completely shut down if too many users will join the same network
– Frustrating advertisements
"There ain't no such thing as a free lunch" – The internet access is only free, as the provider will display an insane amount of advertisements on your device.
– Security Issues
If your device is not properly set up, other users on the same network can steal your confidential data (Passwords, Credit Card details, etc).
– Low Speed
Similar to the reliability issue, if too many users join the internet network at the same time, you will experience a heavy slow-down of the internet speed.
Get an International SIM Card for Canada
If you happen to manage to get a post-paid plan from any of the top three internet service providers (Bell, Telus & Rogers) in Canada, you can expect to pay anywhere from US$34.90 (2GB Data Allowance) up to US$61.40 for 10GB data allowance or more.
But as you may only stay a few days in Canada, only pre-paid plans will be accessible for you. During my several vacations in Canada, I have tried many different providers and I've found only one, that truly satisfied my needs from start 'til the end.
Who is SimOptions?
The team at SimOptions consists of young, dynamic entrepreneurs who came to realize during their own trips abroad that they kept turning off their smartphones to avoid the high data roaming charges. Yet the smartphone is an essential item for traveling abroad – navigate through unknown cities with Google Maps, enjoy the best food around with the help of TripAdvisor community or quickly translate something on the fly to easily overcome any language barrier.
SimOptions was founded shortly after – A unique SIM Card marketplace that provides Prepaid Travel SIM Cards from well-established SIM card provider all around the world – Orange, Three, AIS, TrueMove, Vodafone and more. SimOptions does not require any documentation which extremely simplifies the SIM card ordering process. All SIM Cards offered are fixed prices without any hidden extra charges or contracts.
Who is TrueMove?
TrueMove H is a mobile telecommunication operator and is one of the three largest operators in Thailand next to AIS & DTAC. Their SIM Cards also work overseas while you pay a much lower price than getting a local SIM Card from Canada.
Canada SIM Card Details
– 4GB Data in 4G LTE (without talk and text)
– Unlimited Internet afterward at a throttled speed of 128 kbps (EDGE)
– The Truemove H SIM Card is valid for 15 days
– It only costs US$49.90
– Unfortunately, you cannot top up the SIM Card.
SIM Card Format
The SIM Cards are available in all various SIM card sizes, so it will fit your smartphone or any other devices with a SIM card slot.
– Standard Sim 25 x 15mm
– Micro Sim 15 x 12mm
– Nano Sim 12.3 x 8.8mm
Network Coverage in Canada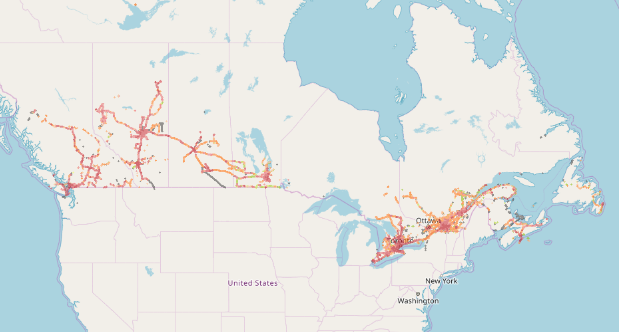 [4G / 4G+ connection in the Orange & Red areas]
There is one thing to keep in mind when traveling through Canada! Due to the size of and the low-density population, the vast majority of Canada is without any internet connection independent of the internet service provider. As long as you stay in densely populated areas, you will have no problems enjoying the high-speed internet in Canada.
Visit www.simoptions.com for more information about your Canada SIM card.