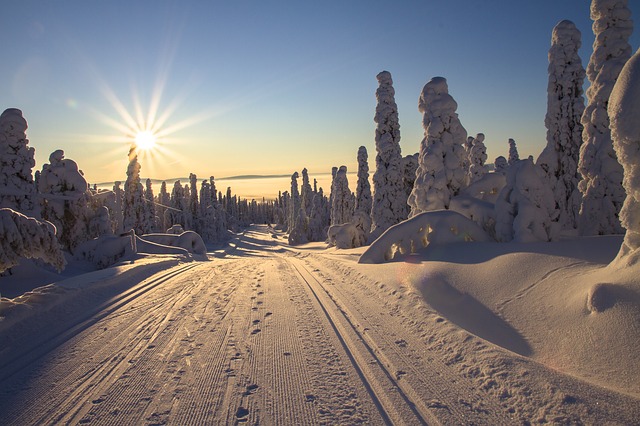 When you start planning a holiday, maybe you immediately think of tropical beaches and sunbathing by the pool. However, summer isn't the only time you can plan a trip. Whether you're a fan of skiing or strolling through a fairytale forest – there are so many places in the world where you can enjoy winter at its very finest.
Lapland, Finland
Winter holidays allow you to appreciate everything the season has to offer. What better way to throw yourself into the elements than watching the Northern Lights? The crisp evening air, the crunch of snow under your shoes, and the world's most spectacular natural light show performing in the sky. If you want to make the experience even more magical, you could consider going on a reindeer ride.
Banff, Canada
Nowhere else in the world does winter quite like Canada. It a treasure chest of destinations and one of its gems is Banff. In winter it gets taken over by skiers and snowboarders racing down some of the best slopes in the country. If that doesn't sound like your speed, you can enjoy the mountains from afar by driving through Banff National Park. The mountains are seemingly never ending, and you'll find yourself making plenty of photo stops.
Oslo, Norway
Have you heard of the word koselig before? Translated it means cosiness – a love of sitting by the fire with good company. It is one of the two mottos Norway has. The other, if you're wondering, is riluftsliv and means a love of the open air. Despite Norway facing an Arctic winter every year, it doesn't stop the people from making the most of the season. You can go dog sledding, sail along Viking seas, or maybe even spot the Northern Lights. The locals are always happy to help you see the best sights.
Berlin, Germany
What's one of the most magical things about winter? For many of us, the answer is Christmas. One of the best places in the world that celebrates this time of year is Berlin. The Christmas markets there will have you feeling festive in no time.
The Cotswolds, UK
Perhaps you're surprised to find the UK on this list. After all, the winters here tend to be more miserable than magical right? Not necessarily. When you visit the Cotswolds, it gives you a chance to get well and truly cosy. Walk into a pub for a quick drink and you'll find yourself spending hours watching the world go by. The Cotswolds has been described as the most beautiful village in England, so why not discover the sights for yourself?
There are so many winter wonderlands to explore in the world. You may have to plan more than one trip. Where's your favourite place to go to during winter?