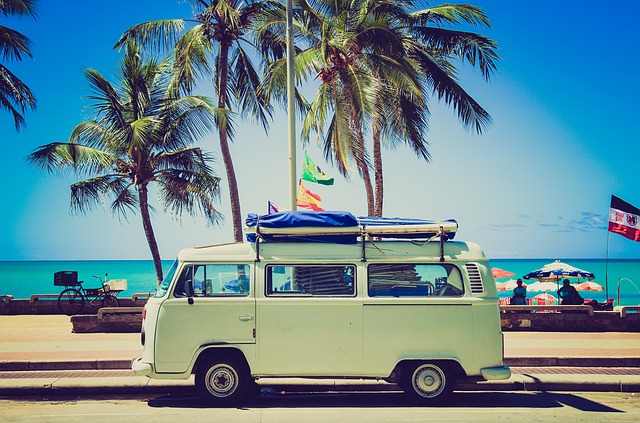 The idea of hopping into a vehicle and rambling across the country may seem almost quaint – it's something you might have done in a station wagon in the 1950s, or in a VW camper van in the 1960s or 70s. For a few decades now, a generation that grew up in hot backseats has gone a different direction with their own vacations: planning extended stays in single spots, looking for beachside shacks and mountain lake cabin rentals.
There's nothing wrong with that, but nobody should be surprised that rambling vacations are making a comeback. The millennial generation is a mobile one, willing to move from spot to spot for work and pleasure. They're driving up prices on vintage camper vans and are converting old vehicles into full-time residences. Search for "van life" on Google and you'll find Facebook pages, Twitter accounts, and websites glorifying a nomad lifestyle.
There are joys to be had on the open road, so consider making your next vacation a rambling one. Here's how to do it.
Your vehicle
There are a few different ways to take your big road trip. The simplest way is to take your everyday vehicle. If you do this, you're going to have to find places to stay the night. That means doing at least a little bit of planning before you hit the road, scoping out potential hotels and motels – or campsites, if you bring a tent and are prepared to sleep outdoors.
If you want to sleep in your vehicle, you'll need a camper van, an RV, or a custom vehicle. You can choose to rent or buy these – if you want to leave soon and this is your first road trip vacation, renting is probably the way to go. If you do a custom conversion, be sure to look into registering your vehicle as an RV – many RV parks will not let your custom school bus conversion onto the property if you don't have it properly certified as an RV.
Your route
You'll want to plan out your route at least a little bit before you leave home. You want to make sure that you get to the next motel or RV park at a reasonable hour, so that you aren't driving late into the night. You'll also want to call ahead and make sure that these places have room for you!
A circular route is a great way to see something new every day – with an out-and-back route, you'll be driving home through the same scenery that you saw on the way out. Try to cap your driving days lower than you feel you need to, so that you never get too tired of driving. If you feel up to it on a given day, you can always call another campsite, motel, or RV park and just keep driving! But when it comes to the plan, be conservative. Nothing about a nomad vacation should be stressful.
What to do
What will you see on your nomad vacation? Natural wonders are always a great choice for this sort of trip, and many of them are surrounded by campsites and motels that cater to people who are doing exactly what you are doing. Cities can be tougher for people driving big RVs, so keep that in mind as you plan.
Depending on what sort of destinations you'll be seeing, you may find yourself stopping at neat bars or even marijuana dispensaries. Remember that you're on a driving vacation – you may be miles from your motel, not a short subway ride from your hostel. Stay sober if you have any more driving to do, because nothing can ruin a vacation as quickly as a brush with the law or – more importantly – danger to yourself and others.
Be spontaneous
No matter where you choose to go or what you choose to see, remember that being free and spontaneous is the point of a nomad vacation. Don't rush from spot to spot – enjoy living in the moment, and relax! This laid-back quality is the best thing about a nomad vacation, and it's how a vacation was always meant to feel.