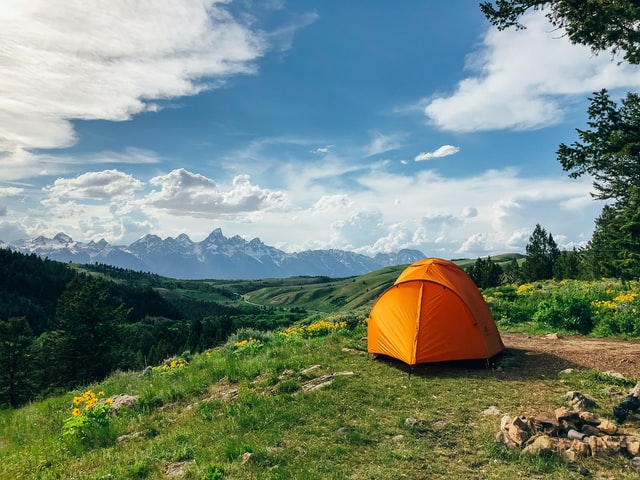 Amidst the current lockdown crisis, due to the outbreak of COVID-19, many holiday makers across the world are worrying about when they'll next be able to go abroad. With national and international airlines cancelling and moving flights, and some even shutting down, there's no certainty that any flights that you book will go ahead.
So what can you do? Purchasing a plane ticket with a credit card generally covers you if your flight gets cancelled, but what will you do instead? One sure fire way to make absolutely certain that you'll be able go on holiday is to do something more local to you. Push comes to shove, you'll always be able jump in the car and drive somewhere local, or national if you're up for a big drive. So what does that you leave with? Camping!
If you've got the right mentality and the right gear, camping trips can be a great and cost effective holiday. We'll talk you through everything you need to consider before planning your camping trip.
Accommodation
The first and foremost thing you'll need to start off your camping trip is to decide where you'll camp, and the gear that comes along with that. You've got a few considerations here with different options to suit your preferences.
Wild Camping – probably the most traditional form of camping, wild camping means going out into the wild to pitch up your tent. Perfect for anyone who can go a week without washing and really wants to enjoy the bare bones of camping. It's important to get the landowners permissions wherever you decide to camp.
Campsite Camping – if you don't like the idea of camping out in the open, with a shower close to hand and plenty of things to do, campsite camping might be the shout for you. Campsites hire out their pitches to families, couples and other groups. Generally these have leisure activities close to hand, and some even have swimming pools.
RV Camping – if you're lucky enough to own a caravan or a motorhome, taking it out to an RV campsite is an easy way to camp. You've got the luxuries of a toilet, shower, cooker and all the rest of it, and the ability to travel anywhere in the US. If you don't own a caravan, you could buy a used one for good value from caravansforsale.
Gear
The next important consideration you've got is what gear you'll need to take along with you. If you've the luxury of owning an RV, you should have most of the bits ready to take, but if you're tent camping, we've got a list together of stuff you'll need:
Sleeping bag and roll mat – you can get a winter or summer sleeping bag so make sure you get the right one!
First aid kit – it's important to keep all your essentials with you whether you go: scissors, bandages, plasters, clean water.
Tent – don't forget the tent!
Spare clothes – depending on how long you'll be camping for, you'll need to have at least a couple changes of clothes – at the very least, pack some spare socks!
Food – one of the best part of camping is the food. You can't beat a good old BBQ, says the team at perfectlysmoked.com. Back yourself loads of snacks and treats that you can roast in the fire.
Activities
Lastly, you'll want to make sure there's the right things around to keep you busy. If you're happy enough to just spend your time chilling, you won't need to worry about things to do nearby, just pack a book!
But if you're the outdoors type, you'll want to set up camp near some nice places to walk, trails for bike riding, swimming pools or lakes you can swim in… the list is endless.
So now you know what you need to get ready for your next holiday, so it's time to start prepping! Make sure you do your best to socially distance during your trip, and try to minimise contact with anyone who's not a family member.