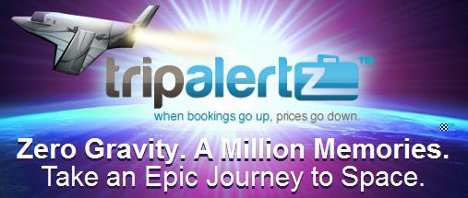 TripAlertz are giving away a once-in-a-lifetime supersonic, 200,000+ ft above earth trip into space.
To win a trip into space, become a free member at TripAlertz.
Become a member and get one entry. Already a member? then you are already entered. Gain another entry for every person you refer as well.
TripAlertz has been described by msnbc.com as "Groupon for travel." They post discount codes and travel deals for all kinds of travel.
ELIGIBILITY: This promotion is open only to TripAlertz™ existing members, or new members, who join TripAlertz™ during the Promotion Period, and are legal U.S. residents (excluding Puerto Rico, U.S. Virgin Islands and Guam), legal Canadian residents (excluding the Province of Quebec), or legal Residents of the United Kingdom, and who are twenty-one (21) years of age or older at the time of entry.
See website for full terms and conditions.