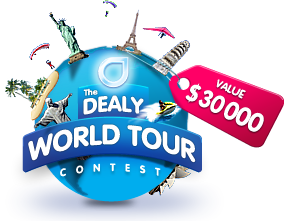 This is a huge travel prize on offer from The Dealy. You have the chance to win your dream world tour. With this prize you can choose your own itinerary and travel to 10 cities of your choice of Dealy's cities.
World Tour Contest
* Choose your 10 dream cities from Dealy's cities (in France, Italy, Spain, Germany, UK, USA, Brazil, Mexico, Russia, Thailand, Malaysia and Singapore.)
* Enjoy free flights and hotels
* Enjoy 3 free Dealy Deals per city
That's right, all free!
1st prize
A personalized world tour (Value: $ 20 000)
2nd prize
iPad 2
3rd prize
$ 100 Coupon – 10 people can win $100 Worth of deals in your city.
Competition runs to 15 April at 11.59pm EST (GMT-5). See website for full terms and conditions. Competition available in Dealy countries.
About theDealy.com
theDealy offers up to 90% discount travel deals on all kinds of services in 9 countries and 574 cities – restaurants, clubs, bars, massage, theater, cinema and concerts.