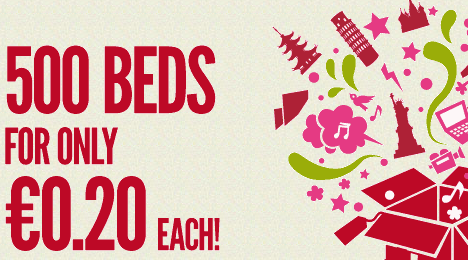 Hostelbookers.com Offer: 500 hostel beds for 20 cents each
HostelBookers is 6 years old, and to celebrate they have 500 hostel bed nights for 20 cents each.
Hostel beds are available in:
* Barcelona
* Berlin
* Dublin
* Edinburgh
* Florence
* Krakow
* Lisbon
* Miami
* New York
* Prague
Sale is on between 26th and 30th April, with 10 bed nights per hostel available from 13.00 GMT* every day.
Sale on for dates between 31st May and 4th June.
*GMT is one hour behind British Summer Time, so it will be 14.00 BST.