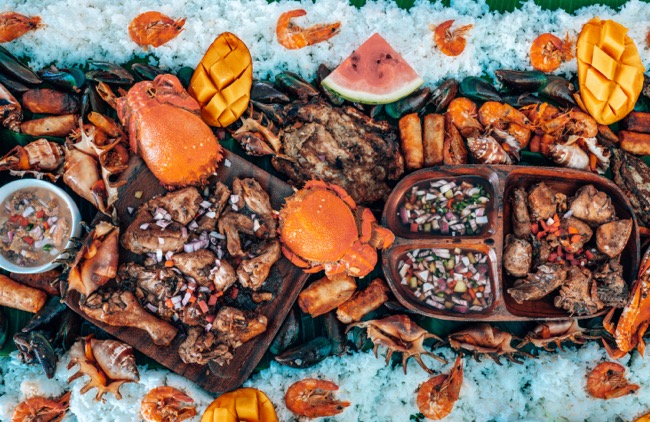 When you visit Southeast Asia, one island country always comes up on the list—the Philippines.
With many of its pristine beaches and spectacular landscapes, a true adventurer won't pass up on the opportunity of experiencing one of the best island excursions on the continent.
But aside from breathtaking sceneries, the Philippines is also known as a tremendous gastronomic stop. From exotic eats to insanely delicious meals, you can never go hungry when you visit the country.
A first-timer? Here are 10 of the must-try local foods you should look for when you visit the Philippines.
Lechon
One of the popular local dishes in the Philippines is Lechon. It often comes in oversized packages, mainly with a stick and an apple in the mouth.
Lechon is a popular Pinoy delicacy, often found in celebrations like weddings, festivals, and birthdays. It's most commonly known in Cebu, a province in the Philippines located in the Visayan Region.
Spain and Latin America aren't foreign to this dish. They also have their version of this suckling pig roasted over hot coals and marinated with different spices.
But the remarkable thing about a Philippine Lechon is that it comes with tradition. Many families in the country would prefer Lechon over any meals during a celebration. It's a symbol of fun times and prosperity.
Wherever you may be in the country, you would always find yourself craving Cebuano foods because they are unique and can only be found on the island. If you ever find yourself wanting to stay in Cebu, there are plenty of homestays, hotels, and even camping sites where you can enjoy your vacation.
Adobo
You'll know you're in the Philippines when you can finally get a taste of the famous Adobo.
It's usually made with chicken or pork, simmered for a couple of minutes with soy sauce and vinegar. It's also topped with lots and lots of garlic, bay leaf, and a handful of peppercorns for an extra boost.
It's a pretty straightforward dish but a staple in every Filipino household. Every visitor must try and have a taste of this uniquely Filipino dish, and you'll never regret it.
People say it still tastes good, actually even better, after a day.
Sinigang
Sinigang is a warm, sour soup that will get you through the rainiest of days. The weather can be unpredictable in a tropical country like the Philippines. But whether it's sunny or gloomy, a bowl of Sinigang will comfort you right away.
Most Filipinos would often have pork as the main ingredient, but for some, beef and seafood work too! It also comes with many vegetables like okra, radish, taro corn, string beans, spinach, and sometimes, eggplant.
It's best paired with a side of fish sauce and chili to elevate the meal experience.
Sisig
In the Philippines, people often find a way to cook and enjoy ingredients that are commonly discarded.
Pampanga's Original Sisig is one of the manifestations of that concept. When Filipinos cook a pork dish, it would often be the meatiest part. The scraps like ears, cheeks, and other pig parts are usually discarded. But not on this side of the country.
Sisig is a dish composed of pork cheeks, ears, and sometimes with the belly.
There are many varieties of Sisig all over the country. Some with mayonnaise, some with nothing but egg and chili. It's a hearty meal best paired with rice and a mug of a cold drink—whatever can satisfy your tummies.
Bicol express
Do you prefer your food hot and spicy? Bicol Express is an excellent recommendation!
It's made with coconut milk, pork, shrimp paste, and a ton of chili pepper that will make you drool. It originated from Bicol, thus the name.
Bicolanos are known for their love for spicy food. They even have a spicy ice cream to live up to their province's reputation.
Bicol Express is another warm meal that's often served at lunch or dinner, with a whole plate of rice to help extinguish the fire in your tongue. If you have a low tolerance for spice, we recommend you steer away from this dish.
Tocino
Filipinos love breakfast. And even after the acceptable hours for the morning meal, Pinoys would sometimes still prefer breakfast food for lunch or dinner.
One of the most requested dishes in a Filipino kitchen is a hearty plate of Tocino. Cured meats are popular in the archipelago because one, it's easy to cook. And two, it is delicious.
Some experts cure the meat with sugar, while some go extra by curing it with pineapple.
Tocino is a Filipino breakfast staple alongside garlic fried rice and fresh tomatoes. It's the Philippine version of bacon, but only sweeter.
Buko pie
Buko Pie is a popular dessert down south, made with a baked coconut custard pie. It's often a take-home treat for those traveling in the provinces of Laguna, Batangas, or Quezon.
The coconut meat is mixed with condensed milk. The combination of the two is sort of addictive and would make you want to grab another slice of pie for yourself.
The whole pie is also infused with vanilla, pandan, and if the maker is feeling extra, a dash of almond. These ingredients elevate the entire taste of the dish.
Chicharon
If you love Lechon, you would also appreciate its sister, the Chicharon. You probably would recognize this dish from Spanish-influenced countries. It's a deep-fried version of a pork rind, cooked to crispiness.
There are also other versions where they're made of pork intestines, chicken skin, and other pork parts.
Chicharon can be treated as a snack or a meal paired with rice. But in the Philippines, it is often considered a bar chow, a perfect match for a pint of beer or your favorite alcoholic drink.
Balut
You can never visit the Philippines and not try one of the most exotic dishes in the country. It's a common sighting in the streets of whatever city you are in.
Locals have a love-hate relationship with a balut, but you would understand the fascination when you find one.
Balut is an incubated fertilized duck egg. The incubation often lasts for 21 days. It is served warm, and you can eat it straight from the shell.
Halo-halo
Satisfy your sweet tooth with this popular Philippine street delicacy—the Halo-Halo.
It comes in a cup, which you might mistake for a drink. But it's not. It's filled with many ingredients such as bananas, jackfruit, jellies, tapioca pearls, ube, flan, and sometimes even topped with ice cream.
The reason it's called halo-halo is that all the ingredients are mixed. In Filipino, halo-halo means to combine.
The Philippines tend to get hot during the summer—and sometimes even during the rainy season. Halo-halo is a great thirst quencher.
Make your trip to the Philippines more memorable by trying out all the dishes we've listed above! It's a great way to understand the country's culture, and well, to satisfy your hungry bellies after an island adventure.