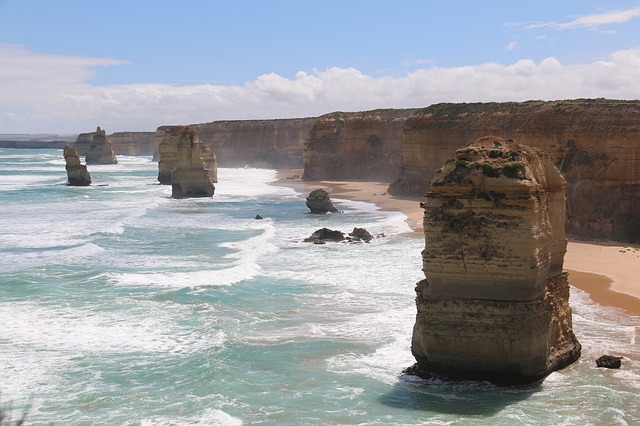 Australia is, to so many foreigners, a land of shores and deserts, bush and Aborigines. Of course, the Sydney Opera House is a universally-known landmark, but few know more about Australia's cities beyond that, and perhaps some celebrities who call Australia home.
Like an exquisite buffet spread out for the senses, with its rainforests, deserts, lakes, beaches and even high-elevations capped with snow, Australia is an outdoor-lover's dream destination. It offers activities so varied it would be impossible to sum it up in one article.
When planning a road trip in Australia be aware that it's an enormous country (the 6th largest in the world) with a small population. With vast distances between sites the best way to see places away from the main cities is by car. If you're unfamiliar with hiring a car you can find out all you need to know at this car rental website.
Here are 10 places to visit in Australia to get you started. Keep in mind, however, these are just the top 10…there are thousands of options for every type of traveler waiting to be discovered in the land Down Under.
1. The Great Ocean Road, which is about a hour's drive east of Melbourne, goes along Australia's southern coast, and is considered one of the most picturesque drives in the entire world. A little more than 100 miles long, it begins at the Trecky surf resort and passes through such attractions as Port Fairy, Loren, Apollo Bay, Campbell National Park and several waterfalls, rivers and rain forests. This is an absolute must-see for anyone wanting to see the drastic changes of flora and fauna throughout the continent.
2. The Great Barrier Reef is a given in terms of places to visit in Australia. Considered one of the most varied sources of biodiversity on the planet, it's home to the Olive Ridley Turtle, Indo-Pacific Humpback Dolphin, Flatback Turtle, Dwarf Minke Whale and Salt Water Crocodile. The variety of birds is phenomenal as well. The Great Barrier Reef is the largest coral reef on earth, and thus is protected quite rigorously. However, snorkeling and diving are allowed, and DEFINITELY encouraged to get a full scope of the beauty of the reef.
3. Kimberly, in Western Australia, has some of the most breathtaking and dramatic views on the continent. With red cliffs, rainforests, rivers and waterfalls, it inspires artists from all over the world, and therefore is a well-known artist haven. Diamond harvesting is another draw in Kimberly, as is the 'Bungle Bungles,' real name Purnululu National Park.
4. Sydney Harbor, seen in so many postcards and images of international famous landmarks, is a natural harbor and home of the Sydney Opera House, where one can attend both local and foreign performances. The very recognizable "roof shells" architecture of the opera house represents Australia to the rest of the world.
5. "Must See Melbourne" is your mantra. To miss this chic and culturally diverse city is to miss the heart and soul of Australia. Be sure to set out on Greville Street or Chapel street for hip clothes, eat at the modern and healthy bistros and catch a flick at the Melbourne Film Festival if you're lucky enough to be in town in July and August.
Reminiscent of London, Melbourne has a bonus of many more sunny days!
6. Pristine natural beauty is what Tasmania is all about. When once considered wild and dangerous, it is now filled with music and food fests, wine and dairy. Hiking is out of this world in Tasmania. Be sure to visit Cradle Mountain, made of dolerite columns and lush vegetation. Oh, and if you've been dying to see a Wallaby, it's going to be in Tasmania if you see one at all.
7. Barossa is the Napa Valley of Australia, famous for its wine made from the ancestors of English and European farmers. This is a fantastic area to visit with family, as there are countless festivals, antique shops, food shops and trails.
8. In the Snowy Mountains, Mount Kosciuszko is the highest mountain in Australia, which is popular with both hikers and skiers depending on the season. There are guided tours available for all ages and abilities, and be sure to keep an eye out for the Alpine flowers growing toward the top–a strange sight in such a desert atmosphere.
9. Whitsunday's islands in Queensland start with a cruise from Early Beach. One can sleep on board or stay at vacation villas near the island, but many prefer the package deals of the cruises, where diving, swimming and snorkeling are par for the course. Whitehaven Beach is one of the most photographed on earth.
10. Hand's down, Ayer's Rock, or Uluro as it is most commonly called, is the most popular and impressive tourist destination in Australia. The world's largest monolith, its sandstone changes color throughout the day, turning a deep red from light brown. This rock is holy to the Aborigines, and should be treated as such.