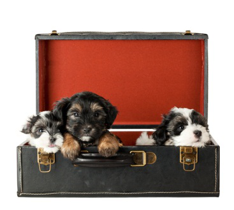 If you are considering taking the family pet away with you on your next holiday, then renting self-catering accommodation is by far the best option.
However, a little research and upfront planning can make a big difference and allow you to get the most from your holiday.
Here are 3 tips to help you have a stress-free break, that doesn't make you barking mad!
Check beforehand
For the most relaxed break, check with the cottage owner beforehand exactly what to expect. Find out where the dog is allowed (and not allowed!) to venture. Most cottage owners don't allow dogs in the bedrooms, for example, and nearly all owners will be very unhappy if your dog is left unattended in the property.
Are dogs welcome in local attractions?
Check out the local pubs and restaurants to see where dogs are accepted and make arrangements, in advance, for those times where the dog may not be welcome.
Is your pet OK with staying in a crate/cage?
If handled correctly, many dogs are perfectly happy spending short periods of time in a purpose-made cage or crate.
For us humans, the thought of spending time in a cage can seem a bit cruel. However, the benefits of spending days chasing along a beach, long walks in the countryside or evenings with a bone in front of a log fire, will far outweigh short periods of time left in a cage.
For your dog to feel truly happy in his cage, spend time well ahead of the holiday getting your dog accustomed. Firstly, make sure that the cage is large enough. There should always be a soft bed, water bowl and something to occupy them such as a toy or large chew (but be mindful of choking hazards).
Try to get your dog used to the cage as far in advance of the holiday as possible. To do this, start off by feeding meals in the cage and giving praise and treats when he goes and lies down in the cage of his own accord. Never be tempted to use the cage as a punishment! You do not want your dog to form negative associations with its cage.
However, cages are not suited to all dogs, and knowing this can allow for alternative arrangements to be made; such as local day kennels or perhaps the cottage owner themselves!